I'm pretty excited for Miracle Workers, a series coming up on TBS. Daniel Radcliffe plays an angel working in the answered prayers division in heaven. In the previews, God (played by Steve Buscemi) decides to blow up the earth. Craig (Daniel Radcliffe) enlists the help of other angels to try and change his mind and save the planet.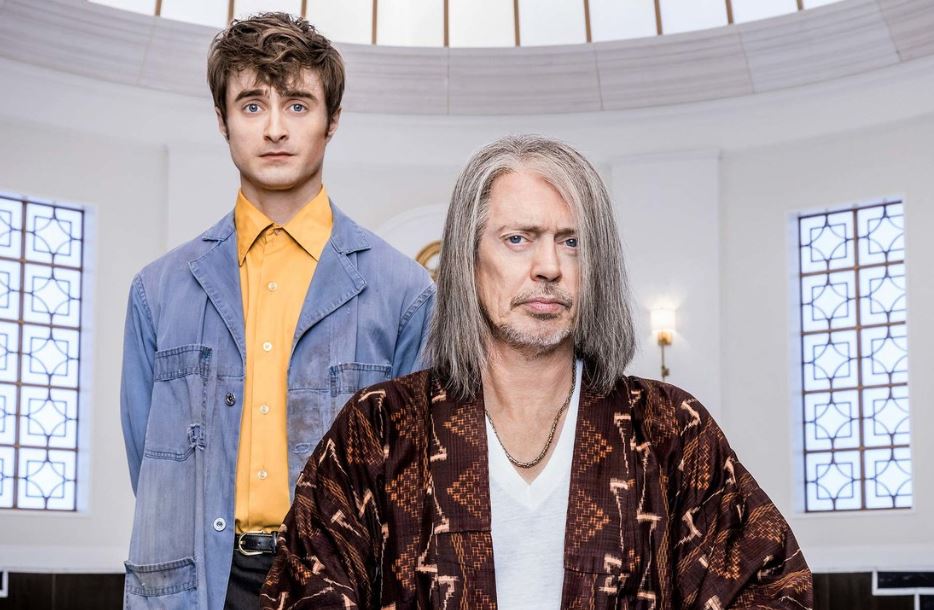 The previews make heaven look like a manufacturing plant, with Steve Buscemi's characterization of God seemingly a bored CEO. Daniel Radcliffe has played some interesting characters since his Harry Potter days and the hapless angel working in heaven's equivalent of the mail room seems to be one the audience will fall in love with.
It's easy enough for child actors to get stuck in a loop playing similar characters, if not reprising the same role their entire career. More often they just fade away, never accomplishing success as an adult actor. Daniel Radcliffe definitely went in a different direction, with some amazing and interesting characters on his resume. In preparation of Miracle Workers, here's a review of a couple of oddball rolls that Daniel Radcliffe took prior to his upcoming role in the TBS comedy series.
Manny, Swiss Army Man (2016)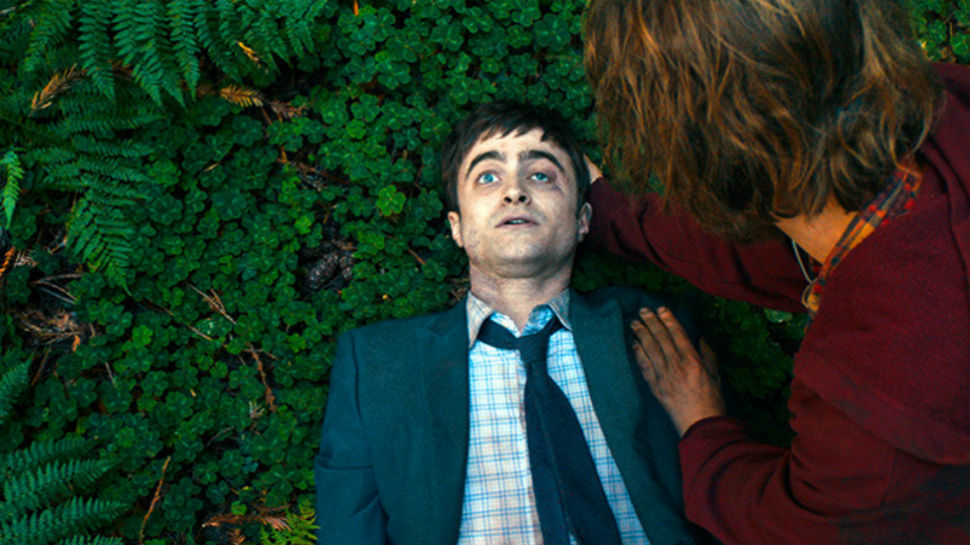 In this dark comedy, Daniel Radcliffe literally plays a dead body. Hank Thompson (played by Paul Dano) is on the verge of committing suicide after being stranded on a deserted island. As he's about to hang himself, he sees Manny (Daniel Radcliffe) on the beach only to discover he is dead. Seeing the corpse scuttle around in the water, propelled by its flatulence, Hank rides Manny like a jet ski to mainland. Through the course of the story, Manny begins to speak and regain some of his motor functions. The two become friends, Hank teaching Manny how to be a human again while trying to convince him to help find civilization. The concept of a man stranded on a deserted island using a dead body like a Swiss army knife (often times in raunchy ways, such as using his erect penis as a compass) may sound ridiculous, but the film premiered at Sundance in 2016 to rave reviews.
Ig Perrish, Horns (2013)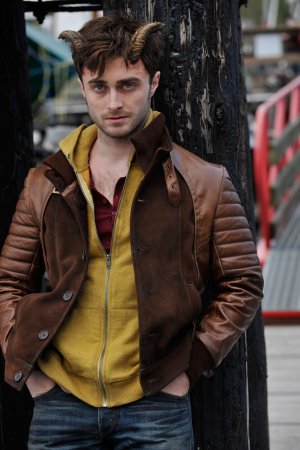 After being accused of murdering his girlfriend, Ig wakes up to find a pair of horns growing out of his forehead. Ig eventually discovers the horns give him the ability to force people to tell him their deepest, darkest desires– often times acting upon them. Armed with a new superpower, he attempts to discover who really murdered his girlfriend.
The movie is dark fantasy horror, but has some definite comedic moments. If Radcliffe didn't do enough to shake the Harry Potter moniker by appearing naked on stage several times in the 2008 play Equus, his role as Ig is a clear departure. Radcliffe puts on a great performance as the heartbroken lover not so much trying to clear his name as discover what really happened to his girlfriend.
I'm sure some people will watch Miracle Workers solely to see what "Harry Potter" is up to now. It was an extremely successful book and movie franchise and there's no escaping his role as the titular character. It's Daniel Radcliffe's roles since Hogwarts, however, that have me excited for this new series.
TBS has put out some great content and I'm encouraged by their track record. I very much enjoyed Angie Tribeca, Search Party, and The Detour– all TBS originals.
I can't wait to see Steve Buscemi's portrayal of God. The commercials already reveal him deciding to blow up the earth, planning a new restaurant, and lamenting the loss of the days when people used to sacrifice goats to him.
The cast also includes Geraldine Viswanathan and Karan Soni, who viewers may recognize from Safety Not Guaranteed and more likely Deadpool. Miracle Workers premiers February 12th on TBS.