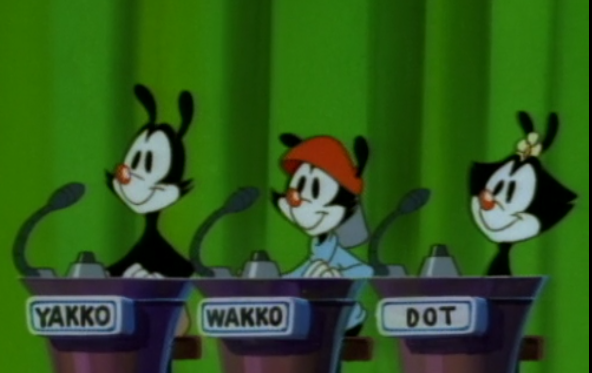 I'm sitting here at my computer pondering what Brain must be pondering. Because egad! Narf! Is it where he'd find rubber pants his size? No, it today's big news! The Animaniacs are returning!
Hulu is Partnering with Amblin Television and Warner Bros. Animation and bringing back all new episodes starring the crazy Warner Brothers Yakko and Wakko and their cute sister Dot (aka Princess Angelina Contessa Louisa Francesca Banana Fanna Bo Besca the Third) after spending the last 25 years in their water tower.
Two seasons have been ordered and are scheduled to premiere 2020.
Hulu is also bringing the complete libraries of the original Animaniacs; Pinky and the Brain; Pinky, Elmyra and the Brain; and Tiny Toon Adventures! Yes, once again we'll get to see Plucky Duck animated to the tune of Istanbul, Not Constantinople by They Might Be Giants. And don't forget Phone Call from the 405. Classic episode. "Shadows, we need more shadows! Gotta go! Carrie Fisher's on the other line!"
But wait! There's more! Returning as Executive Producer is . . . drumroll please . . . none other than the famed director referred to as His Eminence in the episode Hooked on a Ceiling, Steven Spielberg!
"We cannot wait to work with Steven Spielberg and the entire Amblin and Warner Bros. teams teams to bring more sketches, catchphrases, songs and laughs from the Animaniacs to kids and adults everywhere," said Craig Erwich, SVP of Content, Hulu. "Now one of the most beloved, inventive and funny animated franchises in history, Animaniacs and its cast of witty characters can live on, on Hulu. This marks yet another big move for us as we continue our efforts to be the #1 streaming destination for premium animated content."
And a few words from Spielberg himself: "I am so pleased and proud that Animaniacs will have a home at Hulu. Together with Warner Bros., we look to bring new audiences and longtime fans into this wild world of Yakko, Wakko, and Dot. I am also excited that the full library of Animaniacs and Tiny Toon Adventures episodes are included in the deal."
"Yakko, Wakko and Dot have been waiting impatiently inside the water tower, and now their hilarious brand of animated chaos will be unleashed — again! We're incredibly excited to be partnering with Amblin and Hulu for new episodes of Animaniacs, filled with endless laughs — and ongoing plots for world domination by Pinky and the Brain," said Sam Register, President, Warner Bros. Animation and Warner Digital Series. "Parents who grew up with the cartoon now have new episodes to share with their own families."
Animaniacs originally aired in 1993, and decades later I'm still singing "Yakko's World" from memory and referencing "Ups and Downs" in elevators. I'm still not clear on if it annoys or entertains people. The show has set the record for most Daytime Emmy Awards in the field of Outstanding Achievement in Music Direction and Composition for any animated series, winning three times.
But what about the original cast? Will they be returning? Maurice LaMarche posted on Twitter an audio of him reading the announcement in Orson Welles' voice (who inspired the voice of the LaMarche's character The Brain). And on Facebook he wrote: "Guess I can talk about this now." And Rob Paulsen, the voice of Yakko shared the link on Facebook and wrote, "Now THAT'S a HAPPY NEW YEAR!" When I spoke with Paulsen at DragonCon he said he felt that talks were in the works because, once rumors began of a reboot, Spielberg made no attempts to quiet them, and "My little cartoon fingers are crossed." But so far none of the original cast has directly stated their involvement in the new show. But I can't imagine the characters without their familiar voices, or the contributions of creator Tom Ruegger.
Ruegger has recently been a guest on several episodes of the Animanicast, a podcast—the only podcast—dedicated to Animaniacs. Shameless plug: I'm one of the podcasters. Hopefully Mr. Ruegger will be on again soon, and we can learn the answers to some of the new questions that have risen in the wake of the reboot announcement.
Until then, stay "tooned."