Coming from the land of ice and snow, The Mighty Thor: The Death of Mighty Thor (Marvel), written by Jason Aaron (Southern Bastards, The Other Side, Star Wars), interior and cover art by Russell Dauterman (Cyclops, Nightwing, Supurbia). With Mangog's arrival, War Thor faces the beast one-on-one. With Mjolnir in his grasp, even the Mighty Thor's strength will be no match for the hatred of a billion billion beings. And time is running out on Jane Foster, whose cancer has progressively gotten worse.
In The Mighty Thor 700, Aaron, cleverly, regroups and takes note of his engulfing story and the cast of characters interwoven in Malekith's War of Realms. Aaron takes this opportunity to make Odinson and Karnila the central focus of this double issue. Using Karnila, individually, to consider the concepts of fate. All of the familiar themes of Thor are here, such as the struggle between fathers and sons, will and destiny, and what makes a worthy god. All the while continuing to maintain what makes this series a must read.
There were times I wished Aaron broke down each story into separate shorter accounts for clarity, but once I finished, I was able to appreciate the structure he chose, which once I finished I realized became part of the appeal of the comic. The continuous shifts from one Thor to the next affirms that this war is more significant than any one hero while coming back around to King Thor and the apparent defeat of Gorr. All the cliffhangers and loose ends are correctly are wrapping up amicably.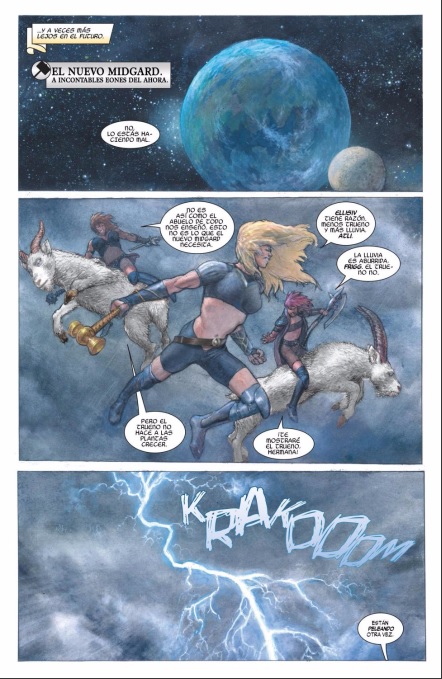 Such a milestone issue deserves a roster of impressive artists, some of which Aaron has worked with before, and some are new to the series. Series staple, Russell Dauterman is superb as usual as he illustrates Odinson's epic battle protecting the Norns from Maleketh's horde. Das Pastoras effectively captures the Scandinavian mythology of the future King Thor. Chris Burnham and Ive Svorcina also display their talent depicting the battle between Gorr the God Butcher and Ego the Living Planet.
In all, every artist that contributed has roots that trace back to Thor's co-creator, Jack Kirby. While not all of Kirby's influence is noticeable at first glance, everyone shows the ability to add to this imaginative world. Very solid contributions all around.
Even though Aaron has been writing Thor for five years, he doesn't show any signs of slowing down. This series is a celebration of Thor's long legacy past and as well as what's to come. With Aaron's writing and a super-group of artists, this massive issue is one of the best of Aaron's reign.
The Mighty Thor 700-702 are available now, with 703 releasing 1/17/18.