This article originally appeared on the Salt Lake Comic Con Blog.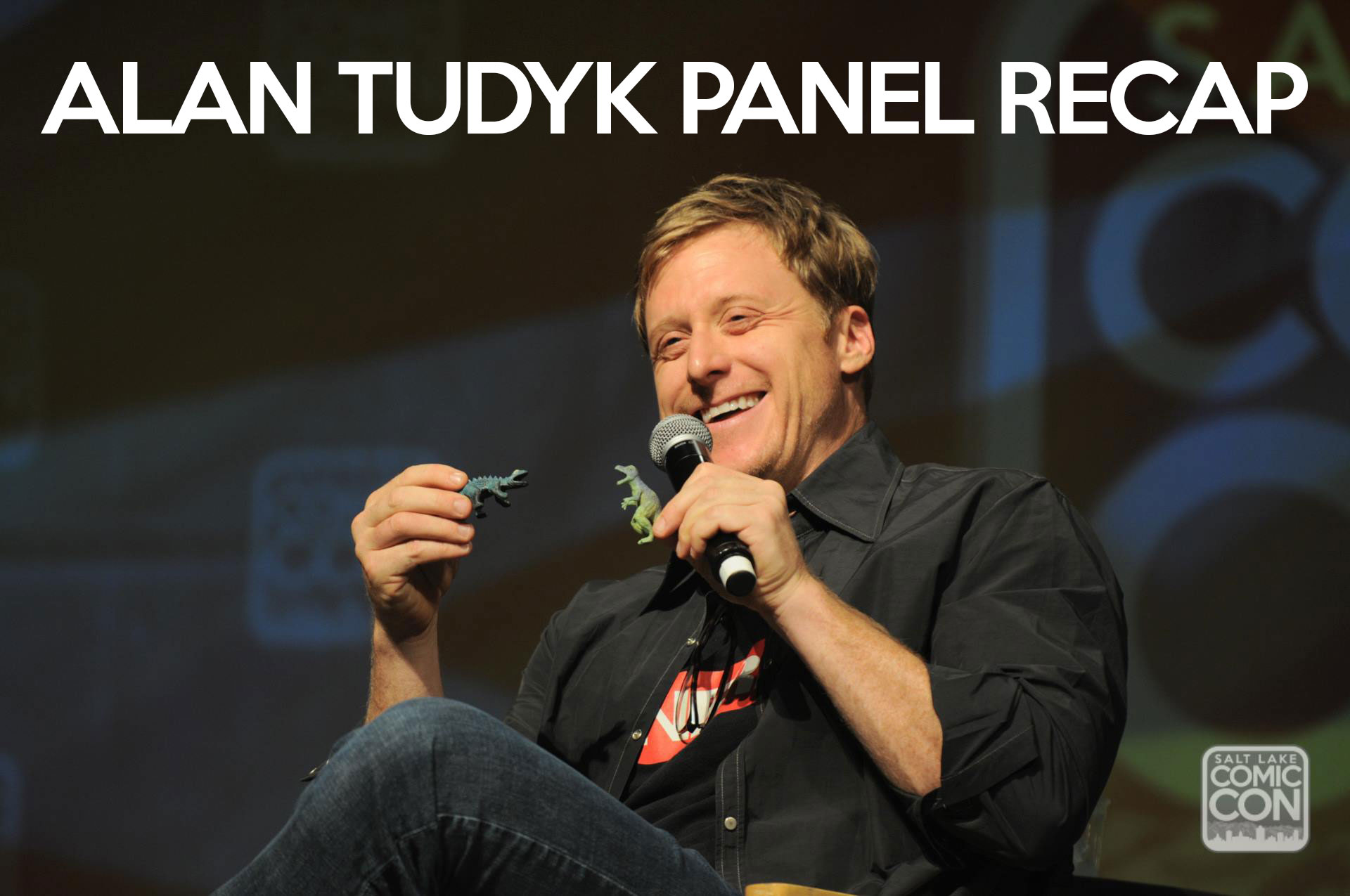 Image: Salt Lake Comic Con
With acting credits that span across the spectrum of stage, screen and video games, Alan Tudyk is perhaps best known for his role as the character Wash in Firefly and Serenity. The enigmatic Tudyk walked onto the stage of the south ballroom at the Salt Palace Convention Center wearing a black button-up shirt over the top of a t-shirt with the word "nerd" emblazoned in red. He smiled, waved at the crowd, set down a large bag and then took a seat in a director's chair. The roaring applause began to die down when Mr. Tudyk turned to look at the back of the stage and that's when he commented, "Wow, there are a lot of people in here. I wonder what's going to entertain us?"
The fans erupted in applause and as it quieted back down, a member of the audience shouted a popular quote from Alan's character in Serenity, "You are a leaf on the wind!" Alan didn't miss a step and replied:
"You know what I've realized? I don't know if you want to hear this, but a leaf on the wind… is dead. It is cut off from the life source."
Mr. Tudyk did not need a moderator, only the bag he had brought with him on stage. He told the crowd that the bag was full of random things from around his home and that he always brought a "bag of [expletive]" with him to conventions. He quickly noticed a young one in the crowd and apologized for the use of language but insisted that the bag was indeed a "bag of [expletive]". He left the reason for the bag and its contents a mystery and started into the thick of his time with Salt Lake Comic Con attendees in the South Ballroom.
I don't know if you want to hear this, but a leaf on the wind… is dead
During the Q&A, the "I, Robot" star took a novel approach. He had fans come up to the stage, taking turns sitting in one of three chairs he had set up to his right. He then rotated eager fans from the line to the chairs and asked them questions before they could ask him a question in return. After each fan had answered one of Mr. Tudyk's whimsical – and often personal – questions in front of thousands of strangers, Alan would allow the fan to ask him a question back. This trading of questions would continue and Alan would then sign a different item from his bag of "stuff" and then send the happy contestant back to their seat. The format of the panel flowed naturally as Alan commanded the stage from beginning to end. The panel of his own design was a dash of improvisation and a bit of Salt Lake Comic Con magic. His charisma and wit were electrifying.
Questions from Alan to the fans he brought on stage with him were seemingly random but very entertaining. Two examples of his crazy questions to fans were:
"What is the grossest thing to happen to you?"
"With the exception of your family, who do you have to struggle to not call bad names?"
Alan stopped a fan named Emily from answering the second question by saying to her and the crowd, "That's a negative question, get rid of that one." Emily was fast to counter with, "I could answer but I don't want to lose my job".
Mr. Tudyk was searching for a great question to finish the panel strong but he had to revise his question several times before deciding on the one he liked the most. His final question for Emily was almost:
"What was the last thing you stole?"
"Have you ever struck anything with your car that you regretted?"
"What do you most regret setting on fire?"
"Have you ever cheated on anyone before?"
The crowd loved the question he settled on when Alan asked, "If you could be any freak in the circus freak show, what freak would you like to be?" Emily responded, saying that she'd like to be a contortionist twirling on fabric in the air. Mr. Tudyk was delighted with her answer, exclaiming, "You could call yourself the Pretzel Lady and people could pay to sprinkle salt on you!"
For the most part, fans asked Alan tough questions. The best of the fan questions for Alan were:
"[Out of the people you've worked with] who would you say is very talented?"
"Who was your inspiration?"
"What is your method to getting into character?"
"On the set of Firefly, where there any practical jokes or what was the funniest thing that ever happened?"
Every item he signed for fans from his bag of… "stuff"… was signed with a pen he'd received from his "Firefly" co-star and FanX alum Nathan Fillion. The pen seemed to give him a little trouble, almost as if the smeared ink was a personal gag from afar by Mr. Fillion. That would have been extremely fitting, considering Alan's answer to the question about who played the best tricks on the set of Firefly – he told a story about a particularly funny practical joke he was on the receiving end of.
During the filming of Firefly, Alan walked onto a set that was plastered with childhood photos of himself. The very moment he realized he was surrounded by images of himself and his childhood friends, he knew that the master prankster behind the joke was his friend Nathan Fillion.
The panel went just over the allotted time and ended with a rousing applause and a standing ovation. By the end of the hour, Alan had answered a bunch of questions and also given away the following items: a ball cap from Reelz Channel that he got while interviewing Nathan Fillion; an "Astro Boy" t-shirt because he voiced some characters in it; an old tape recorder with a quick voice recording that said, "This is Alan Tudyk. Thank you for your question"; some old Prada sunglasses he bought for "I, Robot" that he only wore as eye shields while cutting with a saw because a pretty girl told him they didn't fit his face; a book given to him at the Nautica Malibu Triathlon that he ran in; a t-shirt with a stake going through several people he got as a gift and was re-gifting; the "Beastie Boys Anthology"; a harmonica used by John Popper, the lead singer of Blues Traveler, complete with Popper slobber; and aFirefly t-shirt showing Wash with a red button in his hands, which he gave to Joss Whedon when he said, "Call us all back."
If Salt Lake Comic Con fans could request one more item from Mr. Tudyk, it would be that he come back to visit us all next year – and we promise to throw in a t-shirt.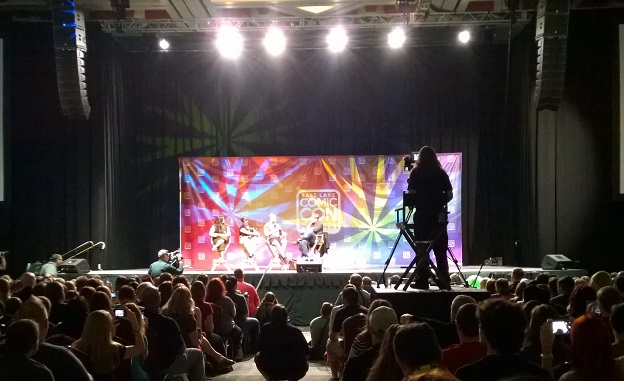 Photo: @Brandigirlio
Mark Avo AKA Zendobot can usually be found reviewing comic books and picking out his favorite moments every week for "Five and Three" right here on Big Shiny Robot. You can also find him writing and inking The Salt City Strangers comic book or pretending he's an expert for The Undead Soup Podcast (http://undeadsoup.com/undead2/). You can delight or even heckle him with your tweets @MarkAvo and he'll be totally thrilled.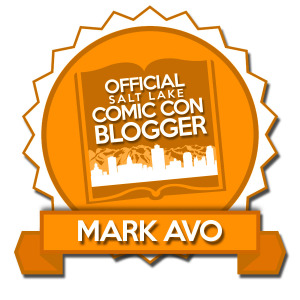 Image credits for this article belong to the Salt Lake Comic Con