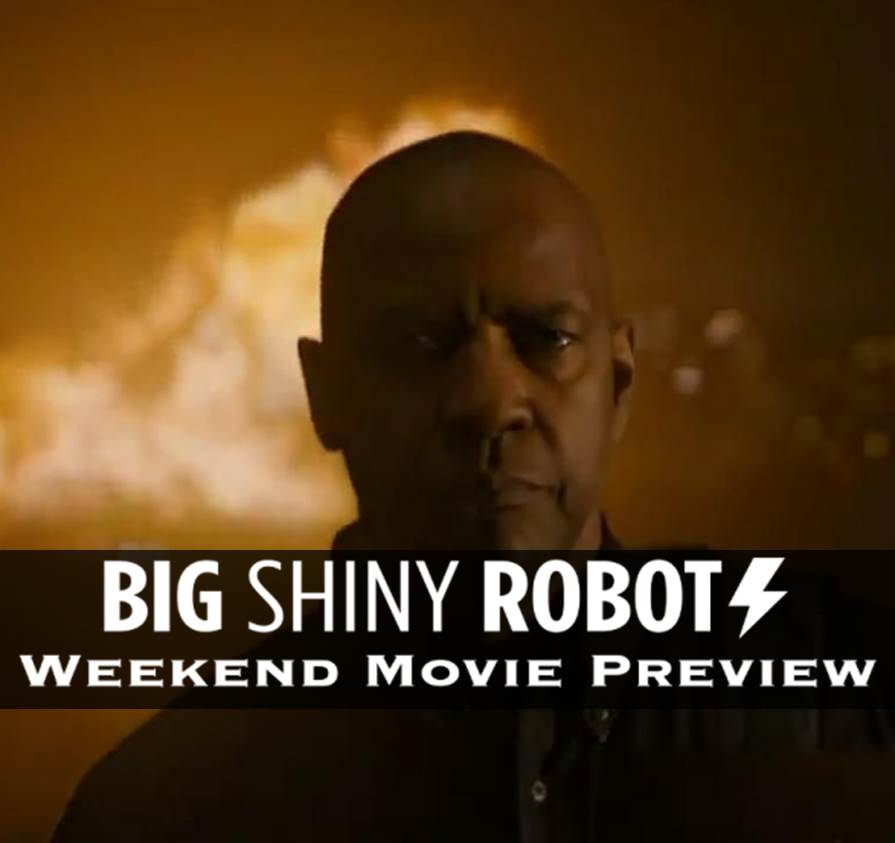 Man, so many movies. Again. What is going on? And all of them so mopey. We need more comedies. I am thinking of going to see "Guardians of the Galaxy" again.
This BSR! Weekend Movie Previews is for the weekend of September 19, 2014. Per usual, before we get started, a quick disclaimer. I write these over my lunch at my day job, all of the film information presented here, including the plot summary, has been pulled from the Opening This Week page of IMDb (http://www.imdb.com/nowplaying/). I have not seen any of these movies at the time of this writing.
Join us this week as we preview "The Equalizer", "The Box Trolls", "Two Faces of January", and so much more. So much…
The Equalizer (2014)
R 131 min – Action | Crime | Thriller
Director: Antoine Fuqua
Stars: Denzel Washington, Marton Csokas, Chloë Grace Moretz, David Harbour
Summary: A man believes he has put his mysterious past behind him and has dedicated himself to beginning a new, quiet life. But when he meets a young girl under the control of ultra-violent Russian gangsters, he can't stand idly by – he has to help her.
Thoughts: When is Denzel Washington going to team up with Liam Neeson and finally save the world from all of the unprincipled Russian mobsters?
The Boxtrolls (2014)
PG 97 min – Animation | Adventure | Comedy | Family | Fantasy
Directors: Graham Annable | Anthony Stacchi
Stars: Ben Kingsley, Jared Harris, Nick Frost, Richard Ayoade
Summary: A young orphaned boy raised by underground cave-dwelling trash collectors tries to save his friends from an evil exterminator. Based on the children's novel 'Here Be Monsters' by Alan Snow.
Thoughts: I love Laika. Coraline was great, and ParaNorman approached art. I actually visited their studios back in '02 when I was selling Production Music Libraries, and I have had a soft spot for them ever since. Having said all of that, I would really like them to team up with Liam Neeson in their next film, and maybe throw in some Russian mobsters. That would be really cool.
Pride (2014) – [Limited]
R 120 min – Comedy | Drama | History
Director: Matthew Warchus
Stars: Bill Nighy, Imelda Staunton, Dominic West, Paddy Considine
Summary: U.K. gay activists work to help miners during their lengthy strike of the National Union of Mineworkers in the summer of 1984.
Thoughts: I find it endlessly interesting that movies with, shall we say, sensitive subject matter are much more easily accepted when they come with a British accent than with an American one. If this was made in the US with a series of Tier 1 character actors, it would be an absolute hot button topic, but since it has Bill Nighy and Imelda Staunton it will be seen by a much broader range of people. Next is the historical drama about how gays found equality in the Russian mob, starring Liam Neeson.
The Two Faces of January (2014) – [Limited]
PG-13 96 min – Thriller
Director: Hossein Amini
Stars: Viggo Mortensen, Kirsten Dunst, Oscar Isaac, Daisy Bevan
Summary: A thriller centered on a con artist, his wife, and a stranger who flee Athens after one of them is caught up in the death of a private detective.
Thoughts: Everything about the pedigree of this movie says "classic". It says "fantastic filmmaking at its highest". But the trailer just makes it seem so mediocre. How is that possible with this cast and the behind the scenes above the line talent? I don't think it can all be blamed on Kirsten Dunst.
Más negro que la noche (2014) – [Limited]
R Horror
Director: Henry Bedwell
Stars: Zuria Vega, Adriana Louvier, Eréndira Ibarra, Ona Casamiquela
Thoughts: Greta moves into her recently deceased aunt's mansion and starts throwing wild parties with her friends; however, what looks to be the best summer of the lives turns into a fight for their lives after Beker, her aunt's prized cat, drowns in the home's pool.
Summary: I tried to find a version of the trailer with English subtitles, but no luck (to be fair, when I say I tried, I probably spent a good 2 minutes looking for a source channel that looked like it was based in the US and then gave up). I did find this trailer that has no dialogue, so there is that. It kinda looks like a cross between "Spring Breakers" and "Pan's Labyrinth", which in theory sounds like a pretty good recommendation.
Lilting (2014) – [Limited]
91 min – Drama | Romance
Director: Hong Khaou
Stars: Pei-pei Cheng, Ben Whishaw, Andrew Leung, Peter Bowles
Summary: In contemporary London, a Cambodian Chinese mother mourns the untimely death of her son. Her world is further disrupted by the presence of a stranger. We observe their difficulties in trying to connect with one another without a common language, as through a translator they begin to piece together memories of a man they both loved.
Thoughts: This is everything I love and hate about movies. Challenging, emotional content = good. Mopey and weepy = bad.
Believe Me (2014) – [Limited]
PG-13 93 min – Comedy | Drama
Director: Will Bakke
Stars: Alex Russell, Zachary Knighton, Johanna Braddy, Miles Fisher
Summary: Desperate, broke, and out of ideas, four college seniors start a fake charity to embezzle money for tuition.
Thoughts: No idea if this is supposed to be a flat out comedy, or serious social commentary. Sure it can be both, but if it is, I don't think it is going to pull it off.
Advanced Style (2014) – [Limited]
72 min – Documentary | Biography | Comedy | Drama | Family
Director: Lina Plioplyte
Stars: Joyce Carpati, Ari Cohen, Lynn Dell, Zelda Kaplan
Summary: Advanced Style examines the lives of seven unique New Yorkers whose eclectic personal style and vital spirit have guided their approach to aging.
Thoughts: Old people fighting the inexorable march of time. I am becoming familiar with this story. There is only so much time to make something, to leave a mark. To impact, in some small way, the world around you. I probably wouldn't do it through fashion, but to each their own. Alright, that felt kinda mean. I am sorry. I am feeling a bit grumpy right now after all of these "Life is Hard" movie trailers. I wonder if Liam Neeson spends time on staying young through clothes.
The Song (2014) – [Limited]
PG-13 116 min – Drama | Music | Romance
Director: Richard Ramsey
Stars: Alan Powell, Ali Faulkner, Caitlin Nicol-Thomas, Danny Vinson
Summary: An aspiring singer-songwriter's life and marriage suffer when the song he writes for his wife propels him to stardom.
Thoughts: Movies like this should have a disclaimer right at the beginning: "Warning: Bible story updated for mopey Christians." The same is valid for Left Wing Documentaries by the way.
Days and Nights (2014) – [Limited]
92 min – Comedy | Drama
Director: Christian Camargo
Stars: Katie Holmes, William Hurt, Allison Janney, Jean Reno
Summary: Reckless desire wreaks havoc over Memorial Day weekend as a family confronts the volatile and fragile nature of love. Inspired by Anton Chekhov's "The Seagull," set in rural New England in 1984.
Thoughts: Great cast. I am starting to realize that it is Fall. All of these missed opportunity/lost love movies. It is going to be a long winter.
The Little Bedroom (2010) – [Limited]
87 min – Drama
Directors: Stéphanie Chuat | Véronique Reymond
Stars: Florence Loiret Caille, Michel Bouquet, Éric Caravaca, Joël Delsaut
Summary: One day, a bad fall forces Edmond to accept Rose's help. Eventually, the two grow closer. The young woman finds relief in confiding painful memories to the older man; things she cannot even bring herself to tell her husband. Meanwhile, Edmond, too, opens up, sharing recollections of his beloved wife.
Thoughts: And I rest my case. Everyone of these movies need more Liam Neeson. If you are going to be mopey, you gotta be Liam Neeson mopey. It is a new rule.