The following is a guest post by S.J. Restivo
It's human nature to dream, to ask ourselves outlandish questions like, 'What if I had a million dollars?' or more practical questions like, 'What if I moved to a different state?' or 'What if I approach that interesting person?'. As children, we were full of questions. Wondering what if, why, or how. Our daydreams were the fuel of our creativity and those silly questions grew into the aspirations of our adulthood. The power of 'What If' pushes those daring enough to answer; to dream a little bigger, to work a little harder, and to reach for the stars.
Two creative and aspiring minds, Cori and Mike, found themselves in the midst of their own game of 'What if' when opportunity came to call. They had toyed with the idea of a comic book coffee shop hybrid for some time, bandying it about as a fun idea. But, when the opportunity arose to take over an existing coffee joint, the pair were suddenly in a position to determine if their dream could become a reality.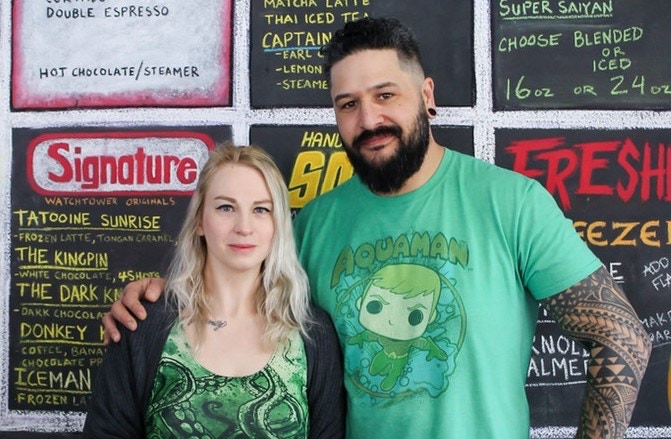 Cori and Mike, Owners of Watchtower Coffee & Comics. Photo credit: Darby Doyle (Devour Magazine)
Cori: "The funny thing was that Mike and I were on the same page. He already had a business plan already written out. We would hang out and play the 'What if' game. 'What if I was in charge of this coffee shop?'
Mike: On our first date, incidentally which was here, I think it was on that day she asked me 'If you could have a food truck, what kind of food truck would it be?' and we started playing that game with 'it would be this, it would be that' and she would always pose these questions of 'What kind of this would you do, what kind of that would you do' and I was like 'I like these exercises. I like her mind. I like where she's at. Business Cori.'
Cori: So basically, the people that purchased Coffee Connection–It was started by a friend of mine and then a group purchased it because it was an existing business but they weren't passionate about coffee–They just kind of took over something they thought was ready and they could hire someone to run it for them.
Mike: Their heart wasn't in it. They were just running it into the ground.
Cori: It was hard being an employee of that. So I kind of poked around. My friend was the GM and I was just like 'what would it take?' and she said 'I could possibly dig up the technical paperwork at how this place started' and later on that very day she sat down in a meeting with the owners. The first order of business is that they were looking to sell.
Mike: So it was like 'wait a second. Watchtower isn't a comic shop with a coffee bar. Watchtower should be a coffee shop that sells comics' and it was just like this ding moment that Cori and I had simultaneously. Flip it and now we are super unique. Now we are super original and a good idea to move forward with.

With the keys to their new kingdom in hand, Cori and Mike went about making the once struggling coffee shop into something just as unique and fantastical as they had imagined. Filling it with games, activities, high quality beverages, and an atmosphere that welcomes people from all walks of life to come and stay awhile.
After witnessing the great open armed approach to their patrons, I had to ask, "What is the secret to your success?" The story that followed was one that any of us could relate to.
Mike: "I don't think that there is any secret really. We treat it like our home."
Cori: "We don't have a specific mission statement. But our approach to it was asking what the tone was. It was another one of those 'What If's' and what would we want out of a business.
I, myself, had never really been able to get into comic books until adulthood. That was because of the culture of a lot of past comic book shops. Coming in and not feeling safe. Employees that would be either gate-keeping or basically hitting on me. It legitimately got to a couple of times that I would have to call my best friend. A very platonic friend. And he was more than happy to hold my hand as we went into comic book shops. They would zero in on him and allow me to browse the store. But even then it wasn't 100%.
It should never be this way. There was never a shop that I walked into where I saw somebody working that looked even remotely like me. Luckily that trend has changed. It was 100% our priority to make sure that people could come in, sit down, and feel safe. And that everyone working here was approachable."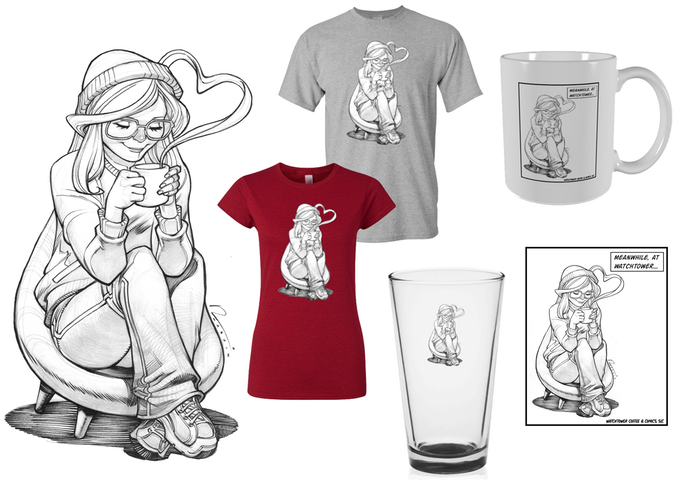 Kickstarter Reward. Designed by Chad Hardin.
Mike: "When Cori and I were younger. Elementary school age. We come from the period of time where we were really bullied and made fun of and teased for liking a thing. Cori loves fantasy and sci-fi and I love Star Wars and Star Trek and superheroes.
I used to draw batman all over everything. I mean I drew batman on everything.
I was in 6th or 7th grade one time. You ever one of those friends that aren't really a friend, but they are just mean. I had one of those guys and my backpack was sitting behind me. He came in and Snuck up behind me, and took my notebook out. And I could just hear him and these people behind me laughing and just rolling laughing. A big group of guys just came up to me and threw my notebook in my lap. Full of pages and pages of me drawing batman. They are all laughing and are all like 'Man, just stop drawing batman, you suck.' And they walk off laughing. My heart was just wrenched. Sidenote: I draw batman on coffee cups as often as I can nowadays. I was practicing for this time in my life!
We were bullied for liking this stuff. And it is now popular, which we love. My kids don't have to get made fun of for liking comic books and superheroes and stuff. But we were and it was so painful and so hard to be bullied for simply liking a thing. When you are bullied for something you have no control over. Your looks. Your Gender. Your whatever. That's painful.
Cori and I wanted to make sure that no one would ever feel that way walking into our business. If you like what you like, we're going to support you. We are going to treat you the same as we treat everyone. We're going to make you a damn good cup of coffee, refer you to some comic books and show you some games. We want everyone to just come in, hang out, and be themselves. Without the fear of being bullied."
Watchtower Coffee & Comics has been open for nearly four years and in those years they have contributed to the community in ways that some might not even know about. Along with loving comic books, both Cori and Mike are artists in one form or another. Because of this they have, and continue to support, the creative minds that step into their shop.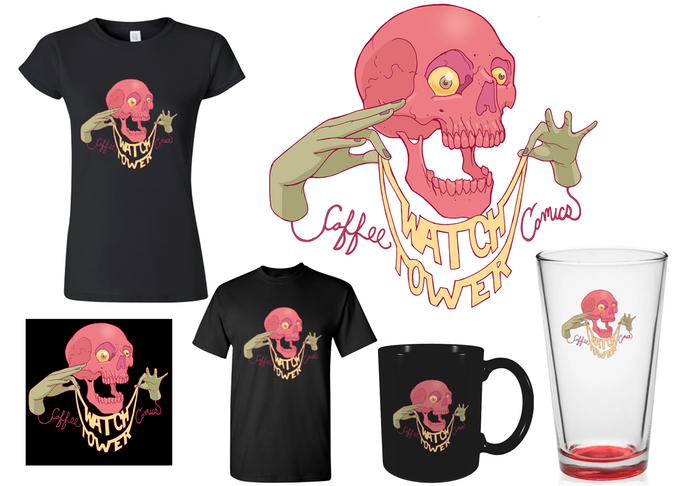 Kickstarter Reward. Designed by Chris Bodily (Hatrobot)
One of the largest influences can be seen hanging up in their 'Gallery of Rogues' where they proudly display local artists and help sell their fantastic pieces. What isn't seen is the number of hours that Cori and Mike put into helping these up and coming artists understand how to price their art, how to market themselves, and applying a business minded approach to growing their clientele.
Everything they have done has been for the sake of creating a second home for anyone who walks in. But there is one thing that every part of their creative and hardworking hours cannot fight: age.
The building that they currently call home has been standing for decades. Though it functions, the foundations themselves have cracked and the repairs that have continued to plague the shop have kept Mike & Cori from being able to implement their full vision. So, the question of what to do next came into play.
Cori: "We kept generating all of this capitol and hoping to put it into comic books and getting other stuff flushed out. But we were having to spend it all on repairs instead. It was just perpetually getting worse because of the age of the building. So, we just stopped and started digging in our heels. Saying we've got to be realists about this."
But instead of giving up or giving in, they kept their minds and ears open to a solution to their problem. And it would seem, the universe was listening.
Cori: "Honestly the opportunity once again, really fell into our lap. Our new landlord came in and was checking out the neighborhood. He was showing off a lot of the improvements that he's made and funded. We sat down and said, What if instead of trying to keep up with this building, we could have the opportunity to build it out the way that we want to. We can actually put down on the blue prints exactly where the counter space is going to be."
Mike: "I remember at one-point Cori and I would have the conversation of 'What if we could start from scratch and build up Watchtower from nothing. Because we've been adapting to the space ever since we opened. Always asking how can we make this space work for us. What if we were able to flip it and say we have a blank canvas? What would Watchtower look like? And we would play that game, that mental exercise. And when this opportunity opened up and looked at each other and went 'Wow we have an opportunity to play this game for real. We can build this how we want for real.
It was a scary decision to make. Terrifying in fact. A huge risk. So risky in fact that now that we've moved forward with that plan I am just as terrified for this move and relocation and rebuild as I was when we were first about to open. It feels the same. It's new, it's scary, and it's exciting."
That very power of 'What If' is what brought about this community centered coffee shop that has overcome and achieved the dream of becoming a second home to so many. Will Watchtower change? Of course, it will. But for the better. A space that can be customized and optimized to serve their customers. A place where ingredients and goods are locally sourced. A fantastic environment where creatives flourish and geeks find a haven. The future of Watchtower Coffee & Comics looks bright. But they are now asking for the community's help to make their dreams come true.
What if they were able to raise the funds to continue to serve the Salt Lake City area? What if you were able to be a part of the movement to help Watchtower into their new home? Watchtower is running a Kickstarter campaign which will fund their move to a new, better location. Please consider supporting them with a donation or a share on social media. And when you're in town, remember, there is no better place to grab a drink and hang out with friends.