Explorer Academy is the first novel series from National Geographic and it puts kids directly in the driver's seat. Cruz, along with his classmates, are thrust into a life and death adventure against shadowy foes, all while learning to become the next generation of great explorers.
The series kicked off with The Nebula Secret, which introduced readers to Cruz, his classmates, the academy, and the nefarious villains out to suppress knowledge and innovation at any cost. Click here for a full review. After the thrilling first installment, Explorer Academy is back with its second installment, The Falcon's Feather.
Explorer Academy has the unique mission of entertaining kids (and adults) while also getting them interested in, and teaching them about, the sciences. The stories and incredible science within its pages are plenty thrilling, but if that isn't enough to get you interested, they're embarking on a blog tour, complete with a massive giveaway. Keep reading for your chance to win signed books, swag, and a drone; everything you'll need to get started on your own scientific discoveries.
Welcome Back to the Explorer Academy!
Welcome to Day #2 of the Explorer Academy: The Falcon's Feather Blog Tour!
To celebrate the release of Explorer Academy: The Falcon's Feather by Trudi Trueit on March 19th, blogs across the web are featuring special content from Trudi and the Explorer Academy team, as well as 5 chances to win an Explorer Academy DRONE Prize Pack!
The Truth Behind the Fiction: "Speaking Whale"
In The Falcon's Feather, Cruz and his classmates embark on a daring mission to rescue a pod of right whales trapped in fishing gear off the Bay of Fundy. Together with their instructor, the team of explorers employs hi-tech gear to accomplish the mission, including using high-powered computerized binoculars, drones, radio tracking and a Universal Cetacean Communicator – or UCC. The UCC is a diving helmet specially equipped with a translator that allows Cruz to talk to the right whales and also understand what the whales are singing back to him. It's a magical moment for Cruz, as he swims among these mammoth creatures and "speaks whale."
While the UCC is pure fiction and marine scientists aren't able to "speak whale" yet, this remarkable helmet was inspired by the real-life discoveries that have been made regarding cetacean language. Researchers believe that the North American right whale uses moans, grunts, knocks, chirps and whistles to identify one another, find food and communicate. Different pods have even been found to have unique dialects! Scientists are also using such sounds and technology to help save this endangered species. For example, in the crowded shipping lanes of Massachusetts Bay, a chain of smart buoys listens for right whales 24/7. When the network picks up the call of a right whale, it alerts the Cornell Lab of Ornithology, which then relays the information to ships in the area so they can slow down and watch for whales.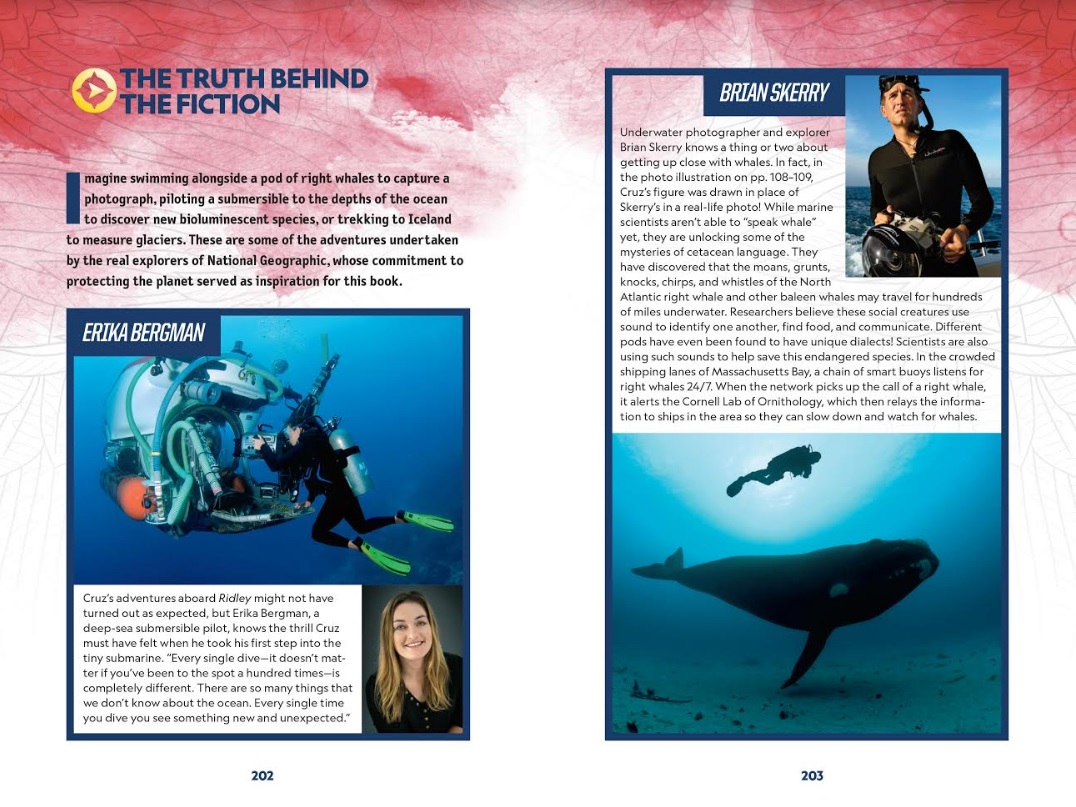 To see the facts behind the fiction at work, check out this video, created by the Cornell Lab of Ornithology, which shows exactly how these smart buoys work to keep these massive creatures safe and out of harm's way.
"A fun, exciting and action-packed ride that kids will love."
—J.J. Abrams, director of Star Trek, Star Wars: The Force Awakens, Lost and Alias
"Explorer Academy is sure to awaken readers' inner adventurer and curiosity about the world around them."
—LeVar Burton, host of "Reading Rainbow"and "LeVar Burton Reads"
Buy: National Geographic | Amazon | Indiebound
It's an adventure of a lifetime when Cruz Coronado sets sail for the shores of Iceland and Norway aboard the Explorer Academy ship to continue his studies at sea. But, things take a turn while exploring the icy north, when he embarks on a dangerous mission to uncover the first piece of an important puzzle his mother left behind.

In the exciting follow-up to The Nebula Secret in the 7-book Explorer Academy series, Cruz, Sailor, and Emmett, along with their new ally Bryndis, embark on their first globe-trotting mission aboard the ship Orion. Cruz jumps right back into school and starts using the latest technology in submersible underwater dives, but is soon reminded of the dangers of exploration when his equipment fails and he almost drowns. Determined to keep his eyes on the prize, Cruz sneaks away to try to find answers, but unknowingly lures his friends into bigger trouble. When a friend of Cruz's mom meets an untimely end, Cruz's luck really seems about to run out and the questions multiply. What does the message mean? Where will it lead? Who is following him? And why?

This captivating book is the sequel every Explorer Academy fan is waiting to read!

About the Author: Author Trudi Trueit is a gifted storyteller for middle-grade audiences. She has written more than 100 books for young readers, both fiction and nonfiction, including The Sister Solution, Stealing Popular and the Secrets of a Lab Rat series. Trueit lives in Everett, Washington.
One (1) winner will receive SIGNED copies of Explorer Academy books 1 and 2, an ADVANCE copy of Explorer Academy Codebreaking Activity Adventure (not otherwise available to the public until May!), an Explorer Academy pin, baseball cap, t-shirt, and bag, and a Quadcopter DRONE!
US/Canada only
Ends 3/29 at midnight ET
a Rafflecopter giveaway
One lucky family of four will embark on a spectacular ship-based adventure, just like the students at Explorer Academy. Experience the remarkable beauty of Alaska's famed Inside Passage on this thrilling 8-day voyage, courtesy of National Geographic Expeditions. Get up close to icebergs and calving glaciers. See orcas and humpback whales, then listen to them with the ship's hydrophone. Visit Glacier Bay National Park, learn about Alaska's rich Native American heritage, and pass islands teeming with wildlife, including brown bears, sea lions, sea otters, and perhaps the world's highest density of nesting bald eagles. Visit natgeoexpeditions.com to see a detailed itinerary for Alaska's Inside Passage Cruise. Enter here!
Thursday, March 21, 2019
Hicklebee's
1378 Lincoln Ave.
San Jose, CA
Event details:
3:30 p.m. – 5 p.m. — Talk by author Trudi Trueit and National Geographic Explorer Erika Bergman, followed by book signing
Friday, March 22, 2019
Kepler's Books
1010 El Camino Real
Menlo Park, CA
Event details:
6 p.m. – 7:30 p.m.— Public event with talk by author Trudi Trueit and National Geographic Explorer Erika Bergman, followed by book signing. Purchase tickets in advance.