How do I love thee The Mandalorian? Let me count the ways. Baby Yoda, Baby Yoda, Baby Yoda.
To be perfectly honest, I was planning to wait to get Disney+ when all the episodes of The Mandalorian had aired and then binge-watch. But I was told on the day of launch that I needed to watch it immediately and stay offline for fear of spoilers. I couldn't imagine what the show could offer that could really intrigue me, since I knew that Yoda (my favorite character) has already become one with the Force prior to this time period. 
But I was wrong. 
I halfway paid attention (I thought the pace was a bit slow until the final fight scene), but when the first episode reached its end and I saw green pointy ears I realized that nothing had prepared me for this. A baby. With incredibly big eyes and pointy ears and probably the cutest thing I've ever seen. 
But I wasn't in love just yet. Definitely intrigued. And for a moment forced to recall that there are only two known creatures of Yoda's species in the entire canon and even Legends canon of the Star Wars universe. Since The Phantom Menace, however, I have chosen not to acknowledge the female of Yoda's species that appears briefly as a member of the Jedi Council.  I just can't. Yoda has always been special because he was the only one. And we know so little about him that not even his species has been determined. In a world where even the ice cream guy in Cloud City has a name and backstory, Yoda doesn't even have an origin planet. This is pretty telling. It's because they don't want us to know. 
By the time I watched the second episode, I was hooked. In love. Irrevocably a fan. I didn't even care whose baby it was. But honestly would prefer it not to be Yoda's, and especially the aforementioned character I choose to ignore.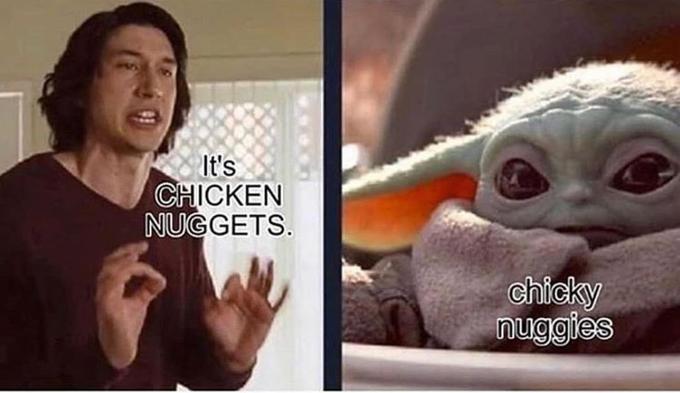 In Popular Culture
Since The Mandalorian introduced us to Baby Yoda (or The Child, as Disney would prefer us to call him), a cult-like following has emerged online. And though I refer to my Yoda collection as a shrine, even I was surprised by the outpouring of adoration for Baby Yoda. There's a subreddit r/yiddle devoted to the little fella. Memes abound about "chicky nuggies" and a clip from the show went viral, prompting fans to create their own versions: Baby Yoda punching buttons on the ship and not-so-slyly continuing to do it in spite of being told not to. This became him turning music on and off, to a variety of songs. The video below has the scene on loop with a variety of music and sound clips, including Christmas music.
Merchandise
Shirts, both official and unofficial, began appearing before Christmas, allowing fans to own something with the baby's face on it. But even that wasn't enough, and an entire movement began of fans making their own soft plush versions of the character, including knitted and crocheted items for sale on Etsy. This has prompted Disney to begin targeting these sellers and forcing them to remove (or at the very least rename) their product. 
Most recently it was announced that Build-A-Bear would have a Baby Yoda in the next few months. The news was happily received by fans.
Other officially licensed products are in the works, including a "talking" one that coos, Funko versions, little figures, and a plush.
Laura Dern
Actress Laura Dern (Vice Admiral Holdo, The Last Jedi) made headlines when she claimed she saw Baby Yoda at a basketball game. And more recently she hinted at a relationship with the 50-year old baby on The Late Show as she chatted with Stephen Colbert. Whatever the truth is, Dern is as enamored with The Child as everyone else. Not even the rich and famous can resist the allure that is Baby Yoda.
.@LauraDern is thinking about seeing more of Baby Yoda. #LSSC pic.twitter.com/QT50UwxU39

— A Late Show (@colbertlateshow) January 11, 2020
Though the last episode of The Mandalorian has aired until the series resumes in its second season, the fandom has continued to blossom and will likely continue to do so as the pre-ordered merchandise begins to arrive in the mail and crafts and memes and videos continue to be made.