SaltCON was a roaring success for the attendees, event coordinators, and all of the convention volunteers. For game publishers and independent game developers it was a chance to show off their wares to the table top gaming elite. A convention like SaltCON is attended by people of all walks of life but mostly by die hard gamers. Publishers and developers want the feedback and the patronage of those die-hards because it is to them that we all look to when we're wondering what new game we should bring to our next social gathering. From the success of SaltCON, expect to hear about many new games from your friend with a tabletop obsession.
SaltCON had an increase in attendance of nearly 18% over 2013 with even more families in attendance than previous years. The event organizers are ready for 2015 to come but haven't confirmed the location for the 2015 event because the Davis Conference Center is currently booked solid through the time of year they usually hold the convention. They've informed us to "stay tuned" to their social media pages and their webpage for more information in the months ahead. As for now, they passed on a message to Big Shiny Robot that they "appreciate all the effort and support from their sponsors and their volunteers. We couldn't do it without them."

The sponsors were terrific and varied. With their help and the support of game publishers and developers the Ion Awards for 2014 were also a huge success. The winning games were fun and exciting with new and old elements to them all. One such game, Payload, was signed to the publisher Crash Games under the new name "Yard Master". Big Shiny Robot will have an in-depth review of that yet to be released game as well as many others in the coming weeks. The 2014 Ion Award Winners were: Xenon Profitier in the Strategy category and Payload AKA "Yard Master" in the Light category.
Strategy Games Finalists
1.) NISSE
by Brett LaMont Holbrook
2.) Xenon Profitier
by T.C. Petty iii
3.) lbyron: Island of Discovery
by Scott Nelson
4.) Sicilia
by Adam Morgan
Light Games Finalists
1.) This Game is S.T.U.P.I.D.
by John Berry Conway III, Everett Gunther, Esther Nho, Abraham Plato and Brandon Swann
2.) Payload
by Steven Aramini
3.) Goblin's Breakfast
by Rob Hicks and Matt Miller
4.) AssassinCon
by Binh Vo
Gaming is also about meeting new people and exercising our sometimes seldom used imaginations.
Booths at the convention weren't the regular kind you'd expect at a Comic Convention but they were exactly the kind you'd want at SaltCON. From game publishers and vendors to collectibles and game piece manufacturers, the field was very full. Many of the booths were filled with locals such as Mayday Games from Layton, 5th Street Games, Fringe Games, Wapo Games from Salt Lake City, and the creators of Clash of Realms from West Valley City. Other locals included Daft Concepts who laser cuts custom game pieces and any other kind of custom jobs for laser cutting.
There were game publishers from Arizona in Crash Games and Gamelyn games. Patrick with Crash Games sold out of everything he brought with him and Michael Coe from Gamelyn informed me his popular game "Tiny Epic Kingdoms" was on its way to IOS. We also struck up a very interesting conversation with Christian Haven who developed a game based on the Journey of the Magi, "Stella Nova". He was from Michigan and was surprised at the traffic of SaltCON. His game had just launched and had sold thousands of copies in just under a month. He enjoyed the people of Utah and after hearing about the attendance numbers of the first annual Salt Lake Comic Convention, he'll probably be back in September.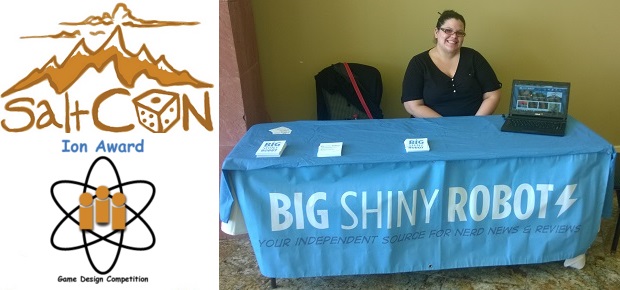 Brandi managed the booth for Big Shiny Robot on Friday and was later joined by a new comer to Big Shiny Robot, Nathan. Mark Avo (Zendobot) showed up later in the day and played games into the early evening. Mark & Brandi joined our editor in chief Bryan Young (Swank-mo-Tron) and fellow contributor Cassidy Ward (Neverbot) on Saturday for some gaming and fan interaction. We appreciated everyone that stopped by to show us games and were shown a wonderful game called "Eaten by Zombies!" It's published by Mayday Games and created by local developer Max Holliday. Not only is the game terrific but we were shown the game by the developer himself! We also played some King of Tokyo" by IELLO, "Carcassonne" & "Stone Age" by Z-Man Games, "Coconuts 'Crazy Monkey' & "Walk The Plank" by Mayday Games, "Cthulu Dice" by Steve Jackson Games and "Aquarius" & "Chrononauts" by Loony Labs.
With Tabletop Game day only a week after SaltCON, it's nice to look back at SaltCON 2014 and know that the community of gamers continues to grow. Tabletop gaming is more than just family and friends gathering. It's also more than some of the stigma associated with hard core gaming. Tabletop gaming is about human interaction and friendly competition. It's about conversing about anything and everything while you have fun with your loved ones. Gaming is also about meeting new people and exercising our sometimes seldom used imaginations. So, whether it's SaltCON, International Tabletop day, or just a night spent with the gang, break out the card table and the game board and game on.