It's a familiar scene: a knock on your door late at night. As you grunt your way up from the couch, the greasy smell of dinner fills your nose. You sign the receipt and return to your nest to enjoy. Heaven. Now there's another knock at your door. This knock may not carry that holy deep-fried scent, but it will feed your mind in ways no take-out ever has. Without even getting up, you can join writers, editors and agents from all over the country at the 85th Annual Quills Conference of the League of Utah Writers. A few clicks and you can be streaming professional lectures and workshops designed to propel your writing career to the next level. 
Quills is already in full swing for those who opened the door before August 1. Many writers, both aspiring and experienced, have been feasting on ideas and pro tips during lunch breaks, over midnight snacks, and in lieu of that next season of whatever they were watching. August 13-16 will bring a buffet of live workshops, interactive presenter Q&A's, and online hangouts. Three prestigious keynote guests — Linda Addison (horror writer and poet, four-time winner of the Bram Stoker Award), Cat Rambo (Nebula-nominated writer of science fiction and fantasy), and Jonathan Maberry (best-selling horror, science fiction and fantasy writer)– will be addressing the (dispersed) crowd. Attendees have the opportunity to pitch their work in one-one-one video-chats with agents and editors. Every ticket comes with a digital copy of the LUW 2020 Anthology: The Function of Freedom. All this is still available to you. Registration is open until August 11 at 10 pm. Register now to join in the fun.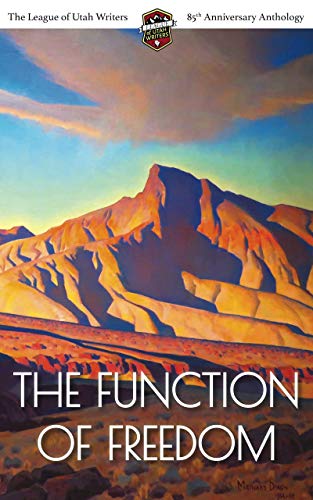 As League of Utah Writers President Johnny Worthen said in his conference message, this year's theme is Community, Opportunity, and Excellence. Whether you are just plotting out your first short story or searching for representation for your fifth novel, Quills offers support, community and valuable information. Here is a brief description of what you can expect as an attendee this year. 
The App
Conference organizers did not let a global pandemic stop Quills from bringing writers, agents and editors together. They created an online format which is user-friendly, interactive and fun. When you 'arrive' via an easily-downloaded app, you can create your attendee profile. Upload a photograph and make it public if you want to meet new people to geek out with, or, if you prefer, opt to hide your profile and be more selective about who sees you. Explore other attendees' profiles and begin building your tailor-made schedule, choosing from the wide variety of offerings. The conference app also features personal note-taking space, in case your notebook is in the other room and your nest of pillows is just too cozy. There is an app game where you automatically gain points for participating and socializing. Check out the leaderboard to see where you rank. Read original prose and poetry from Utah authors in the LUW Anthology. During the official conference days, a scavenger hunt is planned, along with multiple social hours and a virtual help desk. Can't let go of the in-person event fantasy? LUW has created both souvenir and pocket programs you can download and/or print. You could even make yourself a continental breakfast, if it helps. 
The Presentations
A jaw-dropping amount of content has been pre-recorded by industry gurus, and each includes a downloadable handout (again, go ahead and recreate the in-person flavor by printing them out ahead of time if you wish). You can peruse the entire catalog of presentations here.
Pre-recorded presentations are neatly organized into four tracks: Craft, Marketing, Practical Application, and Publishing. These tracks make it easy to find the tidbits you need. For example, if you watch literary agent Matt Belford's "5 Things I Need to Represent a Manuscript," and realize you have a long way to go before submitting anything to an agent, check out the craft track presentations. Dive into courses designed to help you hone your skills, polish your style and figure out what makes your characters tick. The craft track offers classes on worldbuilding (try "All The Glitters: Creating a Believable Magic System" with Charlie N. Holmberg), character development, self-editing and more. 
If you have a manuscript polished up but aren't sure how to get it into the world, check out the Publishing and Marketing tracks. In the publishing track, you can learn about the difference between traditional and indie publishing ("Traditional vs. Indie vs. Hybrid" with Bryan Young) as well as other ins and outs of the business side of writing. "Writing Query Letters" with Eric Smith seems a logical starting place for those sitting on novels. Learn from industry pros what they are looking for, what to expect during the process and how to get your manuscript from the slush pile to the bookstore. In the marketing track, you get guidance from Kenny B. Smith on creating your marketing plan. If your goals include selling your books, tune into these courses for how-tos from industry insiders.

Whether you're focusing on improving your craft or selling your work, you'll want to watch the Practical Application track. Mel Jolly's "Get Your 'Stuff' Together: Organization for Authors" may revolutionize this writer's productivity (fingers crossed). She provides concrete and hands-on instruction to help you change your slouchy behaviors to start reaching your goals. Other offerings in this track range from "Do's and Don'ts of Writing People of Color" with J.T. Moore to J. E. Zarnofsky's "The Myth of the 20lb Longsword." From what's going on inside the writer to what's going on in our world, these courses have it covered. Plus, unlike take-out menus, your consumption of this hearty material is limited only by the time you have, rather than the room in your belly. If you put aside that sudoku puzzle, let the lawn grow another week and press pause on your social media feed, you could take in a glut of information in just one weekend. 
What's to Come
Coming up August 13-16 Quills will be offering real-time workshops with industry professionals. Check out the list of workshop offerings here.  On August 14 & 15 live Q&A's will be held with the presenters; you can either submit questions ahead of time in the comments sections or ask them during the session. 
Social rooms and virtual bars will be open for business (obviously BYOB) so you can chat, network and eavesdrop to your heart's content. If you miss stressing out about your outfits for social events, you can recreate the experience by meticulously arranging your background. Or just relax and embrace the come-as-you-are aesthetic. Either way you will find friendly faces and engaging conversation. Keynote remarks take place Friday, Saturday and Sunday. 
Don't forget the opportunity to pitch to agents/editors over video chat one-on-one. This link will take you to the list of guests and information about the genres and niches they are looking for. Your manuscript's match may be there. No time like the present to take that next step. 
Registration Information and Pricing
Cost: Basic Conference (without workshops) is $110 for League members, $150 for the general public. Full conference (with workshops) is $175 for League members, $215 for the general public. Pitch meetings (available only with purchase of conference tickets) are $30 each. Discounts are available for teens, and scholarships are available for BIPOC and LGTBQ+ writers. 
Don't miss out! 2020 may be a bust for movie debuts and your trip to Tokyo, but it can be a gold mine for your writing with the help of Quills and the LUW community. Join us from your couch, bed or backyard. Register here now. Don't wait; the 2020 time warp may suck you past August 11 and leave you behind. The world needs your writing. Answer the door.