THE MONUMENTS MEN (7 out of 10) Directed by George Clooney; co-written by George Clooney and Grant Heslov, based on the book by Robert W. Edsel and Bret Witter; starring George Clooney, Matt Damon, Cate Blanchett, Bill Murray and John Goodman; rated PG-13 (images of war violence and historical smoking); in general release; running time: 112 minutes.
By Jeff Michael Vice
The quick crawl at the beginning of "The Monuments Men" describes the film as being "based on a true story." It's the biggest mistake made by filmmaking collaborators George Clooney and Grant Heslov in the movie.
A World War II adventure/caper movie that is clearly meant to evoke '60s/'70s-era World War II adventure films, such as "The Guns of Navarone" (1961), "The Great Escape" (1963), "Battle of the Bulge" (1965) and "Kelly's Heroes" (1970), it's a somewhat lightweight but still enjoyable lark. Nothing more, nothing less.
And just to be clear, it is in no way meant to be confused with the real-life events and people that inspired the movie. It's not a documentary feature, nor is it a docudrama, though the "true-story" thing might lead somebody to think that about it. (Is it too late for the studio and filmmakers to go back and add a more succinct and correct "Inspired by real-life events" crawl instead?)
So it might be a good idea to keep that in mind before taking in the movie. And it might not be a bad idea to refresh your memory on those aforementioned films to gain a true appreciation for the movie, an all-star affair that has the good spirits of the better "Ocean's" movies and doesn't overstay its welcome, managing to avoid leaving too sour of a taste in your mouth in the process.
Clooney co-wrote the screenplay, directed and stars as Frank Stokes, a Harvard museum curator who, during the course of World War II, tried to convince President Franklin Delano Roosevelt and other key government officials to allow him to go to Europe, to preserve precious works of art that were endangered by the Nazi occupation.
As it turns out – in this version of events, at least — the Nazis are seizing and outright stealing paintings, statues and other art, and are planning to use it to stock Der Fuhrer's yet-to-be-built museum/monument to his ego.
So even when Stokes gets a reluctant approval for his mission, it becomes a race against time, as well as against both the Nazis and the supposedly "friendly" Russians, who are seizing some of the Germans' pilfered art. Stokes also has to pull together a team of art experts, none of them soldiers, to help him with his efforts. This motley crew includes other museum curators, directors and art historians — played by the likes of Bob Balaban, Hugh Bonneville ("Downton Abbey"), Jean Dujardin ("The Artist"), John Goodman and Bill Murray.
In the meantime, another of Stokes' cohorts, Granger (Matt Damon) is sent in early, to France, where hopes to persuade a one-time Nazi collaborator, Claire Simone (Cate Blanchett), to reveal what she knows about the Nazis' art-storage plans.
Ultimately, the film might be doomed by comparison with earlier, headier Clooney-Heslov efforts like "Good Night, and Good Luck." (2005), which educated as it entertained. But it's obvious the duo is not trying to make high art here. "Monuments Men" is meant to be a film "entertainment," and on that front, it succeeds, despite a few duff moments.
And, as slow as the film starts, as overstuffed and overlong as some scenes seem, how can you completely hate a movie with this cast? Clooney, as expected, does get his share of quick one-liners, but he also largely takes a back seat to his co-stars.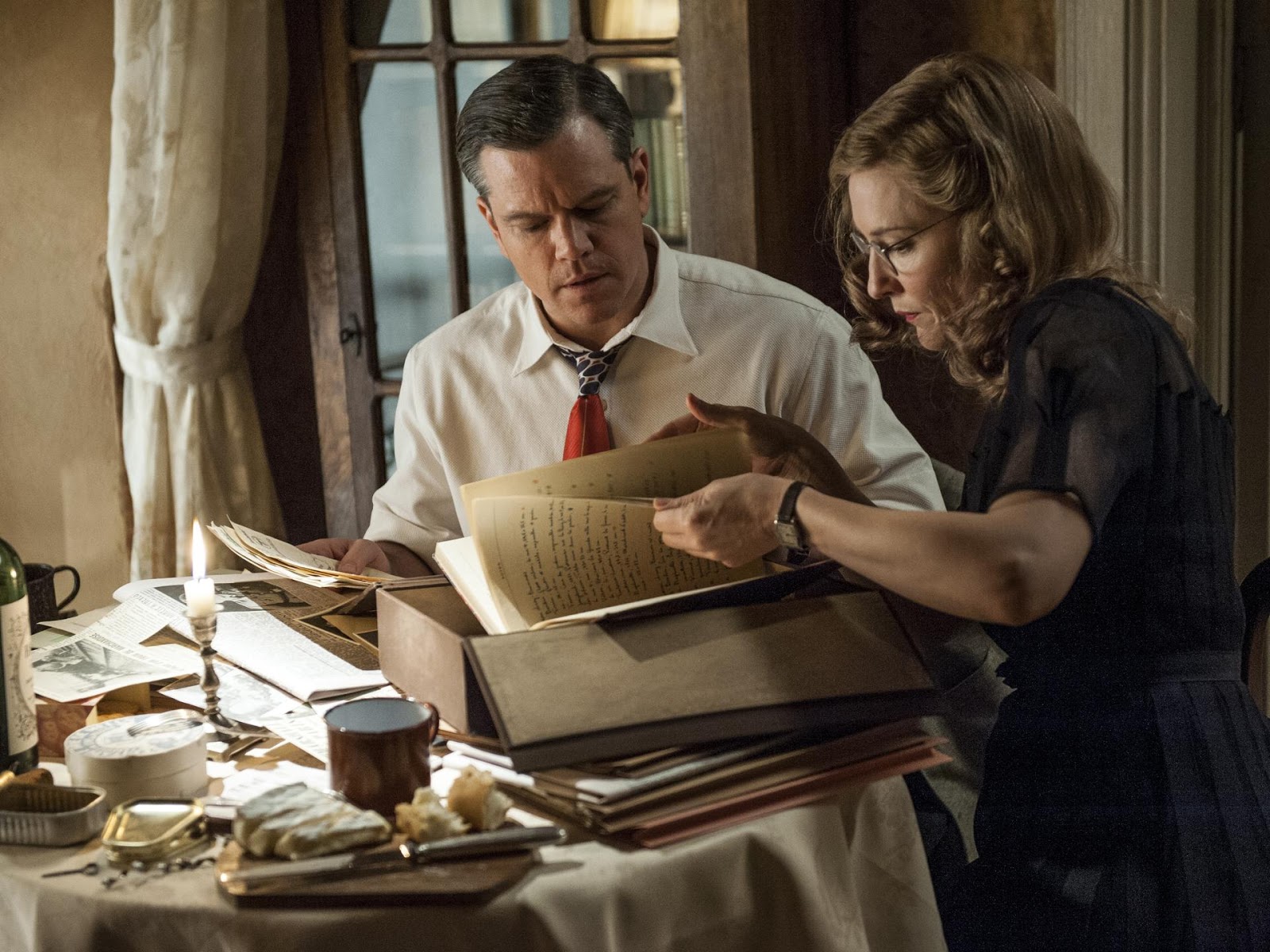 Damon and Blanchett, who were also paired in the similarly underrated 1999 adaptation of "The Talented Mr. Ripley," have real chemistry in their scenes, which have already provided a bit of controversy. (Her character was inspired by Rose Valland, whose actions were more heroic and less selfish than the Blanchett composite.)
Other enjoyable character pairings include Murray and Balaban's feuding non-soldiers, and Goodman and Dujardin, whose characters become fast friends.
Again, it's important to remember that this is clearly intended to be an homage more than anything else. Even Alexandre Desplat's score, which seems manipulative and contrived, is meant to evoke the tone of those earlier movies, mirroring now-classic but seemingly overbearing scores by the likes of Elmer Bernstein, Lalo Schifrin and Dimitri Tiomkin (all beloved composers, responsible for the "Great Escape," "Kelly's Heroes" and "Guns of Navarone" scores, respectively).
Jeff Michael Vice, aka Jerk-bot, can be heard reviewing films, television programs, comics, books, music and other things as part of The Geek Show Podcast (www.thegeekshowpodcast.com), as well as be seen reviewing films as part of Xfinity's Big Movie Mouth-Off (www.facebook.com/BigMovieMouthOff).