Kevin Smith, the filmmaker made famous by his indie hit Clerks, and patron saint of geeks everywhere was set to film his first standup special in years at Comedy Dynamics in Glendale, California last night. Smith posted on social media, standing before a custom backdrop, apparently excited for the experience.
The night, however, did not go as planned. Smith was scheduled for two shows at 6:00 and 9:00 local time but found himself feeling ill at the close of the first show.
"I was trying to do a killer standup special this evening but I might've gone too far. After the first show, I felt kinda nauseous. I threw up a little but it didn't seem to help. Then I started sweating buckets and my chest felt heavy," Smith said.
Friends, present at the event, contacted an ambulance and Smith was rushed to Glendale hospital where he was diagnosed with having suffered a massive heart attack.
"Turns out I had a massive heart attack. The Doctor who saved my life at the#glendale hospital told me I had 100% blockage of my LAD artery (also known as "the Widow-Maker" because when it goes, you're a goner). If I hadn't canceled the second show to go to the hospital, the Doc said I would've died tonight."
Smith appears to be in good spirits and is recovering at least well enough to post from his hospital bed.
Fellow celebrities as well as fans have reached out to Smith on Twitter, offering their hope for a quick recovery.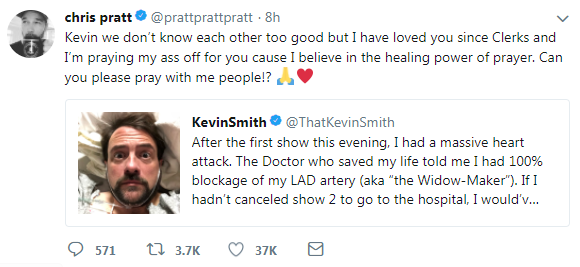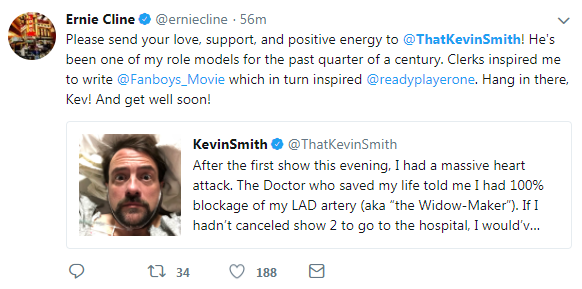 We, here at Big Shiny Robot, would like to add our voices to the chorus and hope Smith is back on his feet and healthy as quickly as possible.