Another issue of Giant Days (BOOM! Studios) is here! Written and created by John Allison (Bad Machinery, Scary Go Round), pencils by Max Sarin, inks by Liz Fleming, and colors by Whitney Cogar, Giant Days #33 continues the adventures of Esther, Daisy, and Susan. In this latest installment, the latter two make the mistake of the century by leaving Esther to purchase her dream home, under considerable pressure and with little time. Allison's award-nominated comic series continues to please loyal readers while attracting new ones.
Allison has struck gold with his ongoing series Giant Days and has continued to see success. Since its inception as a webcomic, and now a printed series, Giant Days has been nominated for Best Writer and Best Continuing Series at the 2016 Eisner Awards. Comic books like this are a blast to read. The art alone is an indication of how much fun, and how funny this series is. In my opinion, this is an example of a comic book in its most natural state. Fun, silly, light-hearted, and intended for all audiences.
In issue 33, Esther, the well-meaning but hopelessly desperate friend of Daisy and Susan attempt to purchase a house for the three to live in while they attend nearby University of Sheffield. Allison's witty writing is something that you get from a long-running sitcom, along with a quality cast of supporting characters that help move the story along, but also know their role.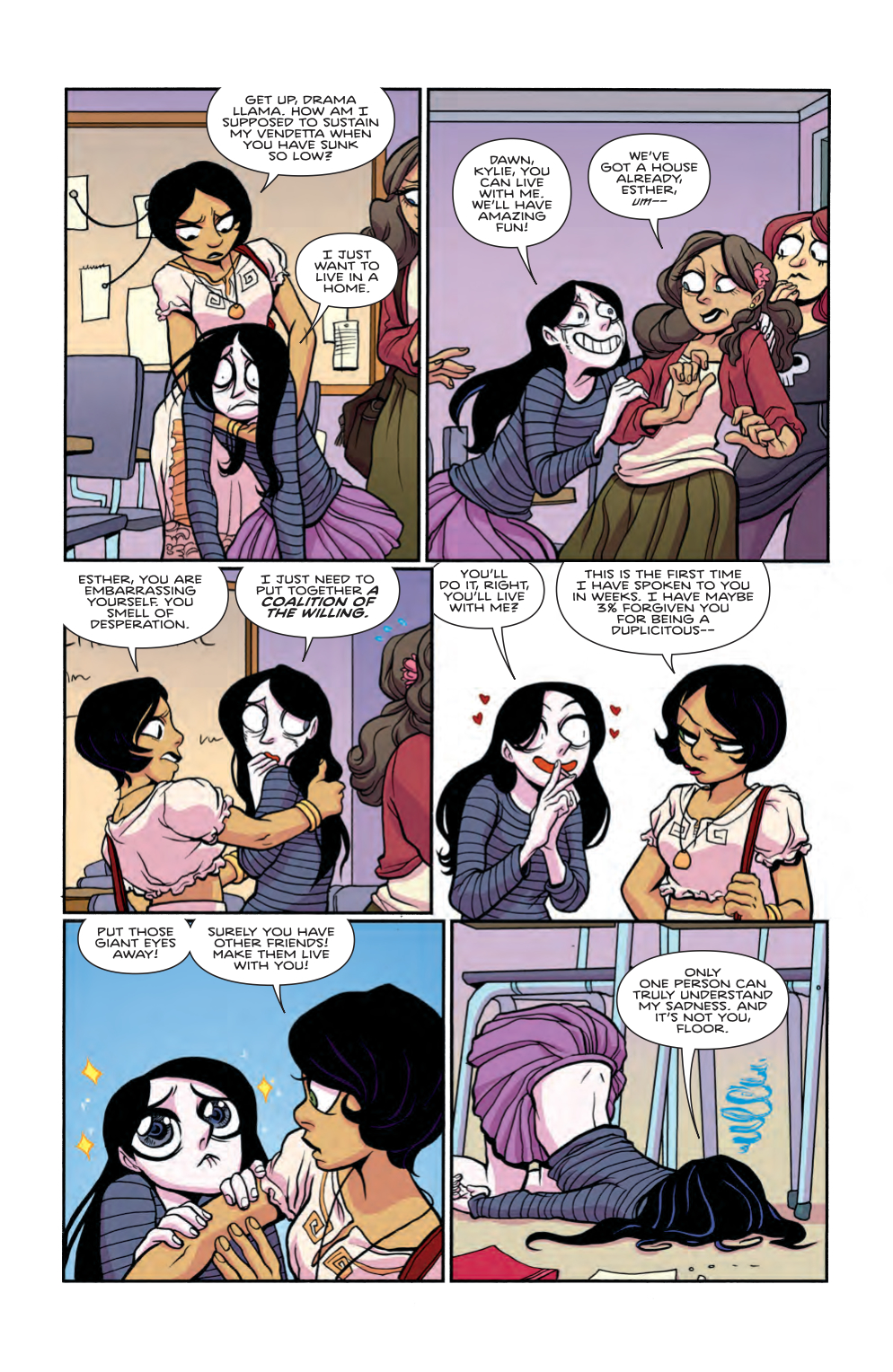 Just because the writing is so good doesn't mean the art takes a back seat. Sarin's gift for exaggerated facial expressions is the ideal interpretation of Allison's writing style. Sarin's technique has a hint of newspaper comic strip that gives it a pure quality. It's tricky for a comic book series to find that perfect match of writing and illustration, very few are lucky enough to have that right team, but Giant Days has that and needs to hold on to it.
It's incredibly refreshing to read a comic book that has three young, female protagonists, and the emotional depth in which Esther's character is explored grounds the comedic parts just enough to make the characters appear more realistic. On too many occasions we see characters, especially in comedies, who only are allowed to show their comedic side- which is fine if you enjoy movies like Dude, Where's My Car? But there's nothing wrong, in fact, it makes for a more well-rounded story, when the protagonist is allowed to grow and in turn be more relatable to the readers. Esther reminds me of Fleabag, the character played by Phoebe-Waller Bridge in the show of the same name. A young, British female who is desperate to lead a healthy, productive life, but is hampered by a string of bad decisions and regret.
Giant Days is a rarity these days in an industry dominated by over-the-top superheroes and larger than life, God-like antagonists. It is available now, and I recommend it to anyone who enjoys a good story with fun characters.