It's been ten years since Palisades Toys produced its last Muppet action figures, and while that line was extensive and beautiful, it may be time for another company to play the music, light the lights, blah blah blah.
This time it's Diamond Select Toys, rolling out a line of 6″ scale action figures starting in March 2016. This line of figures is going to have all of the characters in two-packs (and sometimes three) for $22.00, which is pretty much the going rate for action figures these days. It almost makes me want to go into an old man rant, but I shan't. Yet.
Here's the lineup: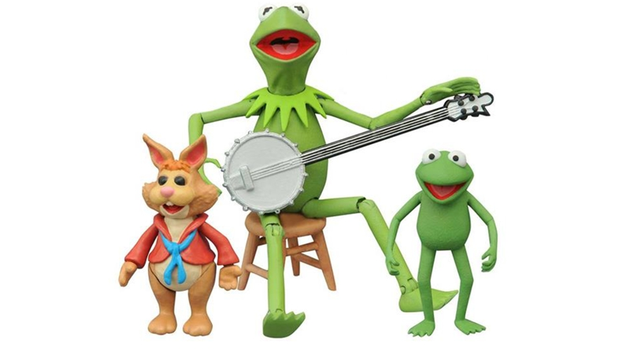 Kermit the Frog comes with his nephew Robin and Bean Bunny; Bean Bunny is a character that Palisades never got to in their 2001-2005 line, so I'm particularly happy that he's going to be in the mix. I love Kermit's jointed-ness; for a dude with such spindly arms and legs, he looks amazing. And that banjo and stool are the perfect accessories for my main frog.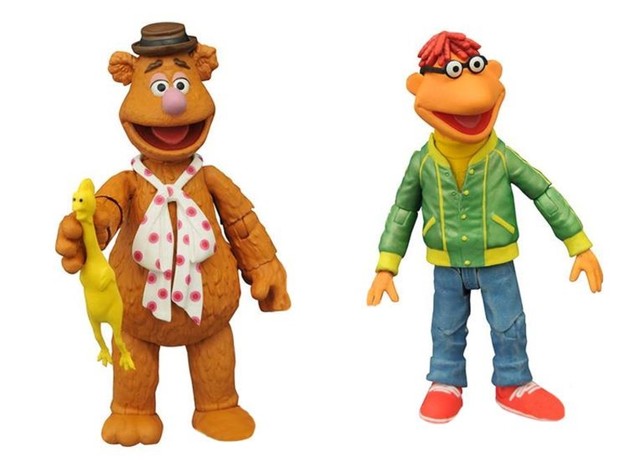 Fozzie Bear comes with a rubber chicken (because why wouldn't he?) and Scooter comes with hisself. There are a few things that may be messy photography or editing by DST, like Fozzie's left foot looking like a melted caramel, and Scooter's left hand looking like Kristen Wiig's character with the baby hands from SNL…but overall both look good. For me this is the weakest pack of this first wave of figures.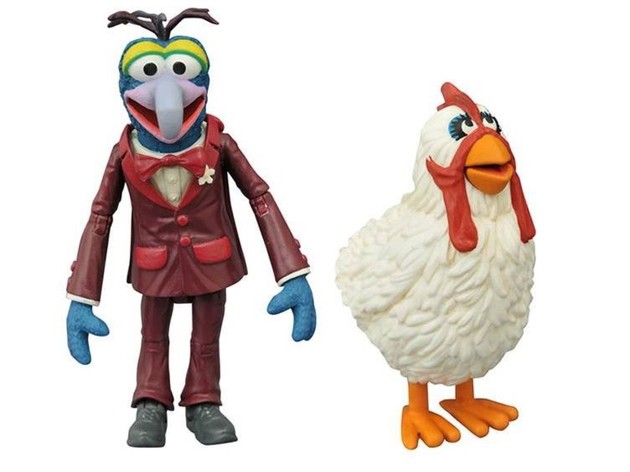 Gonzo the Great is a longtime favorite of mine, and I love that he's in his classic purple tux from "The Muppet Show." His girlfriend Camilla is also looking good, and making me realize she still hasn't appeared on the new Muppet series on ABC, and I would really really like her to.
I kind of like that Miss Piggy isn't in this first wave of characters; we know she'll be coming eventually, along with Rowlf and Animal and Bunsen and Beaker and hopefully all of the members of the band, plus Statler and Waldorf…okay, everybody. These are coming in March 2016, and are available for preorder now.