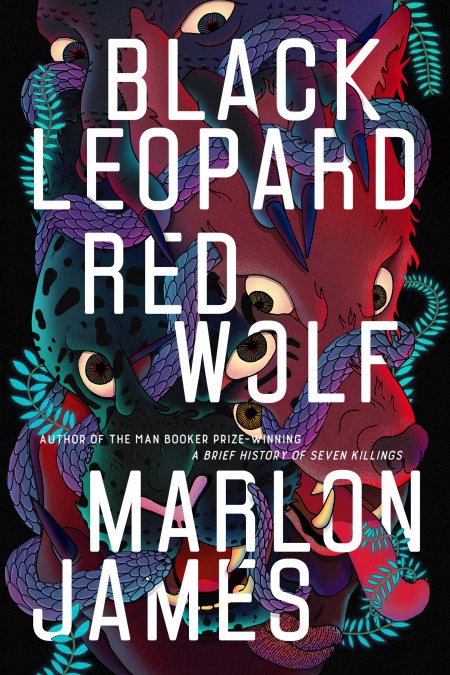 Black Leopard, Red Wolf by Marlon James
Published 2/5/19 by Riverhead Books.
Black Leopard, Red Wolf is the first book on the Dark Star Trilogy. Marlon James takes his readers to an ancient, otherworldly Africa, where themes of Greek and African mythology merge into a sprawling tale about the battles between different tribes and kingdoms, all of them with their own beliefs, powers, and cultures.
It reads like a dreamscape, full of potent and stark brutality. The writing is often staccato, list-like, with small, well-crafted sentences that are a perfect foil for Marlon James' ability, showcasing his striking imagery and unusual connections. It's beyond anything I've ever read or imagined and the world itself is a cutthroat existence where you'll never know which side is the right one.
Now, this isn't some Tolkien-meets-Black-Panther swashbuckler, it's more like Ulysses: probably great from a craftsperson-ship point of view, where every paragraph is a puzzle. Black Leopard, Red Wolf isn't for everyone. Some may be shocked at some of the darker, more gruesome moments. Cringing or rolling their eyes at the many descriptions of bodily fluids, sex, and violence. Would I recommend it? As an exploration of folklore and myth, sure. As an example of a particular style of writing, definitely. As fantasy at its freshest and most exciting, HELL YES.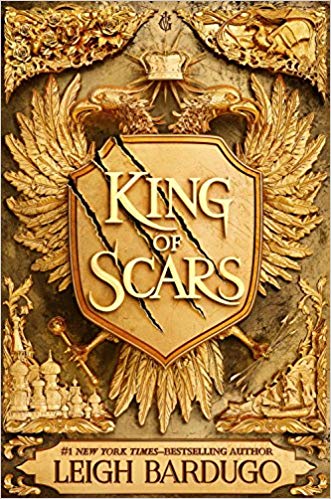 King Of Scars by Leigh Bardugo
Published 1/29/19 by Imprint
I didn't realize how badly I missed the Grishaverse until I started reading King Of Scars. Being back in Ravka with so many familiar faces really highlights how much Bardugo has grown as a writer and a storyteller since the Grisha trilogy. Leigh's writing, as always, is captivating but not overdone. it's easy to read, it's easy to connect with the characters, it's easy to get sucked into the story.
King of Scars explores even further the Ravkan religion and lore, with some… interesting results at times, but I'm a huge geek for those kind of plots anyway, so there's that. This book feels incredibly mature in comparison to the Grisha Trilogy, and roots itself in epic fantasy plotlines, which impacted the pacing of the story. If you are expecting the same high-stakes, action-packed plot as the Six of Crows duology, you'll be sorely disappointed.
This book starts three years after the ending of Ruin and Rising and a few months after the events of Crooked Kingdom. Ravka is still recovering from a civil war, but enemies from other nations are trying to destroy the peace that the king and the Triumvirate are trying so hard to preserve. All this at a time when some strange miracles are happening in Ravka (no spoilers.)
IMO this is a story about grief and loss and how living with those two things can impact your life beyond words. This is a story about being the person everyone wants you to be, while ultimately choosing the person you truly are. This is a story about feeling like your life is predicted for you, but realizing that you are capable of doing any and everything you want. The ending was solid, reveal after reveal got me reading like a maniac to find out how it all was going to turn out. Highly recommended.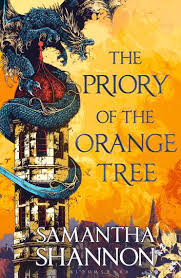 The Priory Of The Orange Tree by Samantha Shannon
Published 2/26/19 by Bloomsbury
Coming in at just under 900 pages, The Priory Of The Orange Tree is certainly a beast of a book. I have to confess, though, that some larger, high fantasy novels have intimidated me and/or bored me to death previously. It takes the right kind of world-building and characters, mixed with a good plot, to keep me going. This one tells the story of four powerful women, filling each of the pages with passion, magic, diversification, pirates, war and dragons.
The story follows four narrators—Ead, Tané, Loth and Niclays—who live in a world divided, East and West, over the opinions of dragons. In the East they are revered as gods, while in the West they are feared due to the haunting history of the Nameless One, an evil dragon who has been locked away for a thousand years in the Abyss and kept there by the bloodline of the Queendom of Inys, ruled by the Berethnet matriarchy. Stay with me. It sounds like a lot, but when you're reading it it flows so naturally and you quickly adjust to all the characters, where they are from, etc. Plus it has maps.
Now, all of the characters are very unique and easy to tell apart because they are three dimensional and very different in cultural background as well as personality. And each has their own arcs and difficulties and the way they deal with those difficulties are different as well. You learn a lot of REAL life realities in this story. So many events lead to different perspectives and thoughts characters would've never come to. That's just another reason this book is so enchanting and amazing. It's powerful and sends a message. Please don't sleep on this book. Just don't.
-Dagobot
Get at me on twitter: @markdago
Like me on THE Facebook: facebook.com/markdagoraps
Download my latest EP for free: markdago.bandcamp.com
Listen to MY podcast http://poppundits.libsyn.com