The WWE releases its official cookbook On March 19th. For a company that maintains annual merchandise and licensing net revenues of more than $115M and has its name on everything from bowling balls to bed sheets, I was surprised to see that the WWE has only published two prior cookbooks (both penned by WWE legend Jim Ross).
Having watched the WWE Network's digital special Kitchen SmackDown, a way-more-enjoyable-than-it-should-be 15-minute cooking competition between superstars, I worried that the cookbook would rely on the culinary knowledge of its wrestlers (or lack thereof). Fortunately, the book is written by best-selling author and chef Allison Robicelli.
The book is made of 76 recipes, each named with a WWE Superstar pun (e.g., Biscuits and Gravy Boy Smith, Prawn Michaels, Braun Stroganoff, etc.). Each dish is contained on one page, making it perfect for following the recipe while the book is open on a counter top. The recipe layout is also conducive to actual kitchen use with clearly listed ingredients and numbered steps.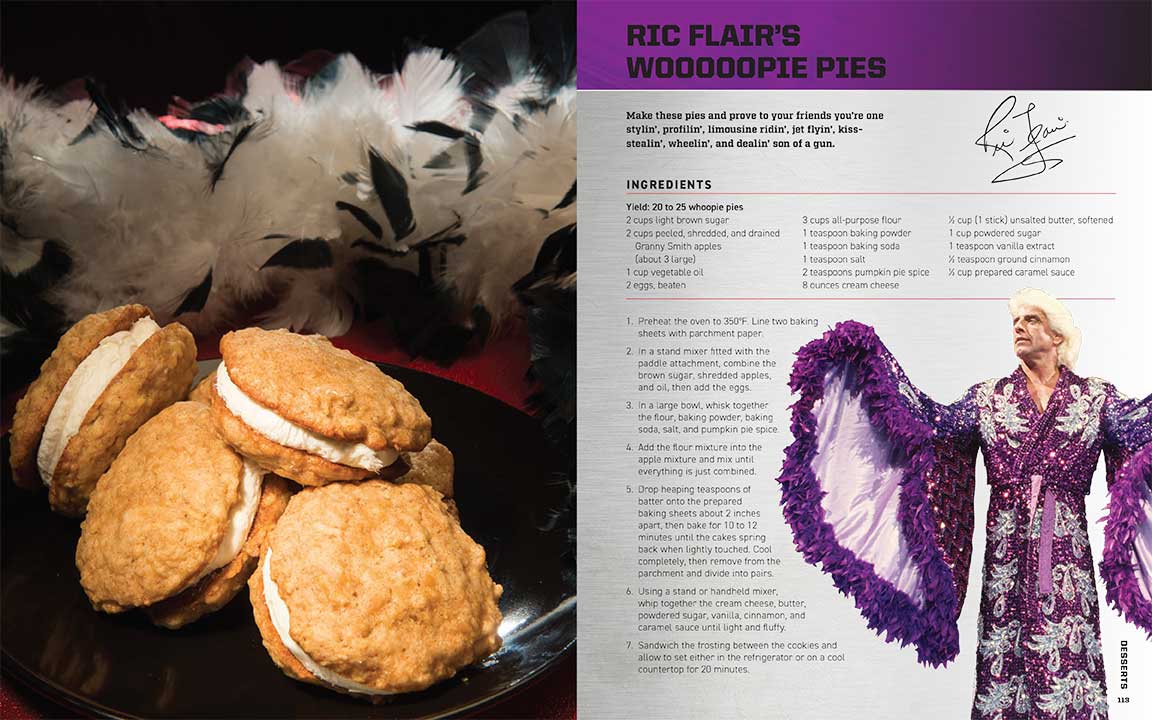 Each of the recipes is a dish that will impress the smarkiest of foodies. Unlike so many cookbooks out there, Robicelli's recipes have real people in mind, utilizing manageably delicious shortcuts. For example, the Chicken Rock Pie uses a rotisserie chicken and a puff pastry sheet rather than walking the reader through the time-consuming prep of roasting a chicken and rolling out pastry dough.
While the recipes are designed for preparation ease, it's not all kid stuff. The Beverages and Cocktails section seriously impressed me. The section has great breadth from standards to fun innovations. The Bruno Sammartini – a "quintessential cocktail for the quintessential legend" – is a go-to for those first hitting the ropes as countermen. However, Eddie Guerrero's Latino Heat is a dark rum based cocktail; it's spicy, sweet, and tart – perfectly named after the man whose in-ring style was just as flavorful.
The only thing missing from the book is an estimated prep time for the dishes.
So, whether you want to go casual with Nacho Man Randy Savage or drink it in with the Ayatollah of Capicola, if you're looking to make accessible impressive dishes and are prone to having the WWE Network on in the background, you won't be disappointed with this book. And that's the bottom line.