Out this week from Disney Lucasfilm Press are three books that retell the stories of the original Star Wars trilogy. Not just new novelizations or adaptations, these retellings add a bit of a twist to the classic stories we know and love. For Star Wars: A New Hope: The Princess, the Scoundrel, and the Farm Boy, author Alexandra Bracken delves into the points of view of the three main heroes, and shows the film through their eyes, when they are on-screen, and builds new scenes when they aren't.
Review: The Princess, the Scoundrel, and the Farm Boy brings a fresh take on the story of Episode IV: A New Hope. Bracken divides the story into thirds, with Leia Organa the focus of the first third, Han Solo the focus of the middle, and Luke Skywalker the focus of the final third. We see things from these characters' point of view and really get into their heads. Bracken takes this roles that the characters are often seen as (princess, scoundrel, and farm boy) and explores them, and breaks them apart as each of the three find that they are something more than just these labels, both in their own eyes, and in the eyes of those around them.
Leia in particular gets some great extra scenes as she goes from her blockade runner, the Tantive IV, to the destruction of her homeworld of Alderaan. When Leia is off camera at times in the film, Bracken fills in the gaps with an escape attempt aboard Vader's Star Destroyer, and coping with interrogation on the Death Star. We also see different scenes with Han Solo and Luke Skywalker. In particular, we get an extended scene from the cantina as Han and a girl whose name he can't quite remember watch some newcomers enter the bar; and a fabulous scene where Luke shows Wedge Antilles what he's capable of in a flight simulator.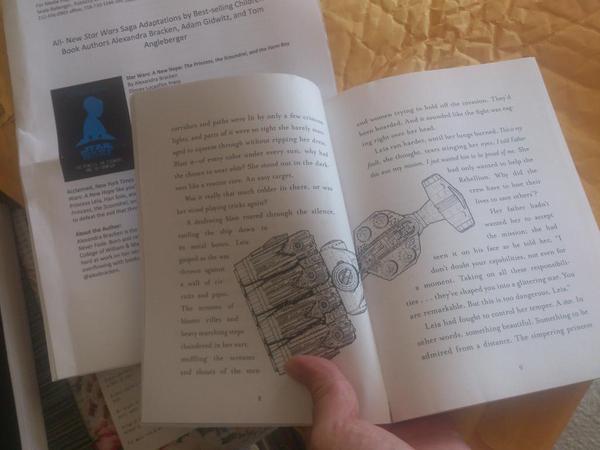 The story is enhanced with concept art and sketches from Ralph McQuarrie and Joe Johnston, and Bracken draws from the original script as well as the Brian Daley radio drama and her own creative imagination. I really enjoyed reading The Princess, the Scoundrel, and the Farm Boy, and I think most Star Wars fans will enjoy it as well. Bracken loves these characters and really gets into their heads. This story makes a great starting off point for a younger fan, or a fun way to revisit a classic for fans who have been around longer. If you're into Leia, Han, and Luke, you owe it to yourself to pick this up and read it! Big thumbs up!
For a little bit more of my review, watch my video here!
An advance reader copy of the book was provided by Disney Publishing Worldwide for this review.