Legacy: An Off-Color Novella for You to Color
Hardcover, 152 pages. Published November, 7th 2017 by Dark Horse.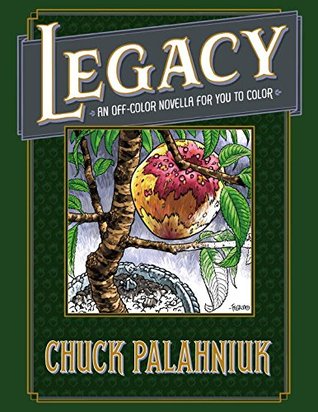 Gone are the days when coloring books belonged solely to kids and only showcased cartoon characters and silly days at the beach. Now, there's an entire market housing an array of adult coloring books that are funny, magical and everything in between. However, You won't find any whimsical flowers, mandalas, or animals accompany inspirational quotes here. With his first long-form prose in three years, Chuck Palahniuk blends the formulaic "Hero's Journey" with raw social satire in Legacy: An Off-Color Novella For You To Color.
The book itself is the kind of multipurpose relaxation tool that allows you to open any page and start coloring. Think of it as an explosion of creativity that is perfectly suited for full minds and artistic hands. The illustrations are flawless and as a collaborative work, the piece is beautiful. The novella is not just enhanced by the pictures. The art and the words within Legacy work in concert. Really fantastic visuals by Steve Morris (Buffy the Vampire Slayer) and Mike Norton (Revival, Battlepug), with a cover by Duncan Fegredo (Hellboy).
I got a chance to interview Mr. Palahniuk about his new project, enjoy!
D: I enjoyed Legacy very much. What inspired it?
CP: Don't laugh, but I wanted to reinterpret the story of the Buddha meditating beneath the Bodhi tree. Only in my version the tree is tiny, and the mystic seeking insight is a big, sexist, misogynistic coke head. The secret to my best stories is that they're reinterpretations of renowned legends. For example, my story Phoenix is the story of Isaac and Abraham, with God demanding the stabbing of Isaac.
D: Legacy is a different take on the "Hero's Journey" trope. What do you find interesting about the "Hero's Journey?" And are you satisfied with the way it turned out?
CP: Forgive me for seeming evasive on this subject. Years back I used to correspond with Ira Levin, the author of Rosemary's Baby and The Stepford Wives and so many other modern classics. When I pressed him too hard for his motivations he'd tell a story about an old man with a long, long beard. Once someone asked the man if he slept with his beard on top or beneath his blankets. The old man wasn't sure, he'd never given it any thought. That night, he tried to sleep with the beard under the covers, then above the covers, but neither felt comfortable. This troubled him so much that he never slept again. That said, I try not to examine my motives, for fear of resolving them.
D: In the introduction of Legacy you make mention of your lost family artifact of buttons that had been strung on a string. Now that you no longer have this proof of your history…(two questions)…have you thought about starting a new strand? And what type/color of button would you add?
CP: Instead of buttons, I travel the world collecting rocks. In my earliest memories of my father we're hunting for agates or visiting rock shops. We're breaking open geodes or polishing rocks in a tumbler — do kids still do that, tumble rocks in abrasive sand? My father grew up in Idaho, the "Gem State," so we were always looking for petrified wood or fossils. To keep his memory alive I bring home rocks from around the world, each with a story, and use them to make souvenirs for my readers. It's slow work but similar to stringing words together.
D: Tell me the reasons you've been attracted to a life of creation?
CP: No offense, but I don't create much. My degree was in Journalism. My impulse is always to listen, collect stories, curate and somehow preserve them by sharing them with people.
D: In the process of becoming, you've given the world a lot of "transgressional" fiction. That matters, doesn't it?
CP: My take on "transgression" is that it demolishes the old self to make way for a new, better self. It's not about attacking the outside world.
D: It has been over two decades since the release of Fight Club and people still love reading your books. Why do you think your books have such enduring appeal?
CP: Perhaps it's my method. I try to identify a common human behavior, then look for examples of it in the lives of people I meet. For example, asking them if they've ever had a job with a hazing ritual on their first day at work. Or, if they've ever been in a car accident. People love the chance to tell their stories, and I harvest the best examples of these archetypal experiences. This increases the likelihood that my readers will somehow relate to the ultimate "fictional" product I use these true stories to create.
D: We live in a very visual world today. Do words have any power left?
CP: Have you read my story Guts? At the opposite end of the emotional spectrum, when I've read the story Zombies at events I see people weep. The strength of words is that they're free. They cost nothing but time to combine and recombine, while a movie or video has production costs. That, and I can write anywhere. So stories don't have to reach a huge audience to recoup their cost. Stories also have an intimacy, usually being consumed by a lone person, so stories can risk depicting topics that a movie could never broach. Ghost stories told at a campfire are merely words. Jokes are just words. Yet both create an instant, intense emotional reaction. The visual seldom communicates any sense of odor, touch or taste, but words can effectively convey every sense. Words are incredible.
D: It seems like you are having a lot of fun creating stories for adult coloring books, comic books and graphic novels. What do these mediums allow you to explore that a traditional novel does not?
CP: Collaborating, especially with younger, gifted people, is a fantastic change from the isolation of working alone at a keyboard. That, and the comic conventions are Gatsby-esque orgies of fun compared to "literary" book events.
D: So, read the stories before you color the illustrations? or vice versa? Is there a wrong way to do this? By the way, the art in this is breathtaking, detailed top-notch stuff.
CP: What's impressive is the teamwork between artists Steve Morris and Mike Norton. Before anything, they had to establish a common visual vocabulary so every character and object was depicted consistently throughout the book. Doing so, they plotted their own version of the story, with hidden "Easter eggs" that won't be discovered until a reader does the serious work of coloring. So, read first, then color. Steve and Mike have woven a secret world of "Where's Waldo?" details to deepen the story.
D: Do you feel like working within these different mediums or on these different projects essentially scratch the same creative itch?
CP: Hmmmmm, the work doesn't so much scratch the itch as it does keep the itch itchy. God forbid I lose the need to keep exploring and experimenting with storytelling forms.
D: When someone reads and/or colors in 'Legacy', what would you like them to take from the experience?
CP: I'd like someone to trust in the eternal, invisible something behind everything visual. And to live a life fully devoted to what he or she loves.
Chuck Palahniuk remains one of my favorite authors, and someone who always challenges me as a reader with both content and format. I highly recommend Legacy to any fan of Palahniuk, especially those who appreciated his recent collaboration with Cameron Stewart on Fight Club 2 and his previous adult coloring book/short story collection, Bait: Off Color Stories For You To Color.
-Dagobot


Get at me on twitter: @markdago
Like me on THE Facebook: facebook.com/markdagoraps
Download my latest EP for free: markdago.bandcamp.com


Listen to MY podcast http: http://poppundits.libsyn.com