E3 was mindblowing. Just an incredible amount of game footage and screen shots. Some really huge announcements, others that were met with a resounding "meh." Microsoft pushed Kinect. Sony pushed Move (and ignored a recent gap in online service you may have heard about). Nintendo showed us… something. I'm still not sure I understand the deal with using a TV to play games on a different TV. Tuesday's VGQH had a simple breakdown of Sony and Microsoft's press conferences. Shaz-Bot did a great series of articles about Nintendo's presser so I'm not going to rehash it here. I will, however, give you a few more stories from the big event.
Starting with Square Enix, Final Fantasy XIII-2 has been pushed back from late 2011 into early 2012. I think it was originally announced as "Winter 2011" which has actually already passed. In the retail market "winter" usually means the beginning of the year. They say "holiday" if they mean November or December.
Despite the delay, congratulations to Square Enix. The Final Fantasy brand has been a staple in console gaming since the earliest days of the NES. It recently reached an incredible landmark: 100 million units shipped. That doesn't necessarily mean all of those units were sold at retail (and definitely doens't mean they've all been good), but it's still a damn fine accomplishment.
Not much new was said about the game, but a synopsis ("Betrayed by those he trusted and hunted by the police, he finds himself at the centre of a dark conspiracy and must embark on a personal journey through a corrupt and twisted world, in his search for the truth.") and a few screen shots of Hitman: Absolution were shown off by Ubisoft. My favorite shot: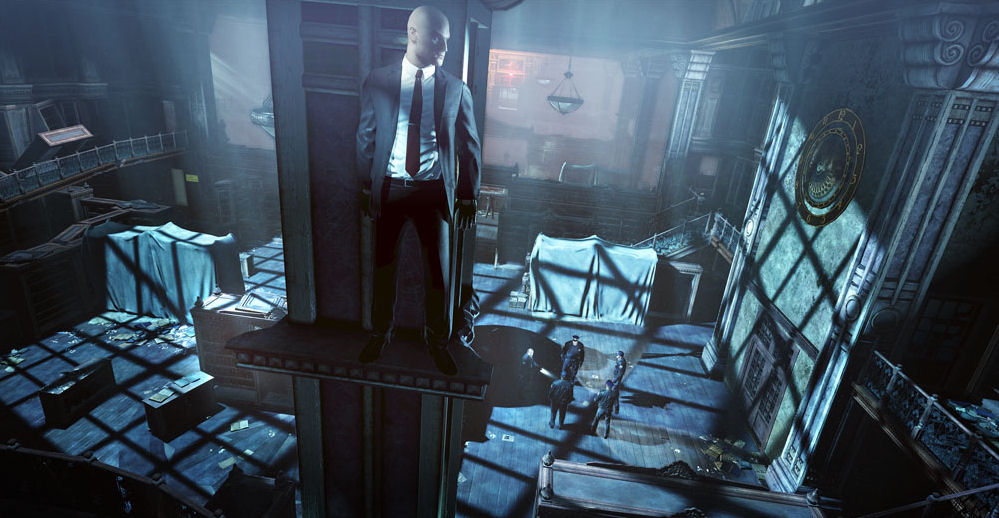 Capcom showed some footage of Resident Evil: Operation Raccoon City. The game concept still seems derivative in my eyes, but it does look pretty. Many of us were waiting to see how the zombies would play out since the majority of combat will be between heavily armed human combatants. According to the footage, getting injured can cause the zombies to scent your blood, bringing them straight to your position.
Other highlights from Capcom were the rebooted DmC and Street Fighter III: Third Strike Online Edition. Footage did show Dante killing demons, and even having his hair turn white with the Devil Trigger, so the reboot may not be so off the mark as a lot of fans thought. The latest iteration of SFIII will be downloadable this summer. If you need someone to explain what the game is, and why the names for it continually to get incredibly longer as time goes on, learn a little gaming history. The biggest announcement around the game is the use of GGPO netcode implementation – meaning it should be basically lag-free.
Tecmo showed off Ninja Gaiden 3. If this your game, you know what to expect: blood, action, and QTEs. Start stocking up on controllers now because you know you'll be breaking them.
THQ showed a little bit of Metro: Last Light and Saints' Row: The Third. Nothing new from either. Metro looks gorgeous, but I've yet to see any mechanics at work. Maybe I'm just not looking in the right places. Saints' Row, on the other hand, looks ridiculous. When they can show me something besides a dildo sword I might pay attention. I'm just not sold on and over the top comedic version of San Andreas. I'd rather see something original.
Konami also showed a few titles, including NeverDead, Otomedius Excellent, Skullgirls, and Blades of Time (sort of a sequel to X-Blade) to sate your appetite for bizarre anime type stuff. It all looks appropriately insane. Geared more toward the North American audience was the Students Showcase winner at IGF 2010, Puddle, headed for XBLA and PSN this year. They also showed Zombie Apocalypse 2 and PES 2012 (soccer, if anyone cares). Nothing spectacular from either one.
Konami's top story is Silent Hill: Downpour. They've finally released the basic plot of the story. Murphy Pendleton is a convict transferring prisons. When his bus crashes he decides to bolt. Bad idea, even prison can't be worse than running straight into the town of Silent Hill. They also promised free-roaming and exploration that can lead to side quests. Oh, and it will be running on Unreal Engine 3.
Sony and Q Games have announced their latest release for PSN, PixelJunk Sidescroller. The game is set for release this summer. I'm a little disappointed to see it's a shooter, a la Gradius or Life Force. While the entire PixelJunk series has been great, I was really hoping they meant it was a side scrolling platformer. For my money though, the best part of their games is the simplicity in titles. Capcom could take lessons in brevity from these guys when they name their fighting games.
Sony also released a few bits of information outside of the major electronics show. Namely that Motorstorm Apocalypse has been canceled in Japan. The game was deemed too insensitive in light of the recent tragedy. I have mixed feelings on this concept. There is a certain element of moral uprightness in canceling a game that could bring up hard memories or other emotional pain in the light of such a tragic series of events. On the other hand, it's a game about racing cars through a fictional universe. As the country struggles to bring things back to normal, gamers want to play games. Which means there's also an element of insult to injury for those looking forward to the game.
There's also a kind of funny story about Sony that really only affects European readers. It seems hackers aren't the only problems they've had with their network. Beyond Good & Evil HD was recently released on the EU PSN, at a higher price than its XBLA counterpart. You can only imagine the fan reaction on the internet. Turns out it was an honest mistake in the pricing and Sony has since corrected it. More than that, anyone who bought it anyway will be receiving a refund. Still waiting on a US release, but keep an eye on the cost before you buy.
One final word out of Sony is leaving me baffled. It seems that Home "hit a new record in terms of weekly unique users," according to a Sony Executive, Jack Buser. This has been since the service was restored along with the rest of the network after the hacker outage. Two problems here. One, Home is pointless. Two, these numbers are falsely inflated because of the 100 free items that were offered in the Welcome Back package and the promise of Sony's E3 press conference being live streamed into the theater. The streaming press conference worked for almost no one by the way. It was full of "network error" messages and many users went to their computers to find a functioning stream on the web. As for the 100 free items, now that you've all jumped in and got them, what are you going to do with them? They only work inside Home, and there's no reason to go there.
Considering that last Sony story was basically an editorial anyway, I'll skip my normal closing comments. Thanks for reading. Check back on Tuesday. I'm hoping to get more details on the games that were just glossed over in all the hoopla from LA.