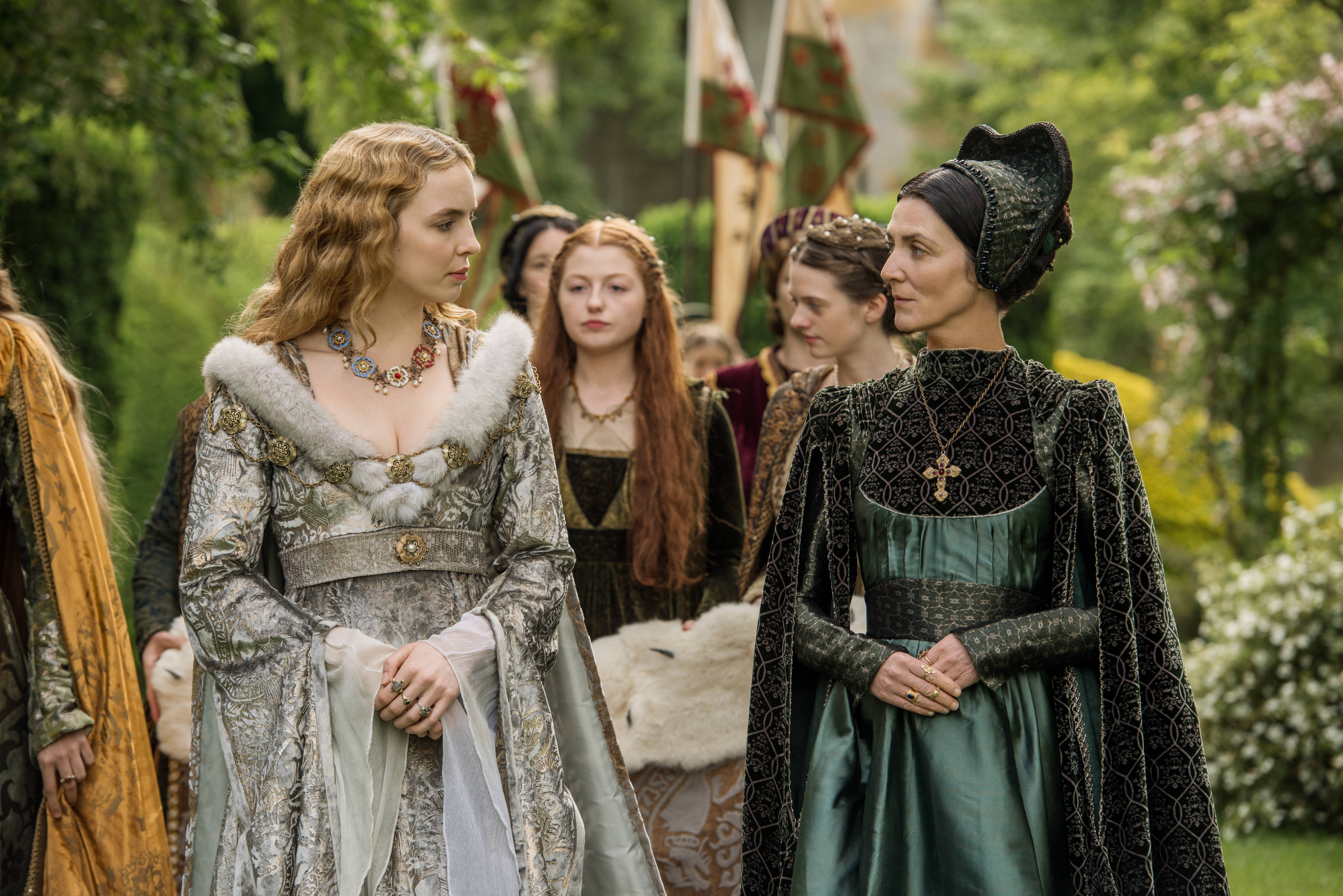 THE WHITE PRINCESS (8 out of 10) Directed by Jamie Payne (5 episodes) & Alex Kalymnios (3 episodes); Written by Emma Frost, & Philippa Gregory; Starring Jodie Comer, Jacob Collins-Levy, Michelle Fairley, Joanne Whalley and Rebecca Benson; Rated TV-MA for sex & nudity, violence & gore; Running time 451 minutes (8 episodes); Available to own August 29.
The War of the Roses has ended, and England looks to the future with the union of Elizabeth of York and Henry VII. It is a match designed to unite the White rose of York with the Red rose of Lancaster/Tudor, the warring factions in a decades' long battle for English throne.
Culminating with the defeat of Richard III at Bosworth Field (Of "My kingdom for a horse! fame"), the wars bring down the House of York. To cement the hard-gained peace, the two houses are joined together with the marriage of Elizabeth and Henry, laying the foundation of what becomes Tudor dynasty. (They were the parents of Henry VIII. You may have heard of him. And the grandparents of Elizabeth I).
"The White Princess" is a sequel to "The White Queen." Both series aired on the Starz channel and are based on the books by Philippa Gregory. Gregory also wrote the "The Other Boleyn Girl" which was turned into a major motion picture starring Scarlett Johansson and Natalie Portman.
I probably enjoyed "The White Princess" a bit more than "The White Queen," since it brings the story closer to a period of English history I'm more familiar with. History is one of my great loves, and while certainly some things were dramatized for television, the real life events in this period of history were exciting enough without much embellishment.
And this series pays special attention to the women of the era, who often had no say in who they married. Marriages were political alliances and the participants pawns in the great chess game of power.
The series is a lavish production of elaborate clothes and pomp worthy of English royalty, and not a single moment felt like filler. Eight episodes is just the right length for the series. My only complaints are about the Blu-ray itself. There was no bonus material, and perhaps it was just my copy, but the sound levels between the menus and the series were very different. The menus played much louder and I kept having to turn the volume down and then up when I moved to a new episode.
Technical issues aside, I would recommend the series to anyone who likes historical drama and if you've already seen and liked "The White Queen," then I think you'll love this.