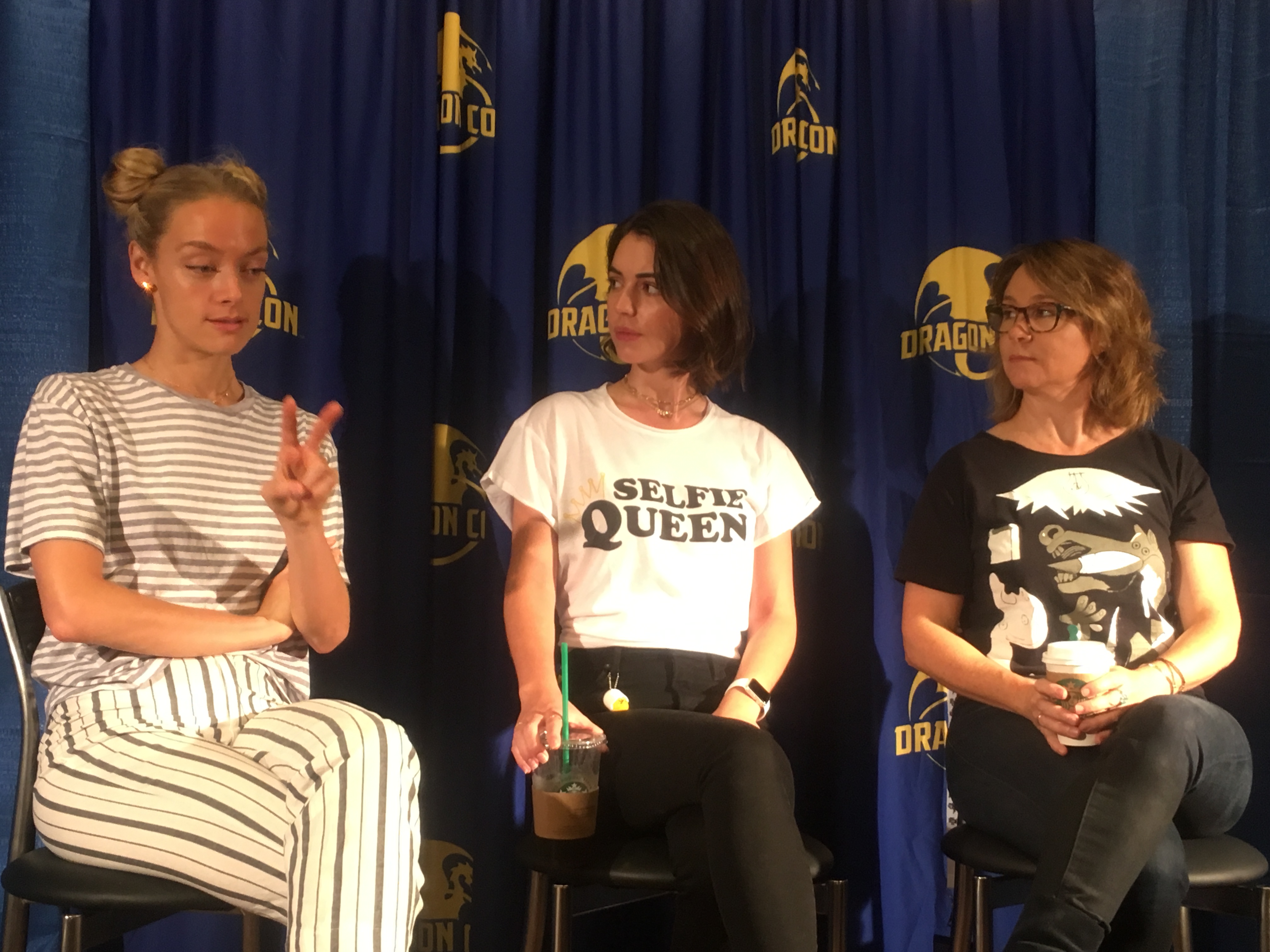 Though "Reign" has ended its . . . well, reign on television, the stars of the show recently came to Dragon Con to meet fans and answer questions.
On hand were Megan Follows, who portrayed conniving Queen Catherine of France, but will always be Anne-with-an-e Shirley to me and anyone else who grew up watching her on the Anne of Green Gables miniseries; Adelaide Kane, the ill-fated Mary Queen of Scots; and Rachel Skarsten, Elizabeth I of England.
One of the first things I had to ask about were the costumes. Meredith Markworth-Pollack designed the lavish clothes worn on the show and also incorporated designer gowns, integrating contemporary styles with fashion of 16th century France. Each character had a distinct look and color palette, with Mary's changing as she transitioned from France to Scotland. And to portray conflict, her outfit clashed with everyone else and the set. But when things were going well, her clothing fit in harmoniously. And Queen Catherine wore a lot of long capes and slightly militaristic style. "I was rocking the militaristic style before Cersei," Megan says with a laugh.
"You can say a lot with wardrobe, and Meredith did an incredible job," Adelaide adds.
But did they have any favorite items from the show?
Adelaide describes an Alexander McQueen black sheath dress she wore in season 2, with a keyhole and a gold collar. "I wanted that dress with all my heart." I think this is the dress she is describing: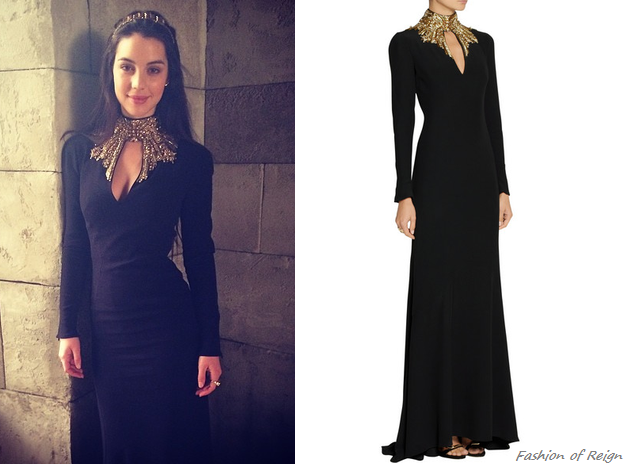 And while she did not get it, she received a pair of black and white moon and sun earrings. "I wear them every now and again. They're so big and heavy I have to pick my battles with them. After 4 or 5 hours my earlobes will fall off."
Rachel recalls that Elizabeth's look changed dramatically but she does remember a Vivienne Westwood dress that she wore for her birthday one year. The ornate dresses "cost so much money to make that I always joked that I would steal one if I ever got married and wear it as my wedding dress." She was able to keep some jewelry and shoes, including a pair of Yves St Laurent leopard print shoes. Her friends always joke whenever she wears nice shoes she took them from Reign.
With such elaborate costumes come a variety of challenges, however. Requiring assistance when wearing a corset. Tripping on skirts or having someone step on the train. And they learned to keep the costume on during lunch, because after a meal the corset was even more uncomfortable. And even breathing became an issue, with Rachel commenting on how you don't realize how many words that you say on the full breath. It required a learning curve. Adelaide also describes how lace on her sleeves would catch on jewelry or beading.
When Rachel began the show she was told a cautionary tale about an actress who had been rough on her costumes, tearing them and getting them dirty, and they stopped giving her nice costumes to wear. It took weeks to build a dress with a whole team of seamstresses and tailors, so it was important that the clothes be respected and be able to hold up for the duration of shooting.
In addition to blending contemporary clothes with historical garments, the scripts in Reign took huge liberties with the facts, using key real-life events in history to frame the story. Follows describes it as a historical fantasy. "We don't get to see history from those who are not on the winning side often. Or when we do, they're the footnote to the victors." She thought it was interesting that Mary was chosen as the heroine, when she is later executed by Elizabeth as a threat to the English throne. We see her journey, knowing through our knowledge of history how her decisions will later result in her fate.
Did they know the show would be so successful? There wasn't a template for it, Follows explains, but it was a "great combination of contemporary themes put into a historical context with a contemporary soundtrack and fashion but it was still about high stakes. Love, war, betrayal, friendship." And while it was designed for 14 -24 year old women and certainly appealed to that demographic, the actresses have met people all over the world much older, of many different races and all genders.
And the show, following the basic timeline of history, didn't shy away from killing off characters, including two kings. They didn't keep characters just to pander to fans.
Now that the show has ended, what's next?
Megan is directing episodes of Canadian series Murdoch Mysteries as well as directing and acting in another Canadian series Heartland. She has previously directed three episodes of Reign.
Adelaide is appearing as Ivy Belfrey/Drizella on the current season of Once Upon a Time, and she is also in the upcoming film Acquainted, currently in post-production.
And Rachel, much to her mother's delight, is appearing in "Marry Me at Christmas," a Hallmark holiday movie debuting tonight on the Hallmark channel.