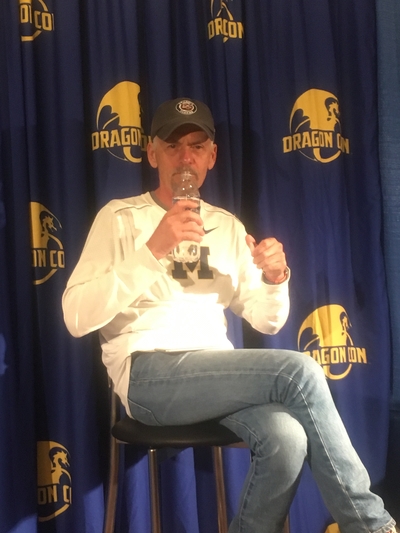 Many people probably know him best as the voice of Yakko Warner on Animaniacs, but Rob Paulsen has a decades-long career bringing a multitude of characters to life such as Donatello and Raphael from Teenage Mutant Ninja Turtles and Carl Wheezer from Jimmy Neutron.
He recently sat down to answer questions at Dragon Con in Atlanta and spoke candidly about his recent cancer diagnosis and recovery. When his doctor discovered a swollen lymph node in his neck, his world changed. Unwilling at that point to share his health news, he told conventions that invited him that he had developed a node on his vocal cords.
His doctors warned him that treatment would be brutal, and he would "die someday but not from this." He chose not to make a big deal about it because everyone has things to deal with. "I don't need anybody's sympathy. I am incredibly fortunate. Even if they'd said, 'You better pack your stuff and get ready to punch your ticket, I've had a hell of a run . . . I wasn't interested in dying, but I had nothing to seek sympathy about."
He lost 50 pounds and canceled convention appearances, but now that he's recovered he's in a position to help others. Someone might catch him on a podcast and say, "Wow, Rob Paulsen makes his living doing cartoon voices and he got through throat cancer of all things." He acknowledges that the characters he voices are famous, and with that celebrity "comes a certain amount of responsibility" to discuss bad days.
"Any actor who says they don't like attention is lying to you. That doesn't mean that they like to be bothered 24/7."
"Everyone is touched by cancer. It's painful. That's part of the deal," he said. But he didn't have the energy to respond to the sympathy of fans on social media if they had learned of his cancer while he was going through it: "I didn't have the juice. I was just a wreck for about two or three months"
But the good news is he's fine now and is on his way to a full recovery.
So what is he up to currently? I had to ask him about the Animaniacs reboot rumors circling around. "All I know is there have been pretty fervent discussions about the fact that Animaniacs is enormous on Netflix. It's doing great business."
He also had wonderful words to say about my favorite director: "I also know having had the great good fortune to work with Mr. Spielberg on a number of occasions that he is inarguably the most powerful man in Hollywood and if he wants to get something done he'll get it done. I also know from the experience with him that if he gets it done it will at a very high level. It's not gonna be just to do it for the sake of doing it."
"It looked like it was pretty legitimate in terms of the desire . . . the talks are in place to get it done because nothing goes out without Mr. Spielberg's approval with his name on it. And if his name on it, and it doesn't have his approval, it's out. There's pushback. There's no pushback. My feeling is they are definitely talking between Amblin and Warner Brothers with probably one of the new platforms to do it. . . Once I get the word, if it's happening, you'll know pretty quickly . . . My little cartoon fingers are crossed."
As far as more current projects, Nerdist has taken Paulsen's Talkin' Toons podcast and "turned it into a pretty fun little TV show." And you can check out an updated version of Paulsen singing "Yakko's World."
And though he is a myriad of characters with a variety of voices, the man behind the cartoons is just happy to be among his fans and the convention circuit again. "The fan love is there, and there's no place that it is more obvious than Dragon Con. Everybody here could not be nicer to me. . . I'm so grateful that I not only get to come back anywhere because of the whole cancer thing but especially here. Everybody's just delightful. I have a little piece, a little chunk of my cartoon heart in Atlanta for these folks."