Greg Weisman is one of the three masterminds behind "Star Wars: Rebels." He talked to us briefly mere weeks after he was hired at the 2013 Denver Comic-Con, excited about his involvement in the future of "Star Wars." He and I were even on a panel together about what it was like working in or near that sandbox and it was a highlight of that convention for me. He's handled some of my favorite franchises, from "Gargoyles" and "Spider-Man" to "Young Justice" and "Batman," and his inclusion in "Star Wars" is something that helped get me through my depression over the cancellation of "Star Wars: The Clone Wars."
When I went out to San Diego Comic-Con this last weekend, "Star Wars: Rebels" was at the top of my list of subjects to cover. I went to the panel with the cast and crew, the preview screening of the premiere, the party for the show, and covered the press roundtables. (Expect more coverage of these both here and on Full of Sith in the coming week.) To say I'm excited about the show is an understatement, doubly so after seeing the pilot.
But one thing that was missing from everything I saw was Greg Weisman.
He wasn't on the panel for the show, though he was talked about with great reverence. Simon Kinberg and Dave Filoni both credited him with helping author the show and set the tone and they did so with enthusiasm.
From the StarWars.Com liveblog of the panel:
6:55: What's it like working with Greg Weisman? Filoni: "We couldn't have gotten this off the ground without Greg." Kinberg says that his "voice is a huge part of the show."
His absence was felt, but not that unusual. Maybe he didn't make it to San Diego. That's probably why I didn't see him at any of the other events.
Then, one of the voice actors during the roundtables mentioned that Greg Weisman wasn't writing for Season 2 of "Star Wars: Rebels." (Here is the interview It's Freddie Prinze, Jr. who states that Weisman is no longer with the show.)
This was curious.
And then later that day I spotted Greg Weisman in San Diego.
This could all be a coincidence. He could have had something else scheduled at the time of the other events and the screening. But add to that the fact that I was told he's not writing for Season 2 and it makes me wonder what's up.
But then there are also tweets like this: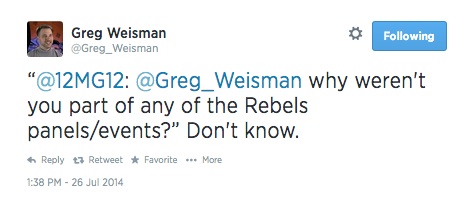 He also favorited tweets I'd posted, wondering where he was. (He has since unfavorited those tweets.)
I've received no official comment from Weisman. And I reached out to Lucasfilm and received no comment. This is me thinking out loud and wondering if something is up. Perhaps an announcement is forthcoming. Maybe he's working on another "Star Wars" project. Or maybe something went down?
I wanted to present to you the dots I've collected. They could be something, they could be nothing. But it certainly begs the question: Where's Greg Weisman?