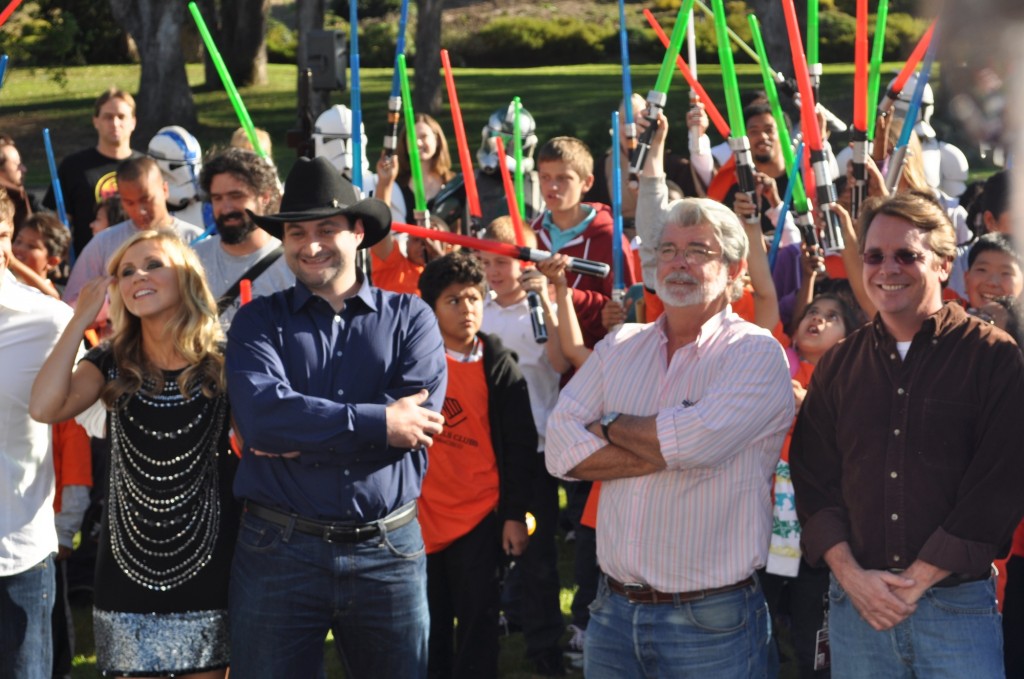 Tomorrow, when the Season Three premiere of "Star Wars Rebels" airs, there's going to be a change in the credits that might go unnoticed by most.
When the title card for Supervising Director rolls by, the name attached won't be that of Dave Filoni. Filoni has been a supervising director on "Star Wars" animated television since the first episode of "The Clone Wars" which premiered in October 2008.
The new supervising director, Justin Ridge, is no stranger to "Star Wars" on television. He's storyboarded and directed episodes of "The Clone Wars" and "Rebels" including some of my favorites like "Holocron Heist," "The Gungan General," and "Rebel Resolve."
Filoni retains his Executive Producer credit on the show (and is also credited with a Stormtrooper's voice in the premiere). Based on conversations and panels with him at Star Wars Celebration in Europe in July of this year, it's clear that Filoni is still actively at work on the show and making creative decisions. He even remarked that he'd been involved in recording Tom Baker's voice for episodes of Season Three.
There's no indication why the changeup was made. But it could be as simple as he's doing more creative work and less day to day work.
It's easy to wonder if he's stepping back from as many regular duties on "Rebels" because there might be a new animated show in the works. But there's no evidence to support that notion, though I'm positive fans will speculate endlessly to that effect. We've reached out to Lucasfilm about the reasons for the change, but have not received a comment yet.
Whatever the reason for Filoni's change in credit and job on "Rebels," let's hope it's a good thing for "Star Wars," rather than disastrous. Fans have placed a lot of trust in Filoni as Supervising Director because he's earned it. He's a "Star Wars" fan of the highest order and understands the saga better than almost anyone that's not George Lucas.
And it goes without saying that Justin Ridge has very large shoes to fill and we wish him luck. We all very much look forward to what looks like the best season of "Rebels" yet.
The third season of "Star Wars Rebels" begins tomorrow night on Disney XD. They previously premiered at both "Star Wars Celebration" and at Fan Expo Canada.
Be sure to tune into a special episode of Full of Sith immediately after the show airs.
UPDATE: Via Twitter, Lucasfilm Creative Executive Pablo Hidalgo explained that this isn't a matter of Filoni stepping down, but a matter of Ridge stepping up. In essence, Filoni is becoming the George Lucas of the animation. Which can only be great news.
UPDATE #2: A statement from an official Lucasfilm Spokesperson:
Dave is still just as involved as ever – overseeing all aspects of Star Wars Rebels production as Executive Producer and occasionally directing episodes. In many ways, mentoring Justin and moving him into the role as Supervising Director has made it possible for Dave to be even more immersed in the writing and story structure of the show as well as creatively overseeing future animation development. Justin started with Lucasfilm Animation on the first season of Star Wars: The Clone Wars and worked with Dave before that on Avatar: The Last Airbender, so they've been working together for quite some time.
So, there we are. Nothing to panic about and official confirmation that he is working on future animation projects. This is great news.