May the Fourth be with you! And what a day it has been. In addition to the usual excitement surrounding "Star Wars Day," Vanity Fair gave fans a special treat: new information about "Star Wars: The Force Awakens."
Little is still known about the next film in the "Star Wars" saga, but with the premiere later this year and a new trailer recently released at Star Wars Celebration, solid facts are starting to emerge. We have new information and photos, as famed photographer Annie Leibovitz visited Pinewood Studios during production.
Here's what we learned from Vanity Fair:
Adam Driver, as many suspected, is Kylo Ren. Supposedly a Sith Lord, or at the very least, a devotee of the Dark Side, Ren appeared in the first teaser trailer. Masked and wielding a new type of lightsaber, he has been a subject of much conjecture. Leibovitz photographed him, clad in black, leading a pair of troopers through a snowy landscape.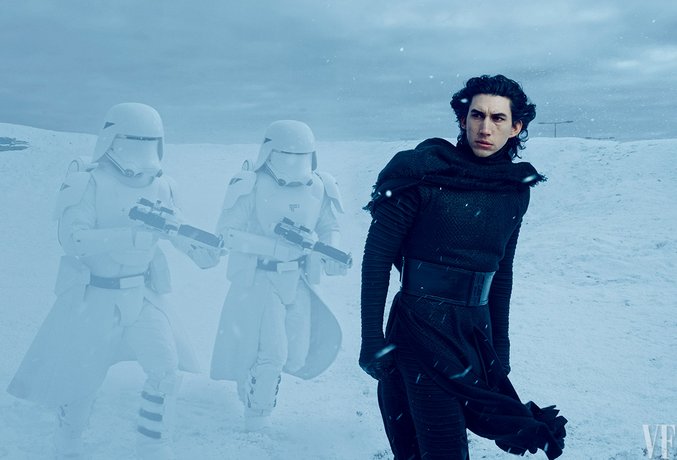 The lovely Lupita Nyong'o portrays CGI character Maz Kanata. From a caption we learn she is a pirate: "Galactic travelers, smugglers, and other assorted riffraff fill the main hall of pirate Maz Kanata's castle." The denizens of her castle look to rival those in Jabba's Palace.
We also learn about Gwendoline Christie's character. Known for her role as loyal Brienne of Tarth in "Game of Thrones," Christie is Captain Phasma, a member of the First Order. Surrounded by rubble in the picture, Captain Phasma's stands alone. Surveying damage from a recent battle? Did she win or lose? Her uniform is simultaneously battle-scarred and shiny, which doesn't offer many clues. But she and Kylo Ren look like forces (ha ha) to be reckoned with.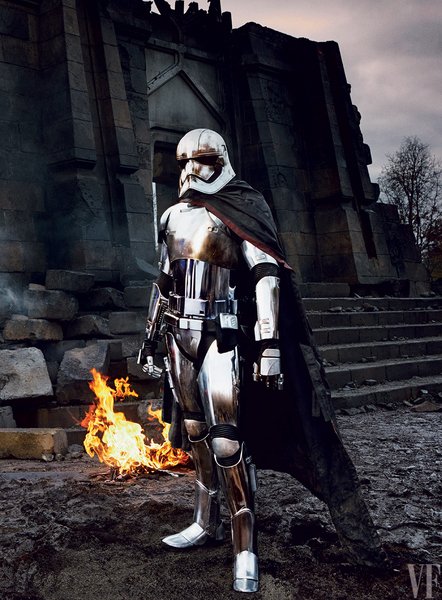 Too many villains for you? There's a heroic shot of Oscar Isaac (Poe Dameron), his hair blowing in the wind, as he stands by his X-wing. We know from Celebration that he's on a mission for Leia, but the details of that mission are still anyone's guess.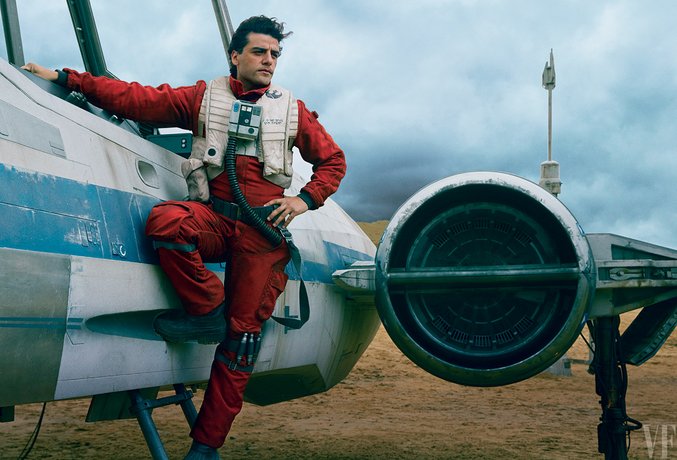 And the cover . . . the cover! Han Solo, anyone? And Chewie! With newcomers Daisy Ridley (Rey) and John Boyega (Finn), this is one to buy and keep forever. I still have the Vanity Fair issue from when "The Phantom Menace" came out. Who knew that we'd ever see Harrison Ford as Han Solo grace the cover of a magazine again?
And all that is still not enough information for you, check out the brief video about the photo shoot. Lucky Annie Leibovitz is seen hugging Harrison Ford. To be her in that moment.
This is one of the best Star Wars Days in a long time . . . a long time.
And to see more, be sure to visit Vanity Fair online, or pick up the latest issue of the print magazine.