I'll be the first to admit that I generally think people who wear Bluetooth headsets in public look like tools. It's not a fashion statement and it looks quite rude. I mean, really, you're so in demand you have to have your phone plugged into your ear at all times? I swore I'd never wear one if my life depended on it.
And then they made Star Wars ones.
I know, I know. But when the people at Earloomz offered me a chance to check one out I figured, "What the hell, right?"
Earloomz makes them in 10 different varieties. I chose "The Dark Duel" to try out.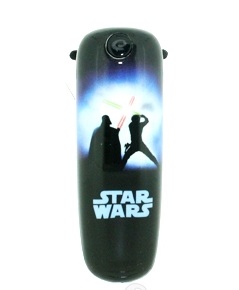 Syncing the device was easy. It was as simple as turning it on the device and flipping a switch marked "Bluetooth" on my iPhone. To be honest, I wasn't sure what to expect as far as sound and microphone quality and so when I finally slipped it into my ear I was a little surprised. For one, it was comfortable (and it came with different sized ear-pieces in case it wasn't) and it didn't really feel like I was wearing anything. Aside from the fact that I could barely hear the outside world from my dominant ear, I couldn't really tell it was there. It's no wonder people wear them all the time.
The sound quality was as good as my phone and testing it out, the mic didn't sound noticeably different than if I were using my phone normally.
I tried playing with a few things and was a bit dismayed that I couldn't find a way to listen to my iPod on the Bluetooth, but I don't know if that's a problem with the device, my phone, or if it's just not something any Bluetooth is designed to do.
I was very impressed with the range on the thing. I was able to plug my phone in in my bedroom and I could wear the device and clearly pick up calls from anywhere inside my house and my front yard. From my living room, I could take calls in my back yard, which is where I could see myself actually using this headset on a regular basis.
It was also a lot easier to deal with in the car than my headphones. The problem with my headphones is the cord getting tangled everywhere and that's obviously not an issue here. And I'll be honest, I'd leave this in my car to replace my headphones completely if it played music since the radio in my car doesn't work.
As far as the battery life, I was using it moderately for a day and a half before felt like charging it, but I'm not sure I needed to yet.
Overall, this really converted me. I still think people who wear these constantly look kind of stupid, but I can see situations where I will actually be using this and it will be useful to me. And since it's emblazoned with the climactic lightsaber battle from The Empire Strikes Back, I won't like a complete idiot doing it.
For car trips and conference calls where I'm doing lots of pacing this will come quite in handy. For any Star Wars fan looking to get into a Bluetooth headset, these are affordable and of high quality. For any current Bluetooth user and Star Wars fan, do yourself a favor and convert to these Earloomz, because let's be honest: you'll look a whole lot cooler this way.
You can pick them up on the Earloomz website.