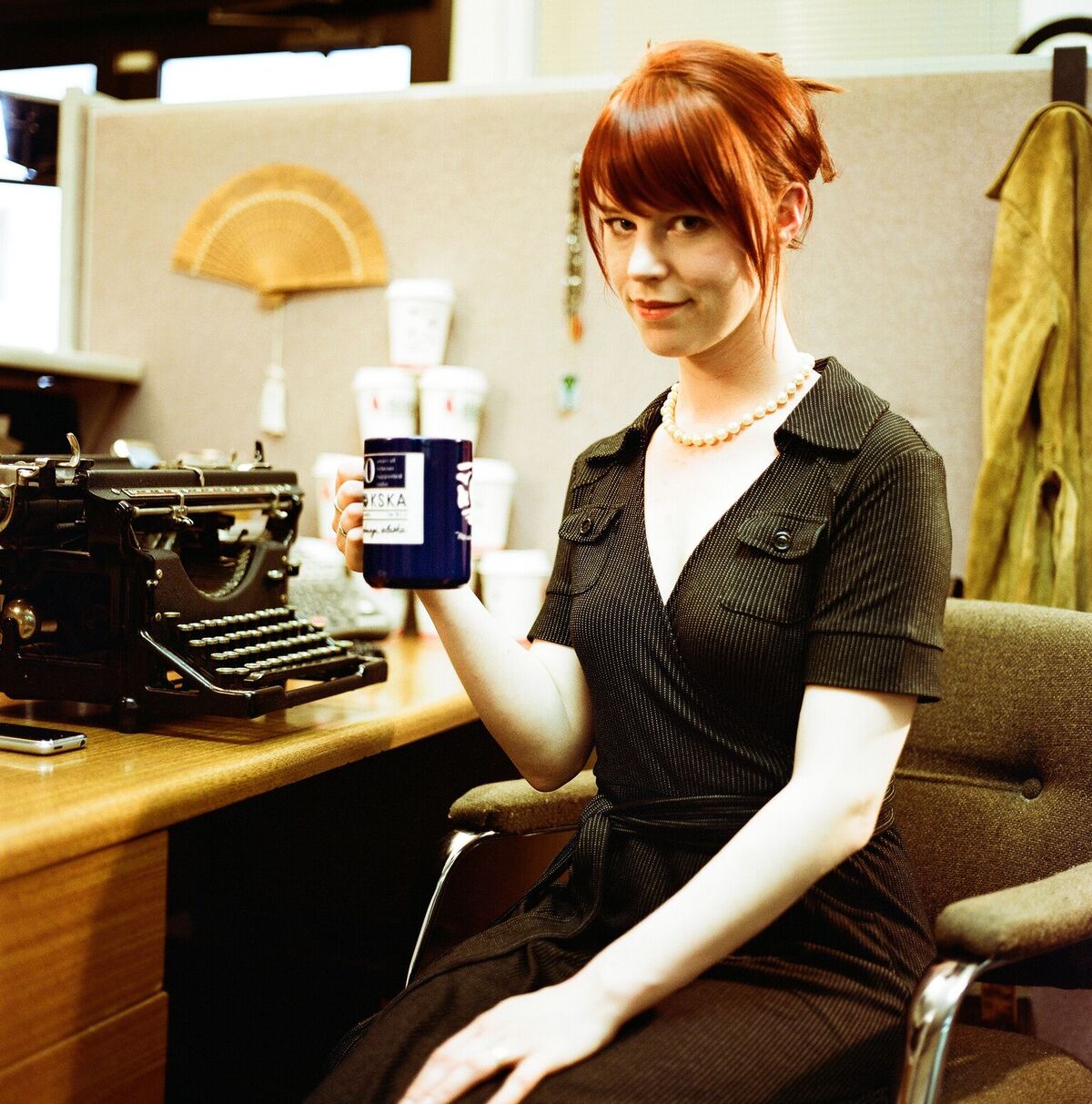 Photo credit: Brian Adams
Marian Call is a singer/songwriter out of Alaska, specializing in geek themed tunes. Her work, inspired by such nerd fare as Jane Austen, medieval architecture and Shark Week, among others, has taken her across North America and Europe. Call will be playing a free show tonight, August 9, 2017, at Watchtower Cafe.
We had a brief conversation with Marian about how she came to a career in music, what inspires her, and what's coming.
BSR: How did you first get interested in music?
MC: I grew up in a family of working musicians, it was the trade I was raised in. So it never felt glamorous or out of reach, it felt natural and simple. I studied music theory all through high school and college, and I sang and played with every music ensemble that would have me. Today I just want to go everywhere and play and sing, so I've toured all 50 states and Canada and Europe many times over, playing concerts every night. I'm essentially a really hardcore modern chaotic good wandering bard.
BSR: Your songs don't always cover the usual musical fare, what types of things do you enjoy writing about?
MC: Many songwriters tackle love and romance, but I don't know too much about that. So I find inspiration in unusual places, like avocados, Jane Austen, medieval architecture, Shark Week, tech support hotlines, and Battlestar Galactica. Often these songs do wind up commenting on humanity and relationships, but sometimes a song about Shark Week is just about Shark Week.
BSR: Speaking of Jane Austen and Battlestar Galactica, what are your favorite fandoms?
MC: Firefly, the new Battlestar Galactica, The Muppets, Star Wars, Star Trek TNG, Zelda, and soooo many others.
BSR: What's a fun fact most people don't know?
MC: About me or about the world? Hmm. About me: I play an absurd amount of Don't Starve (alone) and Star Realms (with friends) while at home in Juneau.
About the world: I learned in Utqiagvik (the town formerly known as Barrow on the North Slope) that polar bears hide their black noses with a paw while stalking people through the snow. So if a polar bear plans to end you, the last thing you will see is a cuddly white bear covering its nose with a giant paw. Adorable! I have no idea whether this is a true thing, the locals might have been telling tales, and I'm sure I deserved it.
BSR: Do you have any upcoming musical projects or projects outside of music you want fans to know about?
MC: Hmm, my Twitter is a very thorough multi-year memoir of traveling the nation and life in Alaska. In very small doses. It's a work in progress. I've just completed my tenth album called Standing Stones about storytelling and the internet and astronomy — it's inspired by Neil Gaiman's Sandman and Anaïs Mitchell's Hadestown, among other things. Right now I'm finishing up a new song for the Eclipse!
BSR: Is there anything about tonight's show that people should know?
MC: You should drop in for a few songs for free! Live music is so different than any recording or video. Besides, I'll need a little help with some nerdy audience participation elements.
We want to thank Marian for speaking with us. She'll be playing live at Watchtower Cafe in Salt Lake City tonight at 7:00. Be there and be square. For more information and to follow what Call is doing, you can find her on Twitter or at her website.