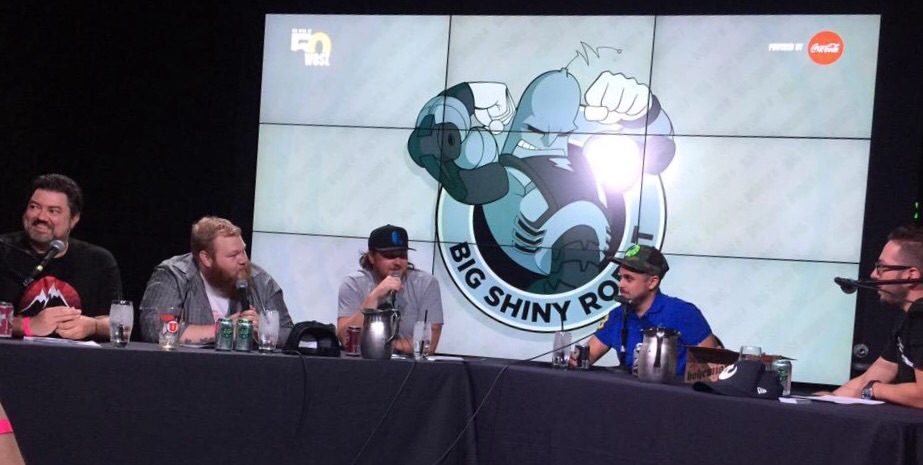 This episode features: Tyson, Kiley, Jimmy, Lucas, and Tom!
On August 28, 2015, the fellas from the Big Shiny Podcast took the stage at the Club at 50 West for their first ever live show! Drinks were had, jokes were told, hecklers heckled, and general geek debauchery occurred.
We would like to thank all of you that came out to enjoy and participate in the show. It took all the guys the rest of the weekend to come down from the excitement, and of course, it wouldn't even be worth having a live show if it wasn't for all you lovely listeners! We sincerely hope you all had as great of a time as we did, and we hope to be doing another live event with the most awesome folks at 50 West in the near future!
A big thank you to the Club at 50 West for having us, and of course, our excellent sponsors, The Bohemian Brewery!
Agenda:
Top News
The Day We Embraced Our Geekiness
The Video Game That Solidified Our Gaming Lives
Our Single Favorite Episode of Any Television Show
Hero/Villain Dream Team
Geek Things That Never Should Have Happened
Audience Q&A
As always, thank you for listening! If you like what you hear, please head over to iTunes and subscribe and rate us! Have feedback for the Big Shiny Podcasters? Want to suggest a topic to cover? Want to just give us a shout? Feel free to drop the host of the BSPC, Tyson, an e-mail at tyson@bigshinyrobot.com, or on Twitter, @Arse_bot!
Listen to the Big Shiny Podcast! on iTunes
Listen to the Big Shiny Podcast on Stitcher: