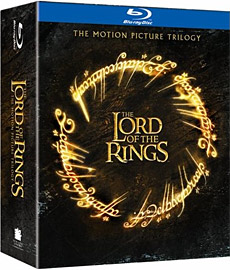 The theatrical editions of the Lord of the Rings trilogy is out on Blu-ray today, which has me scratching my head a little bit.  Who exactly are these for?  I don't know anyone who hasn't traded in their theatrical versions for the extended versions as their preferred copy to watch.  It's cool that we have these on Blu-ray now, but why would we get these?  I imagine, like me, you're all waiting for the extended editions.  My verdict is hold off on this if you can until those come out.  If you can't wait, then by all means, do it.
There's also the bizarre animated version of The Lord of the Rings from the 70s that is coming out.  I was not a very big fan of this version, though I absolutely loved the animated version of The Hobbit.
Next, we have the quintessential American baseball movie: The Natural.  This may be my favorite baseball film and it's an American classic.  Robert Redford has turned in a lot of tremendous performances, but this is easily one of the best.  And to see it on Blu-ray will be quite a treat.
Last on my list today is perhaps one of the greatest independent films of all time: A Bridge Too Far. Completely self-financed through pre-sales and the reputation of the producer, Joseph E. Levine, A Bridge Too Far is one of my favorite war movies ever made.  Directed by Sir Richard Attenborough and written by William Goldman, it tells the true story of Operation: Market Garden, a spectacular defeat in World War II of the Allies, in a desperate bid to end the war early.  This film also stars everyone:  James Caan, Anthony Hopkins, Laurence Olivier, Robert Redford, Sean Connery, Michael Caine, the guy who played Biggs Darklighter, Ryan O'Neal, Elliot Gould, Gene Hackman, and others you'll recognize.   The best thing about this release is that it's on Blu-ray AND DVD at a really low price, so there's no excuse to not check it out, regardless of your system.  I give it my highest recommendation.