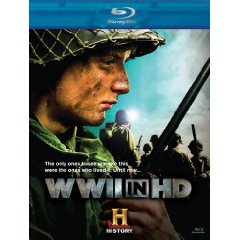 I think that by far and away the most interesting release this week is World War II in HD.  It is an amazing thing to see moving images from World War II both in color and high definition and this is no exception.  For any history buff, this disc is essential viewing.
Next on the list is the incredibly interesting, but ultimately cheesy, Bruce Willis vehicle: The Surrogates.  Bruce Willis stars as a cop in a world where no real person leaves their homes, but lives their live through a lifelike avatar.  It seems as though stories involving these sorts of caricatures of humans are coming to full fruition lately.
There's also a Blu-ray version of Highlander out today, though it's preposterously expensive and even out of stock.  A bit of google-searching yielded no results as of to why this would be.
Michael Jackson's This is It came out today as well.  I'd be interested in seeing this, though I'm not sure if I'm interested enough to buy it on my own.