When I first received news that Jeff Vice was in mortal distress, I assumed that it must have been an elaborate prank. Sadly, this is not the case. After suffering from an asthma attack that left him unable to function, our friend and mentor Jeff Michael Vice has indeed shuffled off his mortal coil.

When many of us first met Jeff, he was the longtime film critic for the Deseret News, which, after they laid him off to stop being a news organization, he not-so-affectionately referred to as the Voldemort News. That's certainly where I first encountered him, trying to get him to review a documentary I'd produced. He was a generous man for his help in the film community here locally. His film reviews were always astute and well thought out. I think of his loss as one more nail in the coffin of true film criticism. He had a way of pointing out the flaws in films from a very knowledgable place, but still passing on an enthusiasm for film in a way that very few critics had ever mastered. I felt much the same way about Roger Ebert's passing (and so did Jeff) but this time it's much more personal.
Every conversation about a movie or a comic book with Jeff was a joy.
His role in the Geek Community centered around Salt Lake City (where Big Shiny Robot! is based) could not be understated. He was a glue to this community, connecting the disparate parts and keeping it all together. As part of the ever-popular Geek Show Podcast he helped build the Geek Show movie nights that have become mainstays in the local geek scene. From there, in coordination with Jimmy Martin and two other robots (myself and Elias Pate) we launched the movie review show The Big Movie Mouth-Off, giving him a platform for his movie reviews in a way that worked best for a guy as smart (and adorable) as Jeff. He also wrote for a number of outlets in his post-Voldemort news days, including us (under the name "Jerk-bot"), MSN, Cinephiled, and many others.
It was also my honor to share the stage with him many, many times as a co-host of the Big Shiny Geek Show Pub Quiz.
Here we are, just a couple of weeks ago, celebrating our third year in a row as the best Pub Quiz hosts in the state: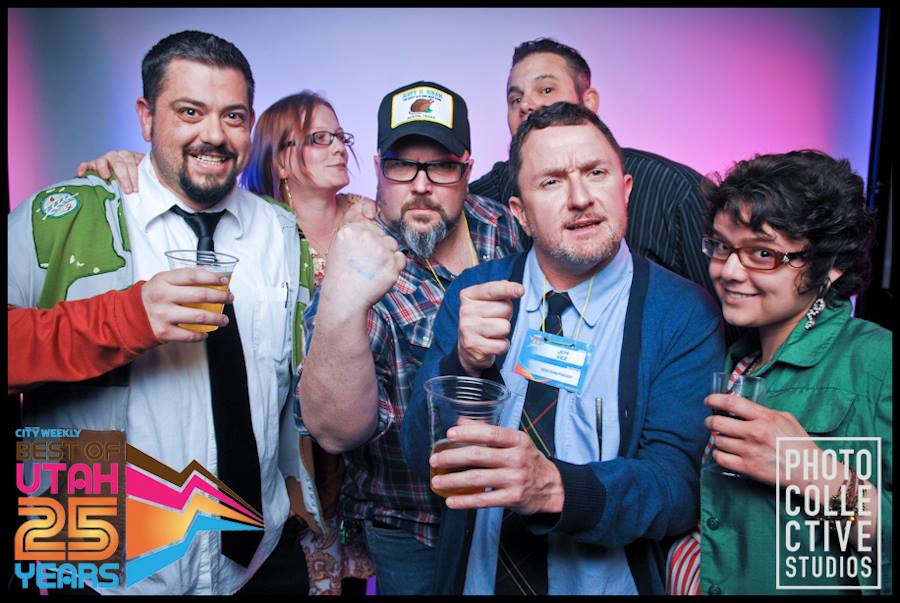 It's difficult to boil down the importance of Jeff into one written piece. Jeff was one of the most exciting people to talk movies and comics with this world has ever known. Just like his film reviews, he had a passion and a brilliance to him, wrapped up in the body of the nicest guy you'd ever meet. He was sensitive and a great listener. He was a mentor to everyone he could be. Much of what I know about professional journalism came directly from Jeff. He helped guide me in ways I didn't even know I was screwing up.
And he was always there with a hug or handshake. Sometimes both.
Jeff helped and encouraged everyone around him. He was fun to be around and always had a smile and a handshake. He had a love for things and people that was infectious and the community here in Salt Lake City and everywhere he was read or listened to is poorer for his loss. The thought that there will be an empty chair at all the press screenings of films around here (particularly the Marvel movies) with his name on it is crushing to me. To all of us.
What little solace we can take is that Jeff left behind books and books worth of film reviews to read (for many outlets, including ours), hours and hours of Geek Show to listen to (and watch), and hundreds of Big Movie Mouth-Off reviews. Though we may be without him, we'll never quite be without his voice.
We'll all miss you, Jeff. So long, and thanks for all the fish.
For those who want to remember Jeff, in place of tomorrow's Pub Quiz at Lucky 13 will be a gathering to do some drinking. A collection has been started to help his family with the funeral expenses as well. Paypal anything you might be able to spare to legendsforzelda@gmail.com. The crew at the Geek Show will make sure it gets to his family.