Jensen Karp is a true master of all trades. Perhaps you don't know him by name, but surely you have come across his work. He's recorded hip hop albums under the name Hot Karl. He's the creative director for Michael Cera's YouTube channel JASH. He is an art gallery owner and operator – and was the brain child behind Jerry O'Connell's #iamsorrytoo exhibit (remember when Shia LaBeouf first started riding the crazy train?). Karp is a writer, direct, producer, and podcaster, with content featured everywhere – Smodcast, Rolling Stone, Earwolf, Funny or Die, and the list goes on. On top of it all, Kayne West owes him $300.
With a CV this robust, it is no surprise that Karp spent time working in the sports entertainment industry, spending time as a writer for the WWE in 2006. After his gig ended with the squared circle, Karp fell away from professional wrestling, both in a career and as a fan. However, Rolling Stone recelynt debuted his latest work which brought together his knowledge and love for wrestling in a genuinely enduring project.
"Rudy and Des" is a short documentary about two friends who love wrestling. The unique angle to the story of the doc, is that Des is blind and can only experience the in-ring action through Rudy's play-by-play announcing. Financing the film by himself, and utilizing the help of producers (and all-around really good humans) Scott Mosier and Zak Knutson, Karp's short documentary about friendship and wrestling hits the heart strings like a German suplex.
In general, wrestling fans are both the best and the worst. We are the most passionate and intensely-loyal fan base out there. We are also the most bitter and back-biting bunch when the product doesn't meet our standards or go as we think it should. "Rudy and Des" is a beautiful homage to the wrestling fan in all of us; the fan who loves the product for the sheer fun, entertainment, and joy of in-ring story telling.
Despite having a book release next month and all the work that goes along with the launch of any major product release, Jensen Karp graciously took time to answer a few questions.
Trent: Jensen, thanks for taking the time to answer a few questions about "Rudy and Des."
Jensen: Thank you for watching it!
Trent: You first met Rudy and Des at a Pro Wrestling Guerilla show. How long ago was that?
Jensen: I had been going to PWG shows since 2010, but I first encountered Rudy and Des there in 2012. I can't believe I never heard Rudy announcing before that, but I think this one event I ended up running late to, so I stand in the back, instead of get a seat. The events weren't selling out online yet, but it usually filled up by the first match.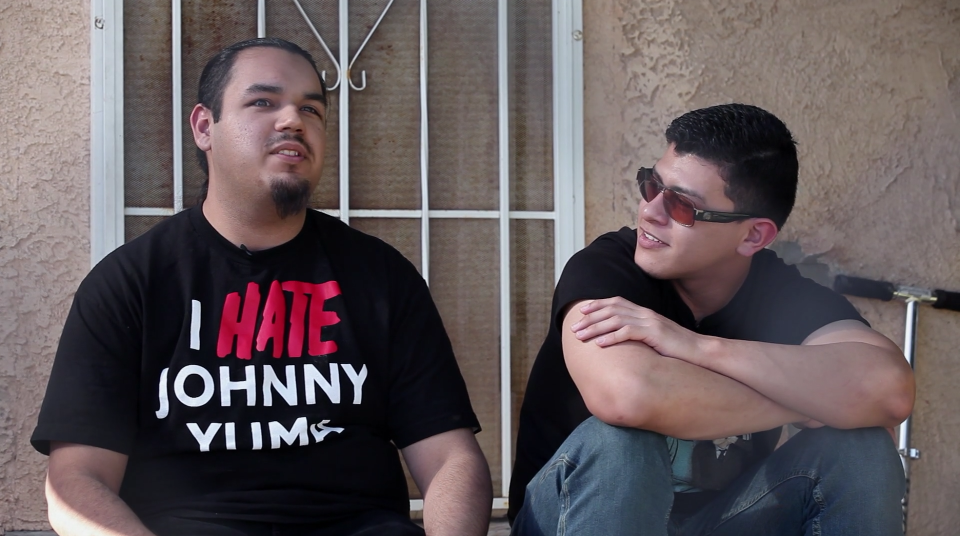 Trent: At what point in your relationship with the two of them did you think to make "Rudy and Des?"
Jensen: Literally right away. I put two and two together, figuring out their friendship, and imagined the short before I even spoke to them. I got in touch with them through Excalibur, an owner and announcer for PWG, and we had lunch together a few days later. I pitched them the concept right away and they were into it. It probably took them a few weeks to realize I wasn't a creep though.
Trent: Did you have friends growing up like Rudy and Des who were really into wrestling?
Jensen: Absolutely. I grew up in the Hulk heyday, so it was hard to find a boy who wasn't into WWF. My best friend Chris and I basically are able to recall memories based on which Pay-Per-Views I watched at his house that year. It's our benchmark for childhood. And we've been going to live events together since we graduated high school.
Trent: Rudy and Des mention how much they admire Jim Ross (and were obviously blown away when they met him). You had the chance to work in the trenches with some of the greats when you wrote for WWE. Who/what inspired you to make the jump from fan to professional?
Jensen: It's a weird answer, but growing up I worked at a summer camp in my hometown and there was a counselor, he couldn't have been older than 19, who told Chris and I that he applied to write for the WWE. I don't think he even got a callback, but the idea that we knew someone who even took that leap, a job that clearly was my dream job, inspired me. I remembered that conversation so vividly and when I had the opportunity to apply, he was the first dude I thought of. He kind of made me realize it's what I would want to do, even if once I got there I quickly realized it wasn't for me. But professionally, I was definitely inspired by the film Beyond The Mat, and seeing what people like Vince Russo, Bruce Pritchard, Paul Heyman and Vince McMahon do to get the product on the air.
Trent: I've had jobs where seeing how the sausage was made ended up disassociating me with why I wanted the job in the first place. What made you fall back in love with wrestling?
Jensen: It was PWG. I hadn't really watched wrestling in years. I would pick up headlines here or there, learning about someone returning or a new champ, but outside of Wrestlemania I maybe watched 6 hours of new wrestling a year. A friend, Chad, told me about PWG, and he knew I'd be skeptical. He guaranteed me that I'd love it, so I gave it a shot back in 2010. That night I saw The Young Bucks, Kevin Steen, El Generico and so many more INCREDIBLE wrestlers. The room felt so positive and funny. It was a community, while my experience at WWE was literally the exact opposite. I fell in love with that they were doing immediately and have been a mainstay at shows since.
Trent: It's an awesome time to be a wrestling fan. While there are only a few options for viewing wrestling on television, there are more opportunities and avenues to see alternate, independent, and international promotions than ever before. What promotions and talent are you digging right now?
Jensen: I mean, I'm pretty much PWG to the core. But they share so much talent with ROH [Ring of Honor], so I appreciate what they're doing, and they were so fun to include in the doc. And NXT is clearly a great example of Hunter [Triple H] being inspired by what he sees happening in these rooms. But my guys are all pretty obvious – The Young Bucks, Kenny Omega, Chris Hero, Adam Cole, Dalton Castle, Owens, Sami Zayn, Shinsuke.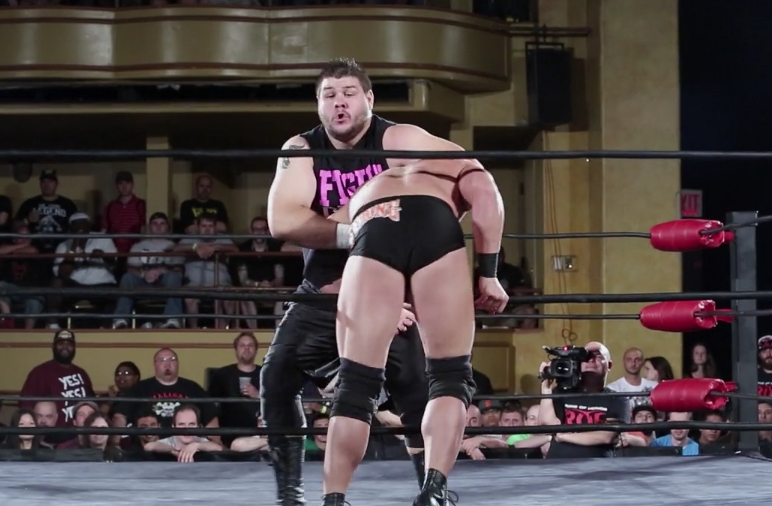 Trent: What do you see in the future for Rudy and Des?
Jensen: I mean, I just want people to see them. I think if Rudy wants to be an announcer, he has so much of the talent and drive at such a young age. He's so much more progressed than I was at 19 (which is how old he was when we shot the doc). And Des is going to conquer the world. I don't need to help him with predictions. Nothing is going to stop that kid.
Trent: What advice have you passed on to the two of them?
Jensen: I'm not sure they need any advice from me. They are both such straight arrow great kids. I knew I HAD to make this, even without any real plan for it or way to make my money back. I just wanted to make it and spotlight them. We've talked about my time in wrestling a little and I gave them some advice about that, but it's more just very small specific things about what I experienced. They have their lives together way more than I did at their age, or even at 30.
Trent: Are we going to see more wrestling-centric projects from you in the future?
Jensen: There's one thing I've been developing for a few years that has a lot of moving parts. If it goes away forever, then this is just a throw away answer. If it comes together, it will be monumental. Who knows?
---
Trent Hunsaker is a podcaster and pop culturalist based in Logan, Utah.