FAST & FURIOUS PRESENTS: HOBBS & SHAW (3.5 out of 5) Directed by David Leitch; Screenplay by Chris Morgan and Drew Pearce; Starring Dwayne Johnson, Jason Statham, Idris Elba, and Vanessa Kirby; Rated PG-13 for prolonged sequences of action and violence, suggestive material and some strong language; Running time 135 minutes; In wide release August 2, 2019.
A prologue: as an unabashed lover of the Fast & Furious franchise, I want to give Hobbs & Shaw a 5/5. It delivers everything one would expect from a FF movie: guns, fights, cars, a little too much male gaze, and dick measuring. If you came to see car chases and fisticuffs, this film delivers. Turn off your brain and enjoy the ride.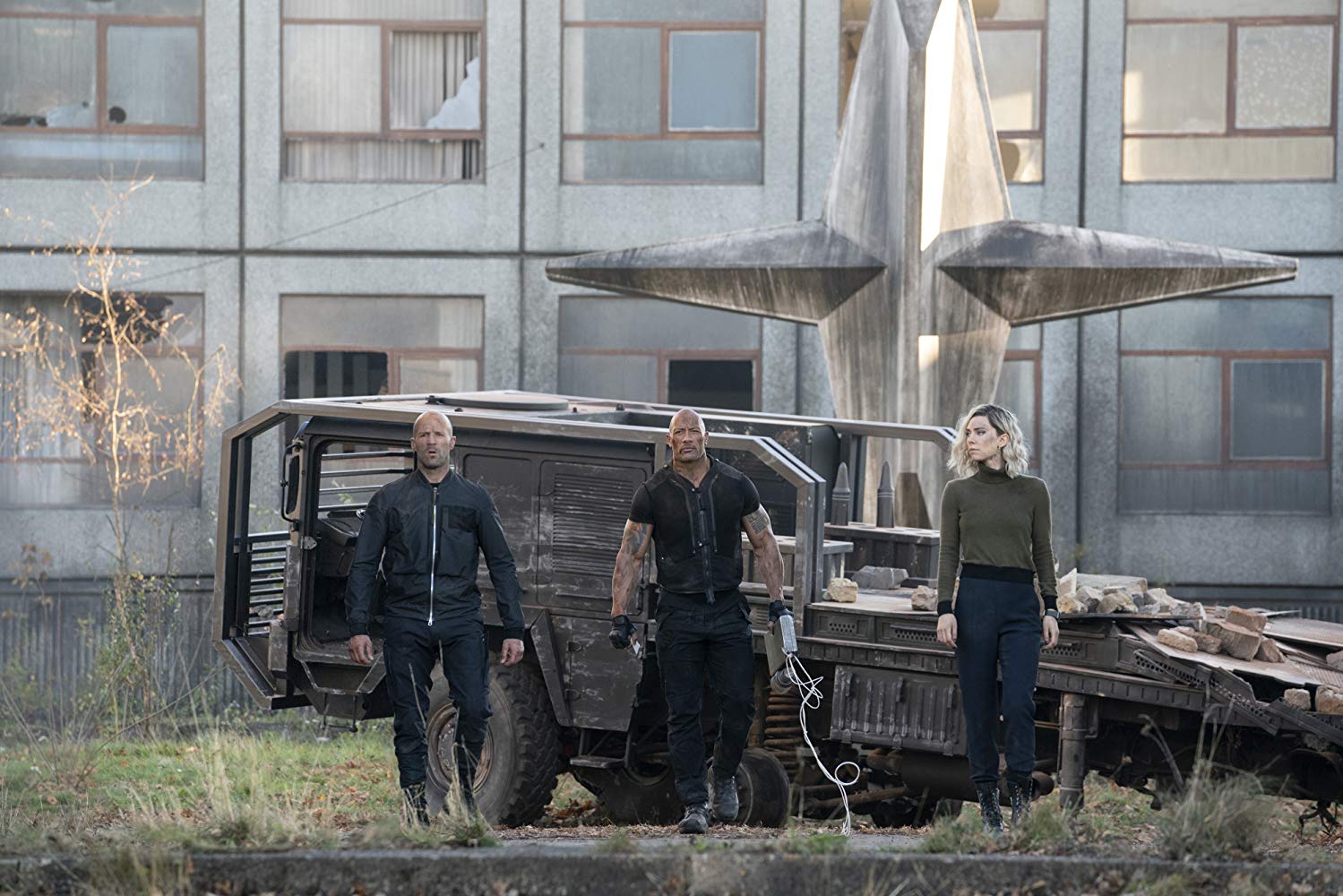 But, you're here for a more critical look.
Hobbs & Shaw insinuates you know the main two protagonists, Luke Hobbs (Dwayne Johnson) and Deckard Shaw (Jason Statham), and also reminds you with as much subtlety as a bat over the head that they do not like each other. We are constantly reminded that they dislike each other, hate each other even, and the film grinds to a halt on multiple occasions to make sure we remember just how much they can't stand one another.
Circumstances bring Hobbs and Shaw together when an MI6 agent named Hattie (Vanessa Kirby) is framed for killing her team and stealing a deadly virus. Also, Hattie is Shaw's sister, so she is just as wily as her brother–if not more so. In keeping true to FF themes and plot elements, throwing in a spark of romantic interest between Hobbs and Hattie is almost a requirement.
As our main duo track Hattie, they must also contend with Black Superman himself, Brixton (Idris Elba) who works for a somewhat mysterious company that Shaw may or may not have ties to. Brixton is the epitome of New Tech–self-driving motorcycles, bionic enhancements, and sophisticated maneuvers that one could only pull off with a mysterious company's funding.

When not beating a horse dead with rapid-fire insults, Hobbs & Shaw reminds us what the true theme of the FF franchise is: family. Shaw's mother (Helen Mirren) is in prison and she wishes for her two children to reunite and put their feud behind them. Hobbs is raising his daughter while also dealing (and not dealing) with the fact that he left his family in Samoa and hasn't spoken with them in over a decade. This plotline comes to the forefront, as our team escapes Brixton and retreats to the last place on Earth they could run: Hobbs' home.
The final battle results in a fight between old and new tech–no guns are allowed at Hobbs former homestead and they must resort to primitive weapons and cleverly placed gas canisters.  As the fight reaches its climax, we witness what could have only been improved by a literal wink and nod to the camera as both Hobbs and Shaw say aloud they must work together to win.
In the end, Hobbs & Shaw gifts us with a fun two-hour thrill ride that comes with some surprising A+ cameos. It gave Dwayne Johnson an opportunity to showcase his love of his heritage, and while it's a little cheesy, the love and respect for Samoa is clearly visible. And also there are end credits scenes. A lot of them. Seriously, don't leave.