The Rebels may be on the light side of history but nobody makes style statements or has a flair for the dramatic quite like the bad guys. They project their power and authority with every garment they don and I would join the Dark Side in a heartbeat if it meant I could have the Empire's new clothes. The capes, the clean lines, the dark palettes, the stompy boots — I love it all.
As a part-time model and fashionista, I wanted to celebrate the release of The Last Jedi in my own way so I challenged myself to put together this editorial, full of looks inspired by my favorite Dark Side characters and accentuated with lighting and location choices. I stopped short of full cosplay, but I wanted to channel both the appearance and essence of the most formidable Force-users and evil leaders from the Star Wars universe. Plus, I wanted the chance to support the nerdy designers and retailers out there who supply us with clothes and accessories for all our fandom needs.
This is a spoiler-free post, so read to your heart's content!
Darth Vader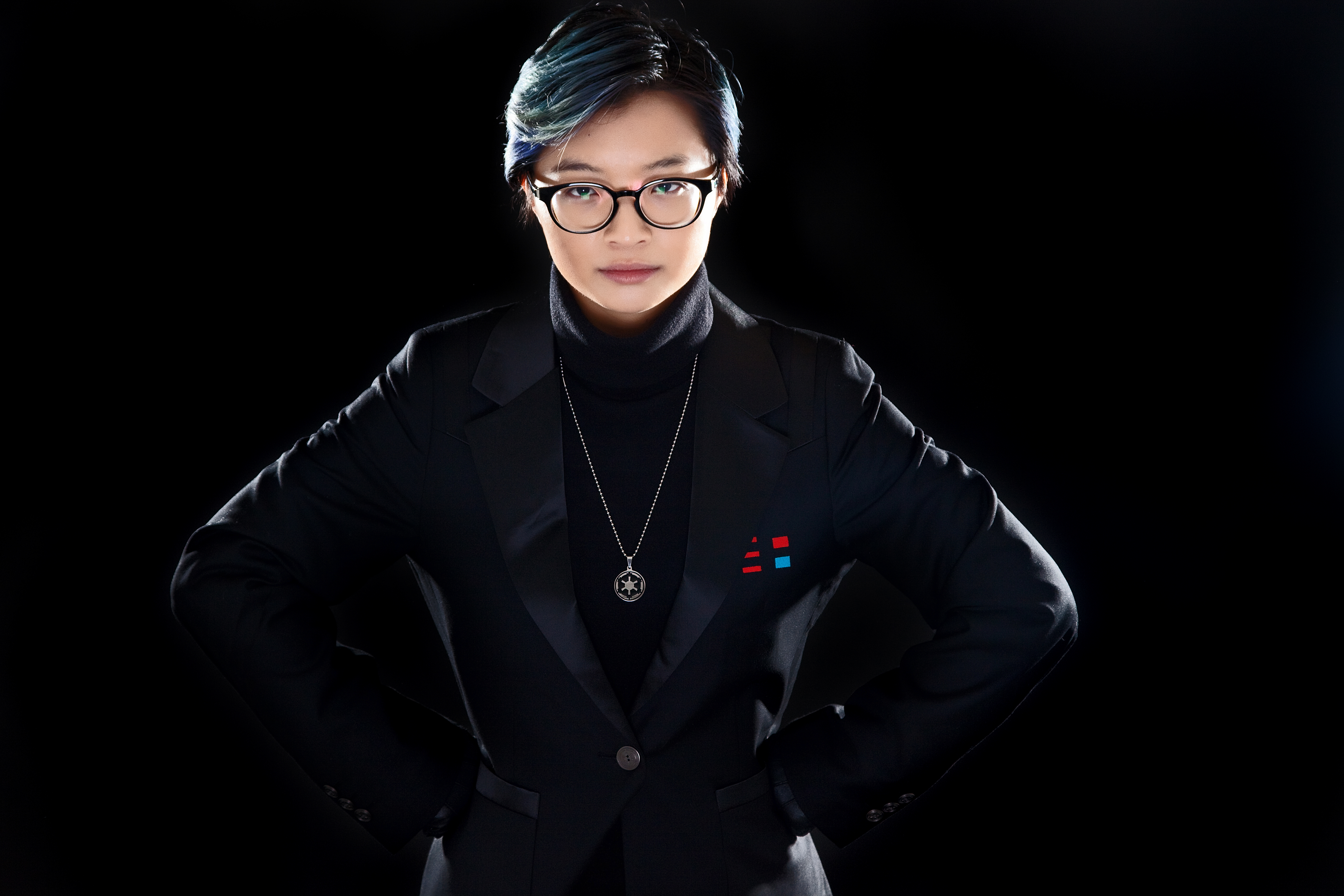 Photographer: Photography by Shivani (Photography by Shivani)
Although he's not physically in The Last Jedi, Darth Vader's legacy looms large over Kylo Ren. There was no way I could leave out the most iconic villain in the franchise and possibly the history of cinema, from this collection.
I'm wearing the Darth Vader blazer from ThinkGeek, which is quickly becoming a wardrobe staple. I cannot begin to emphasize how hard it is to find jackets that fit and flatter me while still being practical enough to actually hold my possessions. Those inside pockets are a blessing, let me tell you.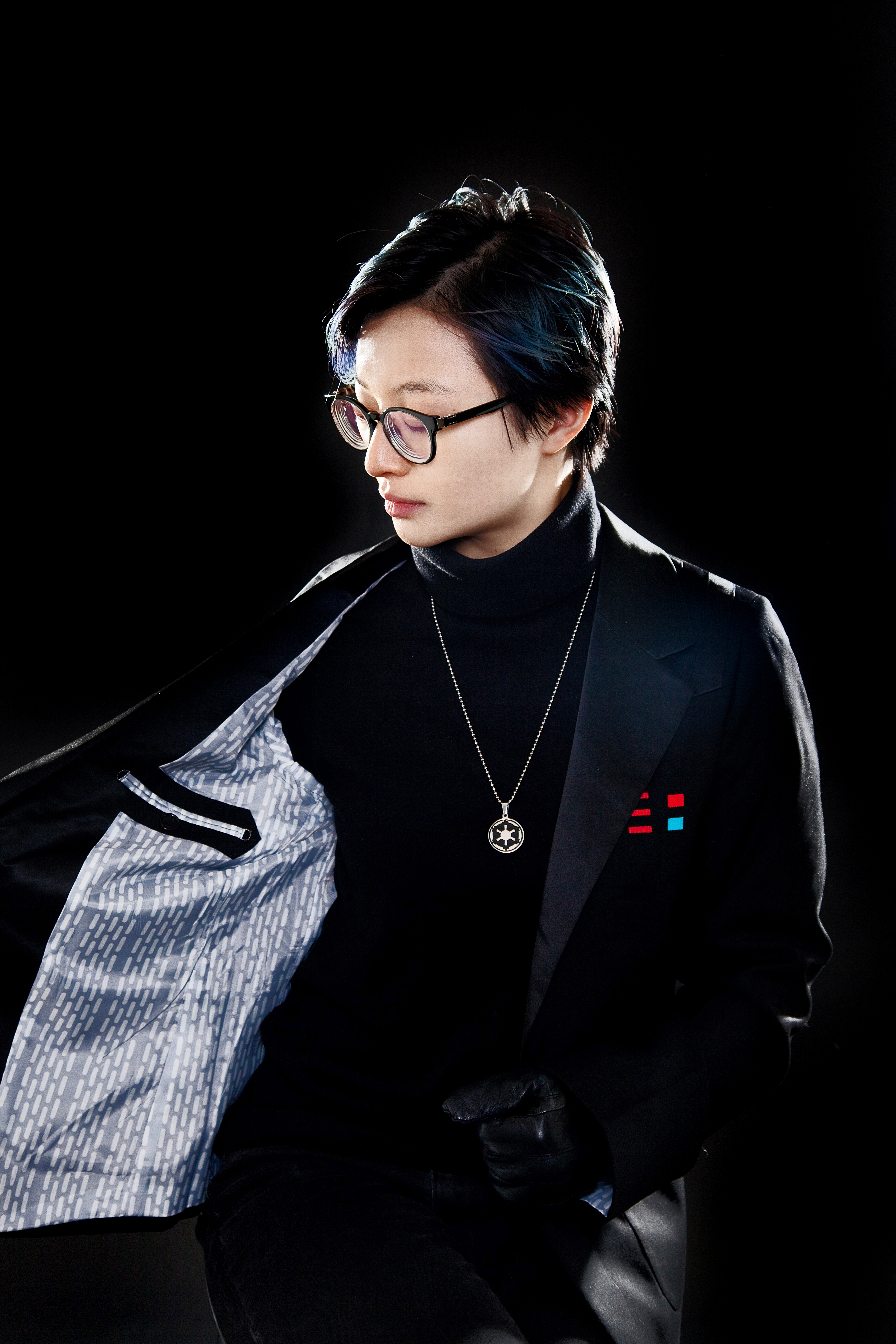 That Death Star interior lining, though!
For this look, I thought it best to cover as much skin as possible to reflect Vader's full-body suit. I went for neutral makeup, in line with his unmasked appearance to focus on the clothes. I forewent the lightsaber so I could save it for Kylo and so that I could make the most of Vader's dramatic hand gestures.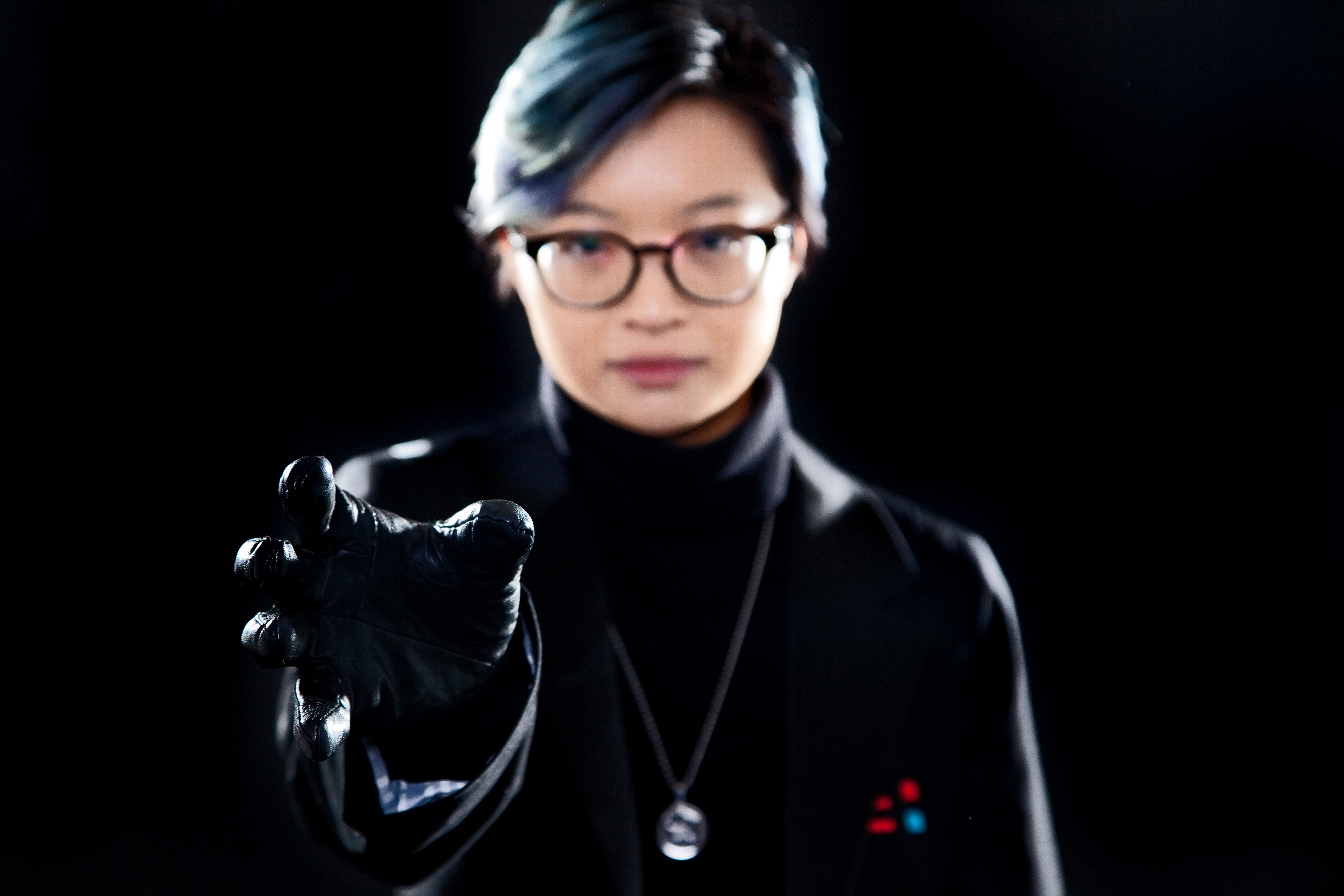 "Be careful not to choke on your aspirations, director."
It's unusual to see a bespectacled model but I kept my glasses as a reminder that Vader's suit, as cool as it looks, is designed to keep him alive. I need my glasses to see and I figured that if Vader can carry around an entire life-support machine on his body and still look good, I could wear my specs. Since I don't have a giant black cape with a chain link fastening, I opted for a simple silver Imperial insignia necklace, which I got at Disney's Hollywood Studios last summer.
I had so much fun with the studio lighting. Black on black is such a good look and I felt like I was on a Star Destroyer the whole time!
Kylo Ren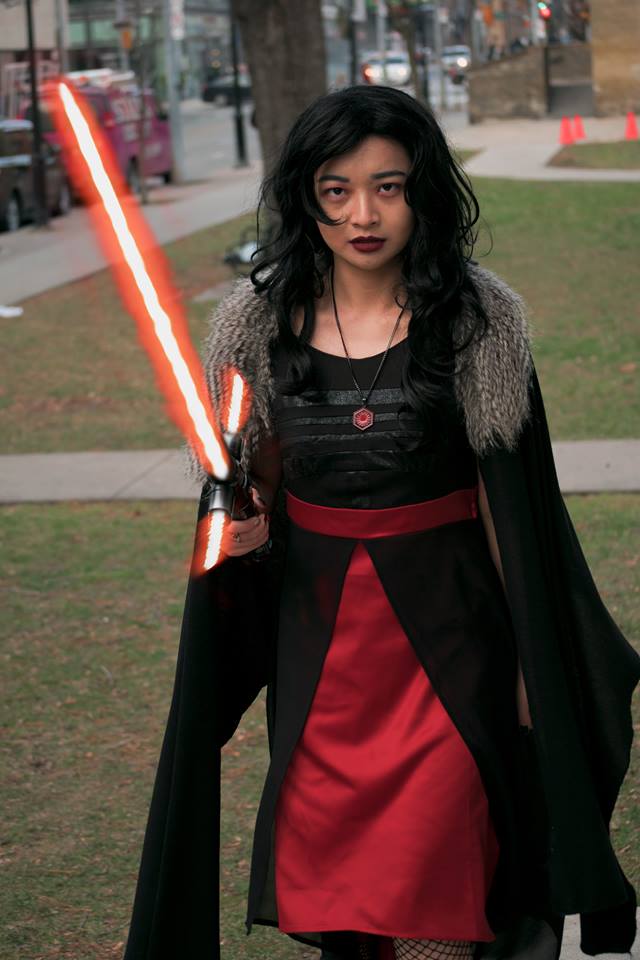 Photographer: Pau Martin
The corrupted son of Han Solo and Leia Organa was quite possibly the most fun to shoot, mostly because I got to use a lightsaber for this one. Even though I grew up on Star Wars, I've never owned a lightsaber and the reason for that was that I disliked the way that the toys I saw had to be flicked out and didn't have a consistent blade girth. I also disliked the fact that they didn't light up the same way that they did in the films; the toy blades lit up all at once as opposed to gradually. I decided that I would wait until I was older, when I'd be in a position to afford better-quality lightsabers. Pretty smart thinking for a kid, right?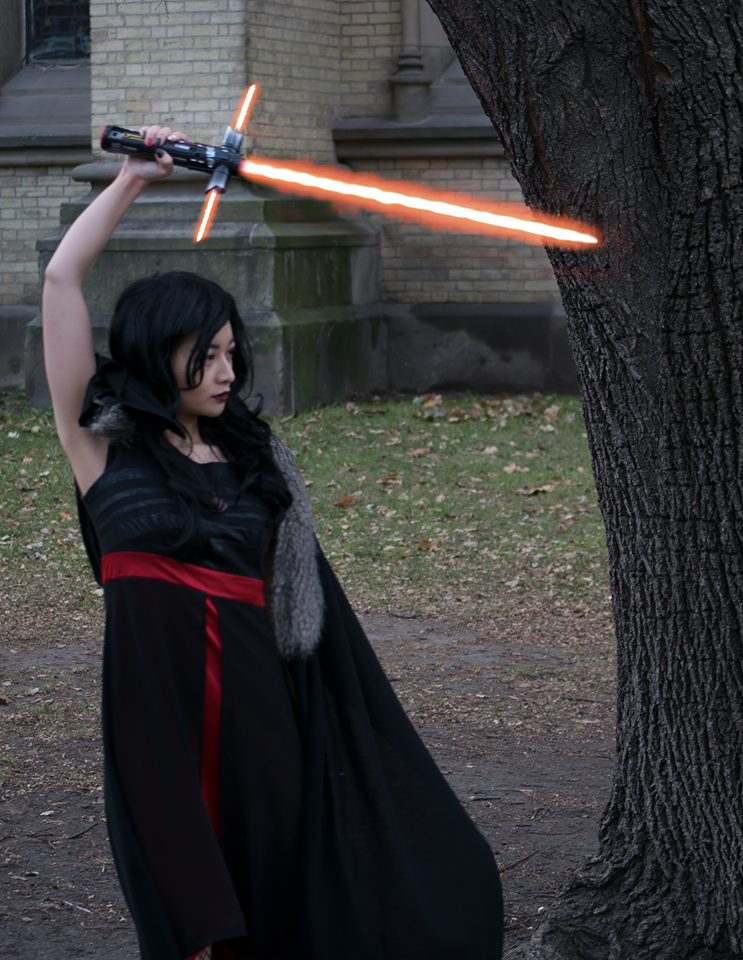 In which I try to imitate Adam Driver's gorgeous posing from his shoot with Vanity Fair.
I'm wearing the Kylo Ren dress by Her Universe, from the 2015 Star Wars line. Although I didn't realize this until way after the shoot, the look I chose bore an uncanny resemblance to the one on Hot Topic's website. The fact that we both went for a similarly edgy look may say more about me than it does about Kylo Ren. I added a beautiful First Order necklace that I picked up at Star Wars Celebration this year, and I paired the outfit with a fur-collared shawl in place of Kylo's cowl/cape. I went with the wig because it's my natural hair colour and I wanted some variation between looks.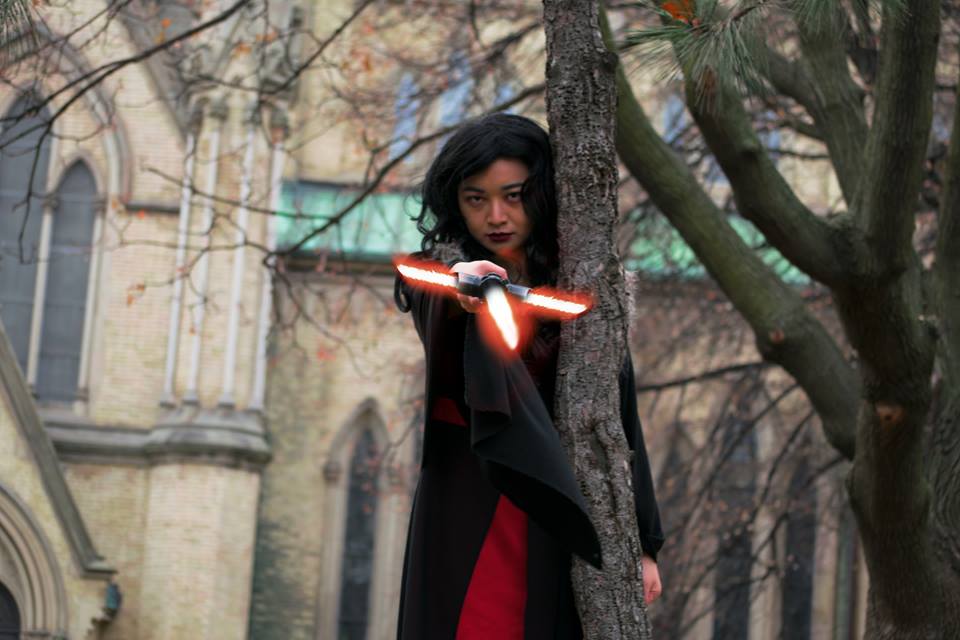 The park we used is supposed to be a stand-in for the forest on Takodana. I also liked that the cathedral was in the background—I thought it would make a nice connection to the Jedi temple.
Supreme Leader Snoke

Makeup Artist: Natasha Troteiro (Glamorous Looks)
Photographer: Alejandro Pinilla Photography (unhobbit)
I just happen to own this 1950s vintage ballgown, which I thought was quite reminiscent of Snoke's gold robes from The Last Jedi. I thought the age of the dress would work well and would achieve the elegance and faded beauty that I wanted. I also thought it would be cool to have a nod to Disney in this outfit, since there's something eerily Disney Princess-like about it.
The Art of The Force Awakens notes that Snoke was designed to look like he was quite handsome in his youth. The book also reveals that he was originally intended to be a female character, so there's room for traditionally feminine styling. In terms of makeup, I asked for a combination of something shimmery and deep to convey an undercurrent of Dark Side energy for a more sombre mood. I thought it would be cool to contrast Kylo's frenetic power with Snoke's tempered authority.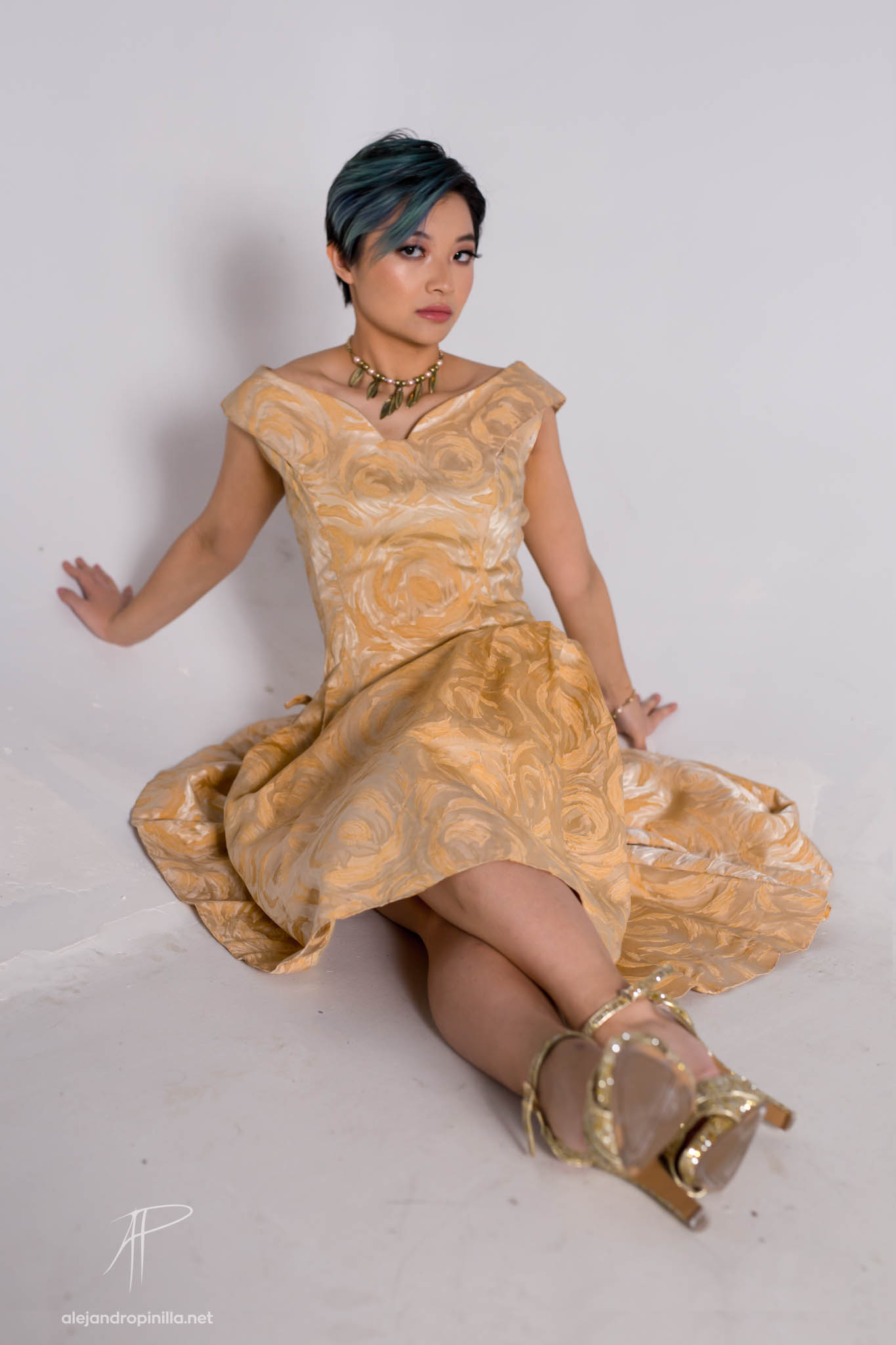 A new take on "old man Snoke's boudoir."
I wish I had been able to put together a throne room set for Snoke, but maybe next time.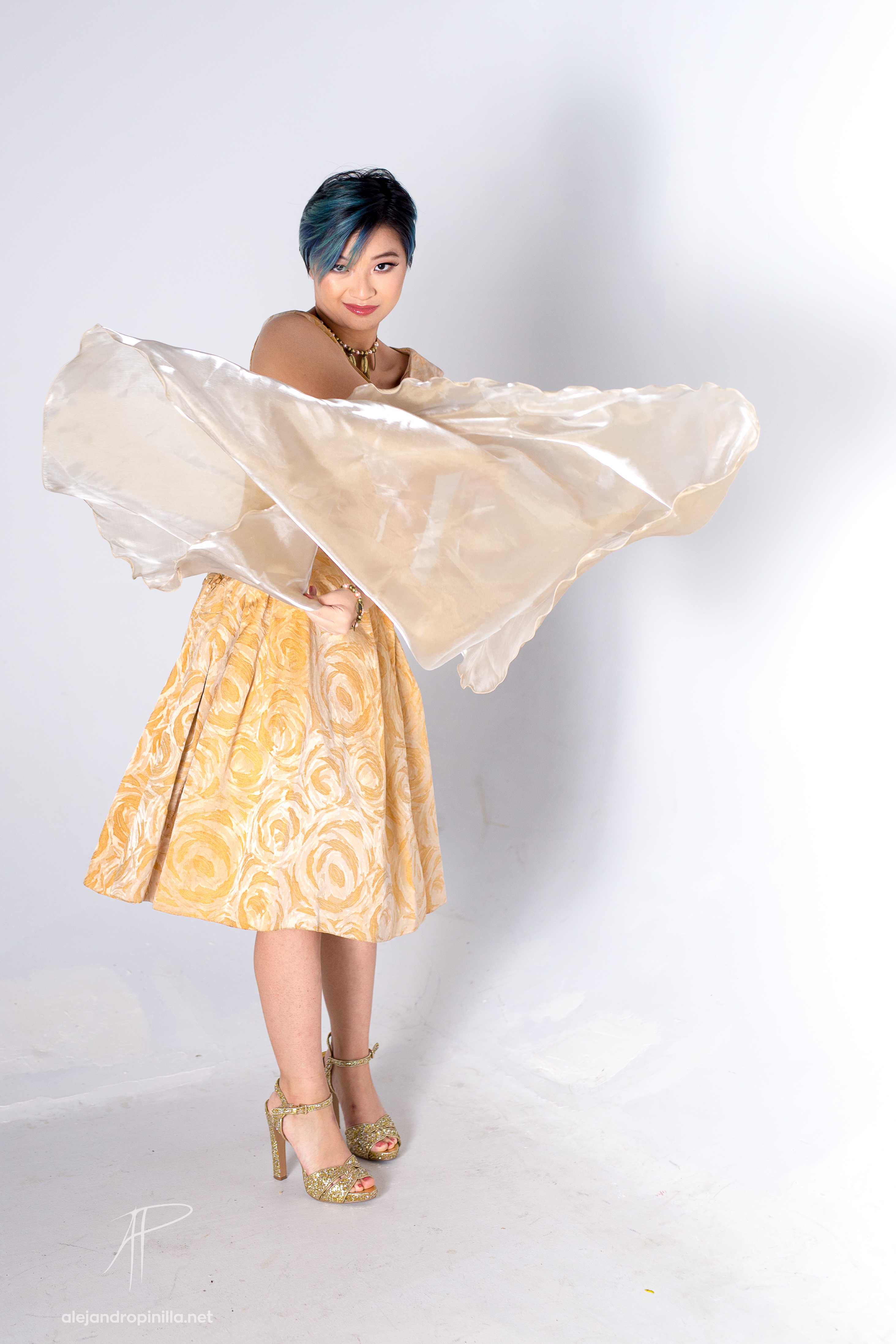 "Fulfil your destiny."
Captain Phasma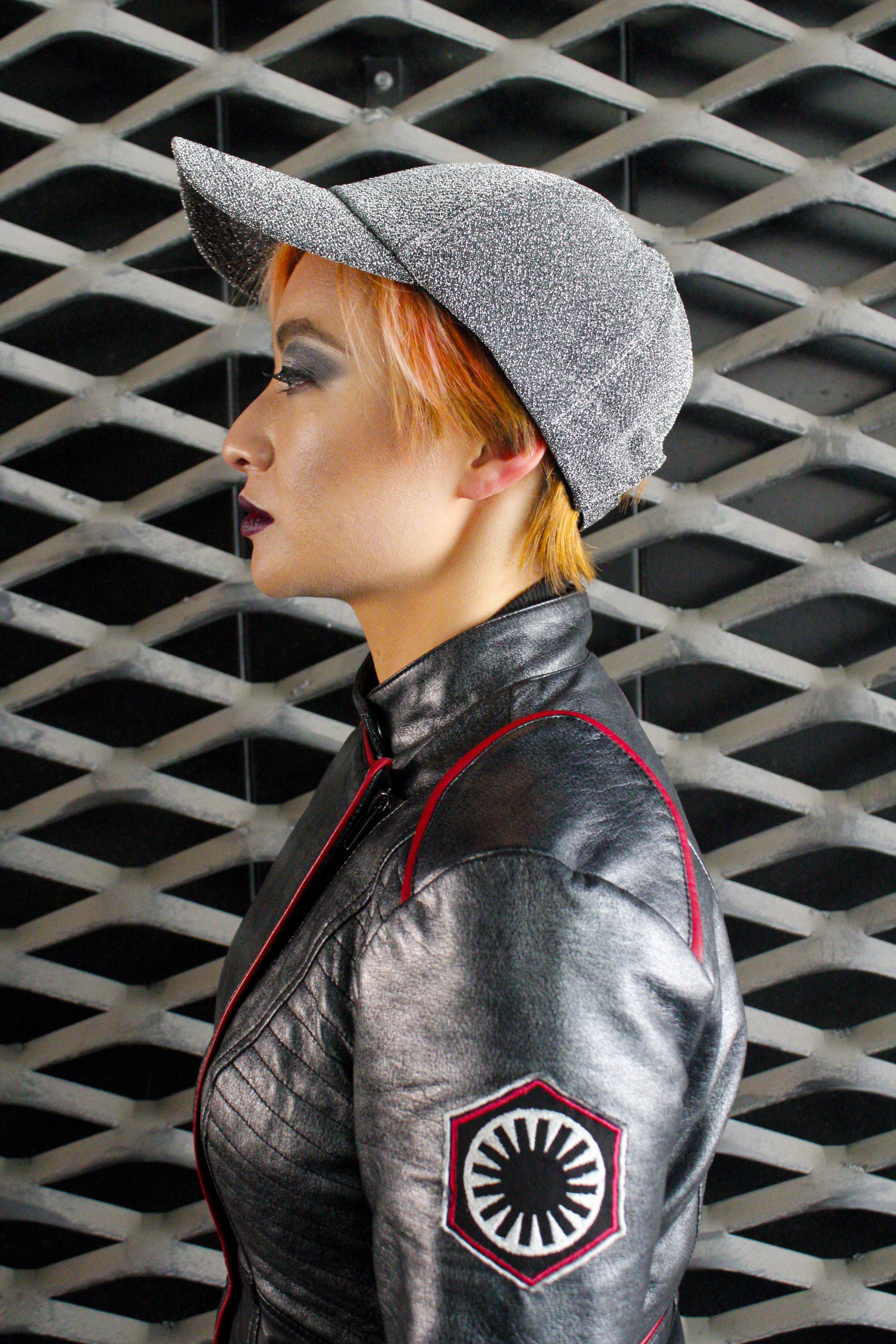 Makeup Artist: Makeup by Susan P (Makeup by Susan)
Photographer: Darryl Pezzack
Captain Phasma was the hardest to style because her mask is so integral to her character. I couldn't include a mask without distracting from the outfit. So I opted to get creative: I worked with a makeup artist to create a face for Phasma specifically, something that would stand in for her mask and maintain her colour scheme. I added the silver baseball cap and somehow, it worked.
I chose to go with a more urban vibe so that Phasma's readiness for combat could take center stage and displace the glamor of other characters' looks.
I'm wearing the Phasma jacket by Her Universe, from the same line as the Kylo Ren dress, and simple black leggings. I briefly contemplated tracking down some silver bottoms but decided against it because it would be nearly impossible to match the gunmetal colour of the jacket, not to mention that I would risk looking like an extra from an 80s music video.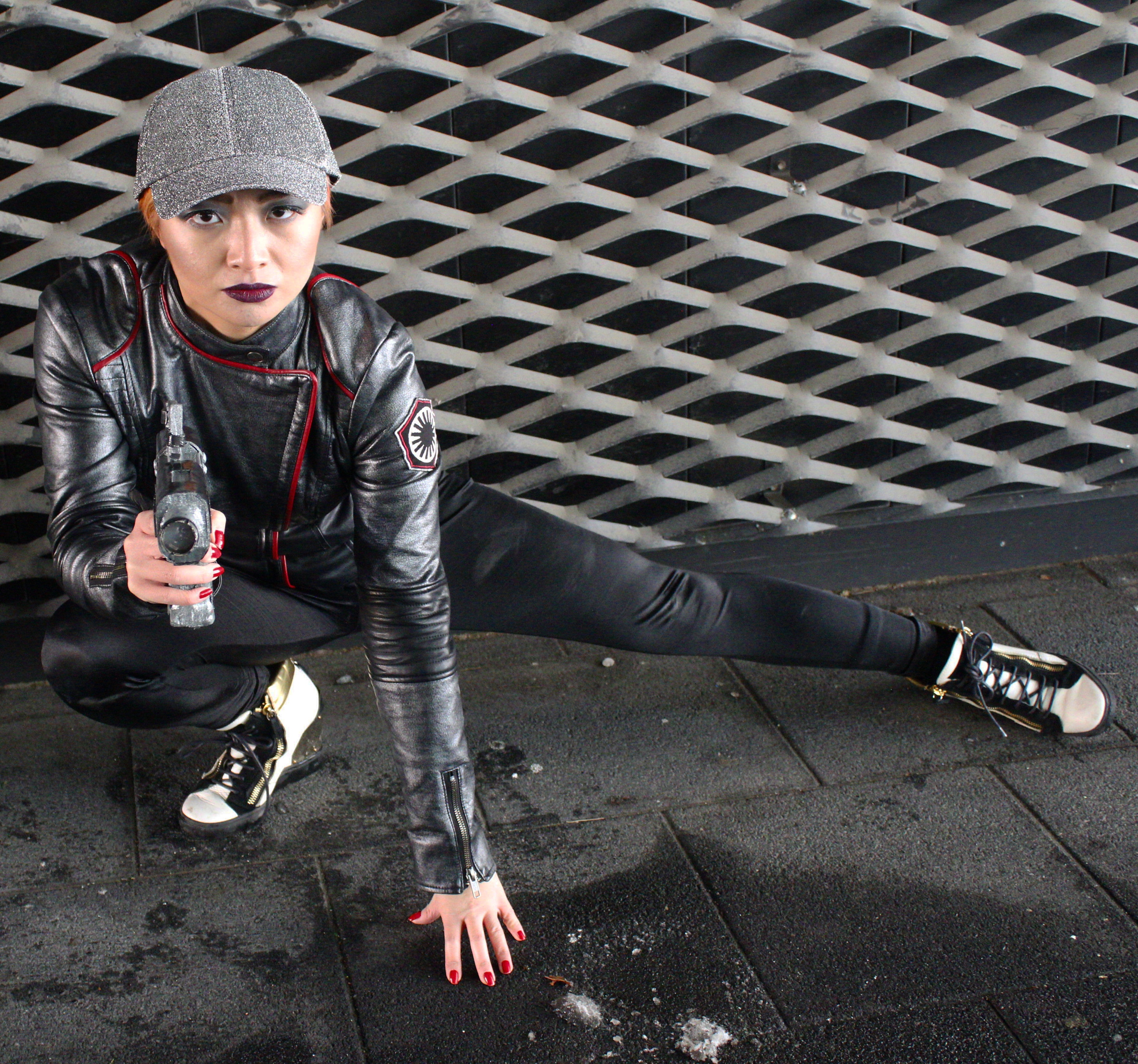 I got these shoes from a consignment store in Toronto.
The shoes were the most extravagant part of the outfit. I chose them because their dominant colour was Stormtrooper white and the metallic finish echoed Phasma's plated armour without being too over-the-top for an everyday look.
Given that the vast majority of Phasma's scenes are indoors and I didn't know any location that resembled a burning, ransacked village, I chose somewhere that would look like the interior of a ship's hangar or perhaps a weapons vault.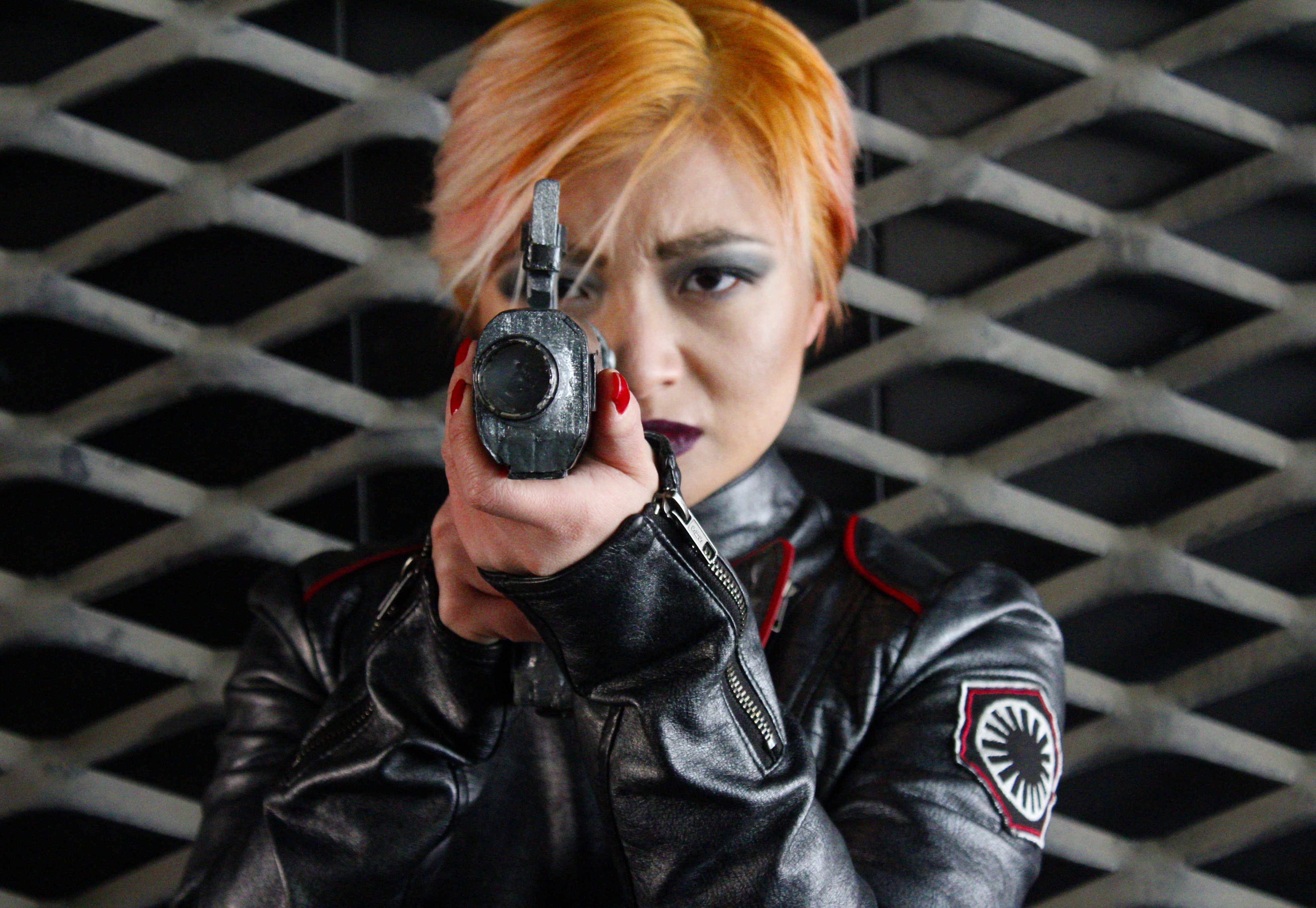 Phasma's ruthlessness knows no bounds.
I actually commissioned the blaster I used as a prop in this shoot as an accessory to the final outfit shown in this post. I used it again for Phasma because she of all characters needs a weapon on her. It was made by triringer.
Bonus round: General Hux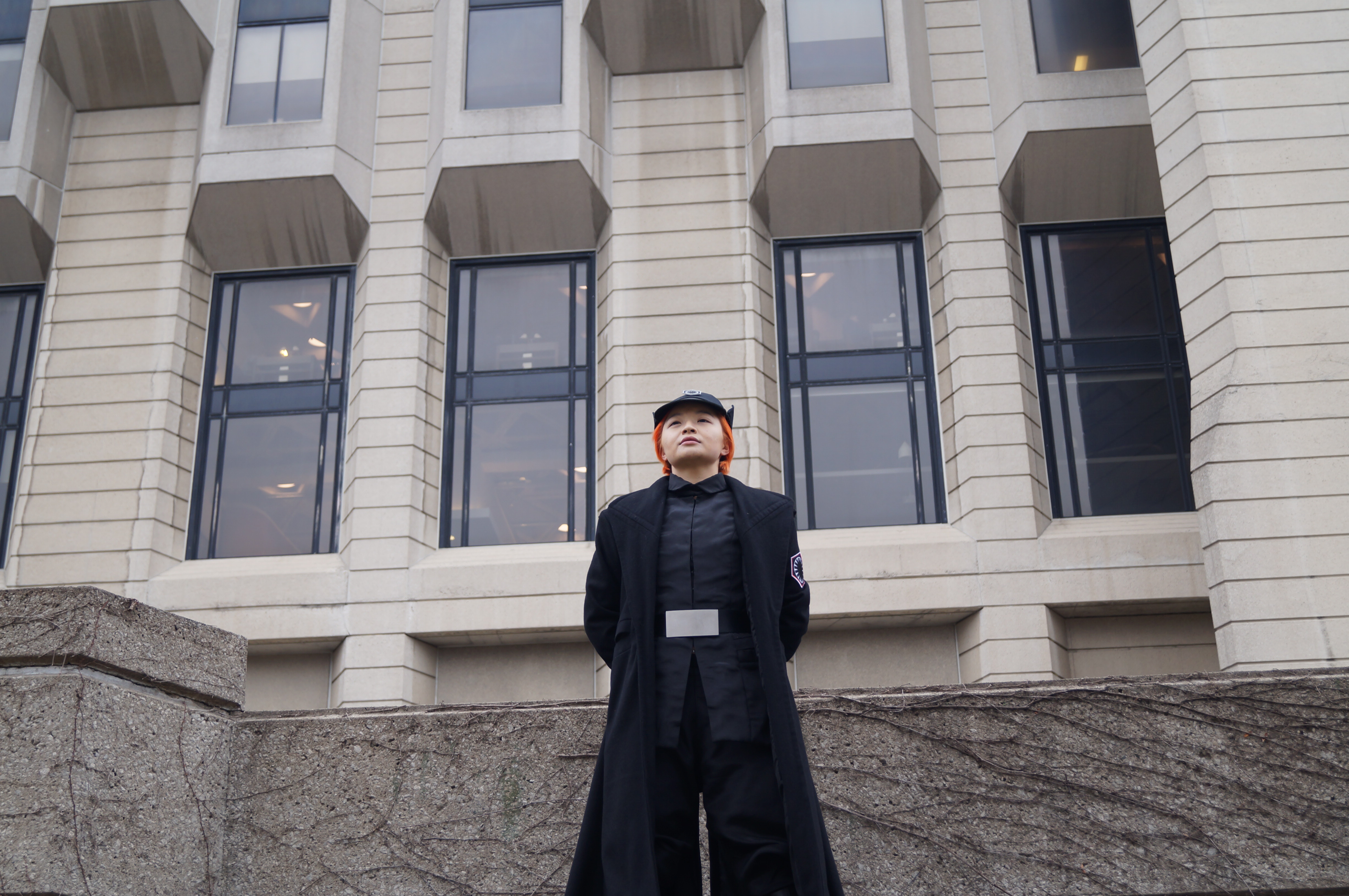 Photographer: Veronikarts (veronica_potyl)
All right, I said I wasn't going to include cosplay, but I've had this costume for over a year now and I've worn it at every opportunity that I could possibly find. From convention to classroom to meeting to appointment, I love wearing Hux whenever I can.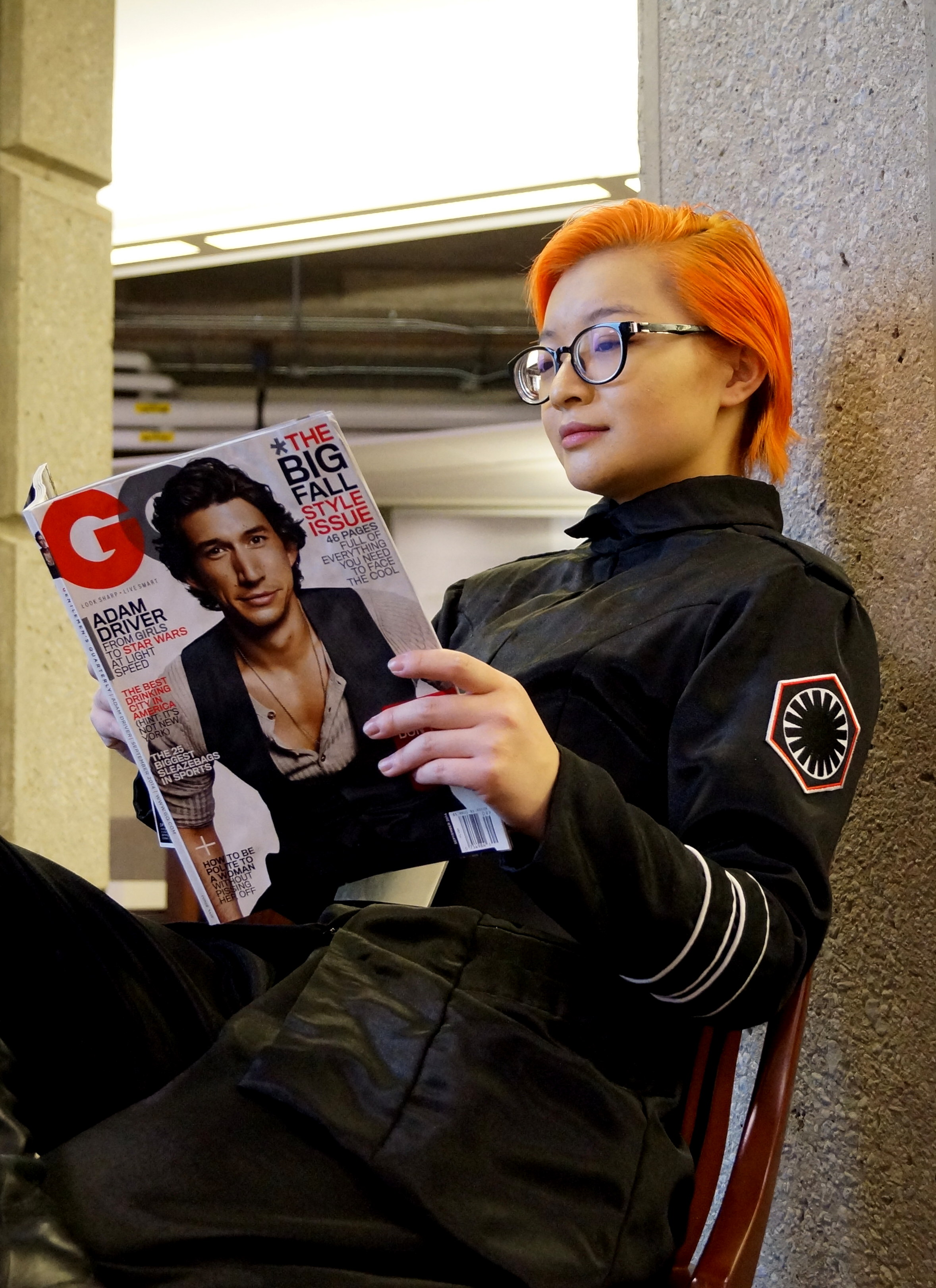 General Hux is very busy reviewing the latest intelligence reports and must not be disturbed.
Ever since I first saw The Force Awakens, I wanted to dress up as General Hux. In the summer of 2016, I commissioned Rattle and Burn to make the full thing and it is absolutely beautiful, super comfortable, and perfect for the cold season. Even when I'm not in full costume, I often wear the greatcoat through the winter over my regular clothes.
I chose to shoot at the University of Toronto because the university went through this weird brutalist construction phase in the 70s, which is perfect for the First Order aesthetic.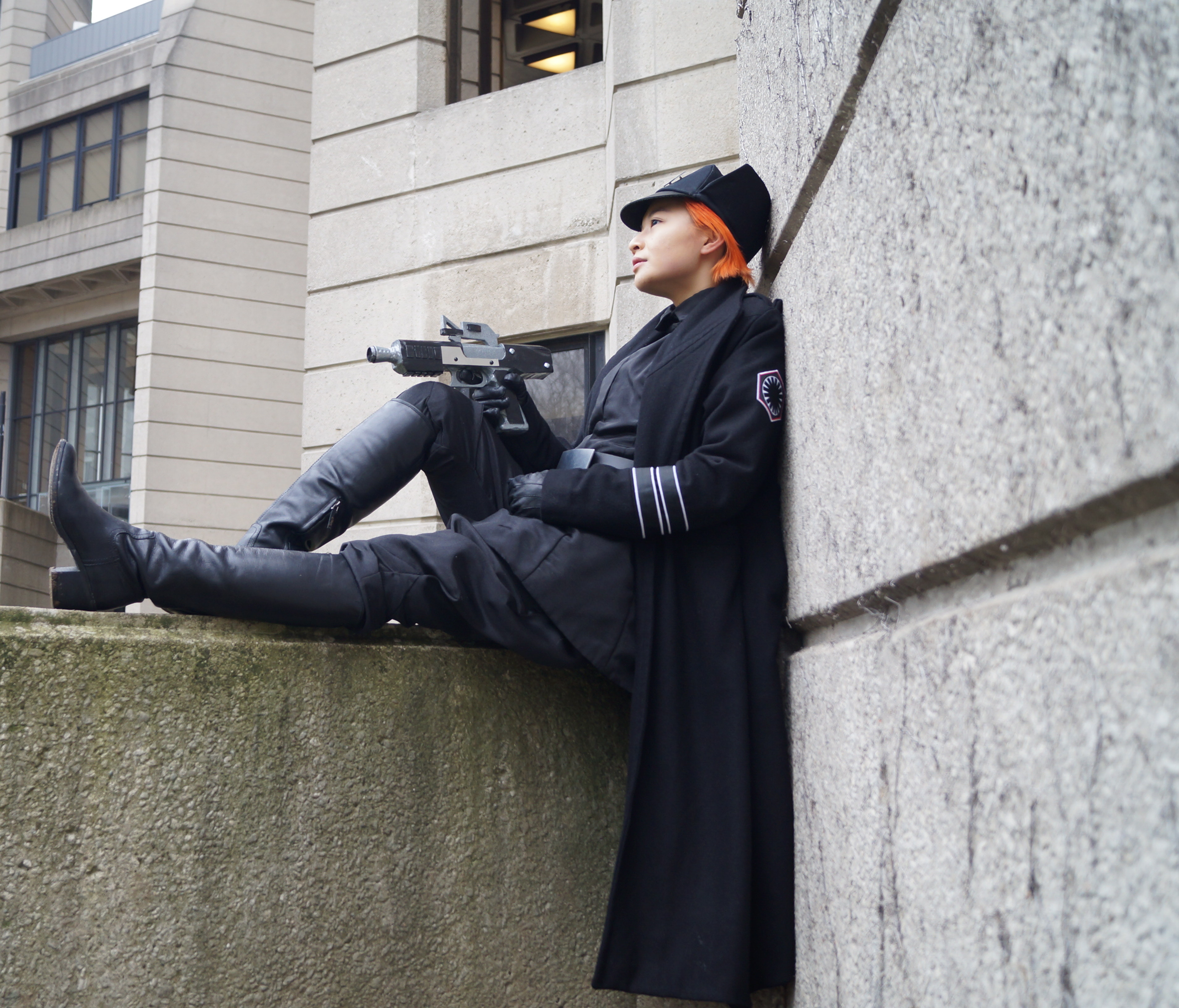 The 501st Canadian Garrison said that this library is "totally First Order."
Star Wars: The Last Jedi is in theaters now.