BIRDS OF PREY 4 out of 5; Directed by Cathy Yan; Written by Christina Hodson; Starring Margot Robbie, Rosie Perez, Mary Elizabeth Winstead, Jurnee Smollett-Bell, Ewan McGregor; Rated Rated R for strong violence and language throughout, and some sexual and drug material; Running time 109 minutes; In wide release February 7.
I suspect that even years from now, women who have been dumped by their significant others will hug a box of Kleenex and put on Birds of Prey: The Fantabulous Emancipation of One Harley Quinn. Sniffling over what could have been, they will relish in the pizzazz and IDGAF attitude of the crazy Harley Quinn, who is trying to find her way in the world after the Joker (aka Mister J) dumps her.
Margot Robbie, whose Quinn is the brightest spot in the ensemble Suicide Squad film, shines even more brilliantly here. And I know something about Harley Quinn, having known the character since she first appeared in Batman the Animated Series, voiced by Arleen Sorkin (who will also always be Calliope in Days of Our Lives to me). And I have the Mad Love comic stashed away somewhere, from the days when I had a box at the local comic shop and purchased it upon release. Also the collector plate from the Warner Brothers store. Remember those? But I'm not obsessed.
Birds of Prey takes what we know about Harley–her psychiatrist past at Arkham Asylum and the Joker's paramour–and propels her onto a new trajectory, where she's forced to rediscover herself without the crime boss' "love" and protection.
In the midst of cutting her hair, getting a pet (an adorable hyena named Bruce), eating cheese from a spray can, drinking herself to oblivion, oh and blowing up a chemical plant (standard post-breakup practices), she gets caught by Roman Sionis (Ewan McGregor) who gives her the opportunity to save her face (literally) by tracking down a diamond that has escaped his grasp.
McGregor's performance is delightful. It's not often we see him play a villain, and yet even as a bad guy he is charming and smooth. A bit fastidious and overly emotional, but one can see he's having fun playing Sionis. But if he's in charge of Gotham now, where are the Joker and Batman? Well, Jared Leto's Joker from Suicide Squad was a disaster, and Batman has been recast with Robert Pattinson. So one could say there's a power vacuum in Gotham, and Sionis relishes the opportunity to fill it.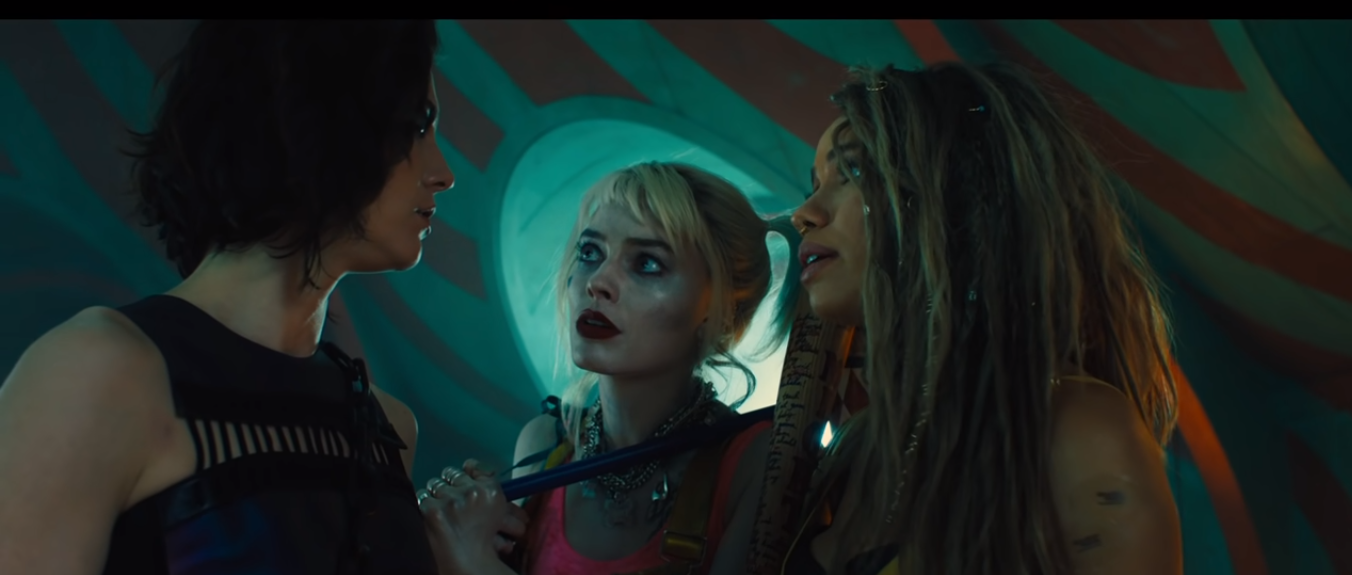 And what about the supporting cast that rounds out the Birds of Prey: Black Canary (Jurnee Smollett-Bell) and Huntress (Mary Elizabeth Winstead), as well as Rosie Perez as Renee Montoya of the Gotham PD? Each interesting and as well-developed as time allows, though we spend more time with Huntress in her backstory, and more with Black Canary in present time. Both have chips on their shoulders and Montoya, constantly overlooked for promotions, is out to prove herself.
Before watching the film, I'd already heard comparisons to Kill Bill and John Wick, so I knew if it in reality compared to these movies, I'd love it. Because I love over-the-top non-stop action sequences. And this movie has them in spades, but it adds glitter bombs and hair ties and shoe changes. The sequences were bold and colorful, and just plain fun.
I heartily recommend it for Robbie's performance alone. She goes from vulnerable to crazy to psycho-analyzing back to crazy and obviously loves her character. But the action is also worth sticking around for. The story . . . well, it's not deep but there's plenty of humor and snappy dialogue. And because I love Harley and action and glitter and hyenas, I give it a 4 out of 5.