"Warcraft: Bonds of Brotherhood" Story by Chris Metzen; Written by Paul Cornell; Art by Mat Broome, Michael O'Hare, Eddie Nunez, Roy Allan Martinez, Ale Garza, and Mike Bowden; cover art by Kevin Tong; 112 pages; Released June 7, 2016.
The Warcraft movie is set to hit theaters in a couple of days and will bring the world of Azeroth, a world developed over twenty years of games, to the big screen and the masses. The Warcraft franchise is one of the most successful game titles of all time, boasting millions of subscribers playing around the world at any given time.
There are however, those among us who are unfamiliar with the franchise aside from name recognition and the upcoming film has to figure out how to appeal not only to the longtime fans of the game but also to the larger movie going populous. The filmmakers solved that problem by setting the movie at the beginning of the mythos and with the graphic novel prequel "Warcraft: Bonds of Brotherhood" they've created an even easier jumping off point for the uninitiated.
While the movie takes place at the start of the larger Warcraft mythos, "Bonds of Brotherhood" takes place even earlier, thirty years before the events of the film.
The story follows three heroes, Llane, Lothar, and Medivh on an adventure to defend their homeland from the oncoming troll forces. "Bonds of Brotherhood" introduces us to key players and provides insight into their motivations, their beginnings, and ultimately the consequences of leadership that will inform the events of the film.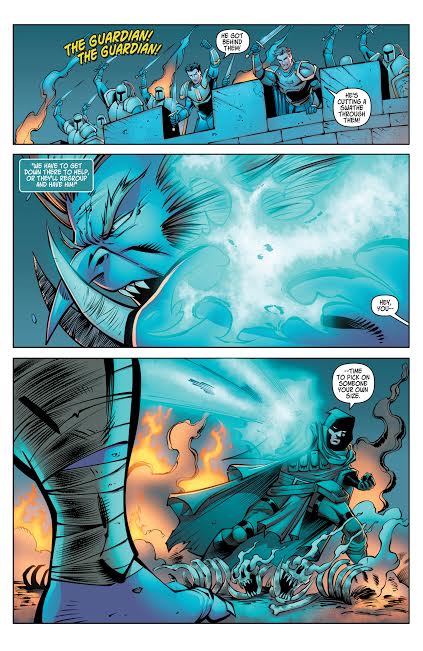 Released as one standalone graphic novel and released in advance of the film, it provides a concrete launching point for anyone wanting to be introduces to the larger Warcraft mythology before they hit the theater. At 112 pages the story reads quickly and is palatable for readers unfamiliar with the story as seen through the Blizzard games but also provides insight for those longtime fans into the origins of some of Azeroth's greatest heroes.
"Warcraft: Bonds of Brotherhood" can be found at your local brick and mortar or online and retails for $24.99 in hardcover.