Unlike certain other comic cons, you won't have to scramble in an online queue to attend RDCC '11! Archie Comics was kind enough to pass along the solicit for June's Archie & Friends #156. As you can see, the Riverdale gang is doing the cosplay thing. Some of the costumes are inspired, such as Jughead as Spock and Chuck as Mace Windu (no comment on Betty as a Na'vi). On the other hand, Reggie is wearing the wrong Hogwarts' house colors! He's always struck me as more of a Slytherin. As it is, I am very much looking forward to reading this one. Not only do we have the inherent coolness of the Riverdale folk going geek, it's also a mash-up of all of the Archie/Riverdale properties at once. The thing that'll get me to buy it though, is the fact that Archie PR man extraordinaire, Alex Segura is helming the writing chores on this one. He's an awesome guy, and I can't wait to read it!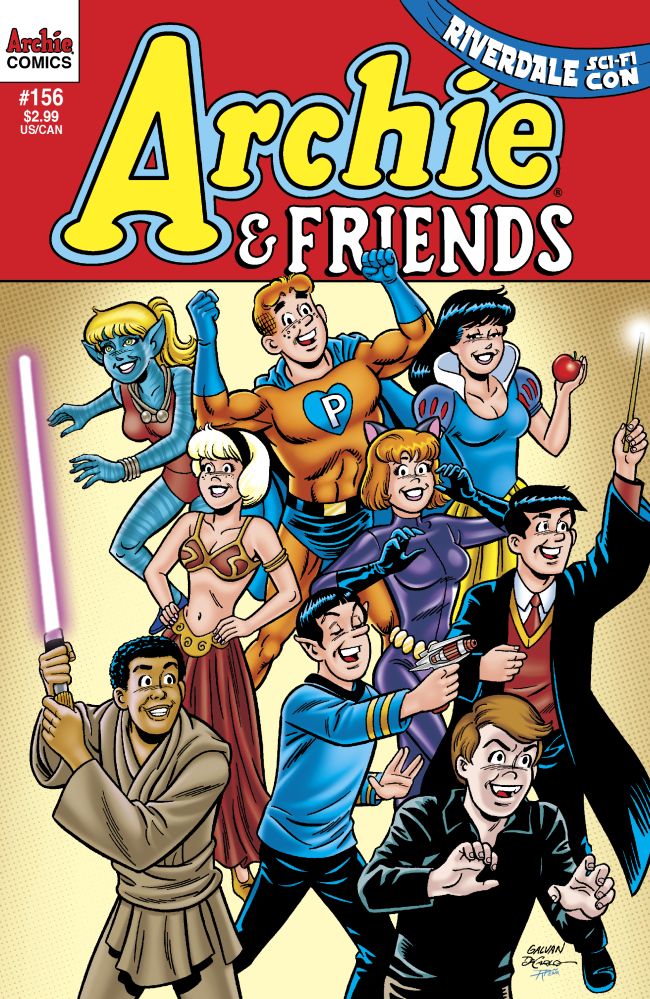 RIVERDALE COMIC CON INTERNATIONAL
In a tale by Alex Segura, Archie and the kids from Riverdale High run into Sabrina and Josie & the Pussycats at the Riverdale Comic-Con. It's bigger than the San Diego Comic-Con and hitting right in the middle of the busy comic convention season.
What will the kids find at the biggest sci-fi, comic and entertainment event to hit Riverdale? Will Veronica win the costume contest? Find out as superstar Archie artist Bill Galvan draws this wild, wacky tale! Coincidentally, Bill himself was discovered by Archie Comics at a comic book convention. Will Riverdale's own comic artist Chuck Clayton be as lucky?
ARCHIE AND FRIENDS #156
SCRIPT: ALEX SEGURA
ART AND COVER: BILL GALVAN
Shipping Date: 6/1/2011
On Sale at Comic Shops: 6/15/2011
Newsstands: Week of 6/21/2011
Comic, 32 pages, 40 lb. glossy stock, Full-Color
$2.99 US