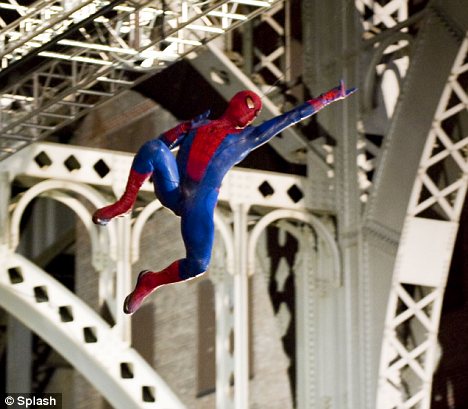 It seems that on any given day some website out there has a new set of pictures from the set of The Amazing Spider-Man. Some are more exciting and better than others, but this most recent round really caught my eye.
Below are some really cool pictures of Spidey doing some web-slinging around Harlem. I'm sure there is going to be plenty of CG in this film, but it looks like they are trying to do a lot of practical-effect shots of Spider-Man swinging around New York as well. I imagine this is a hard effect to achieve and have look right and fluid using cables and a stunt man, but from these stills it looks as though they are doing a very decent job at it!
At this point I have a lot of faith in what Marc Webb seems to be doing with the Spider-Man franchise, but that is only a judgement from what I have seen from the slew of set pics that have flooded the internet. I'm sold on the costume, I think Andrew Garfield looks like Peter Parker, and Emma Stone has the Gwen Stacy look down! In fact, I included some additional non-action pictures of the two of them just because I'm so pleased with the looks!
The Amazing Spider-Man opens on July 3, 2012, is directed by Marc Webb, and stars Andrew Garfield, Emma Stone, Rhys Ifans, Denis Leary, Campbell Scott, Irrfan Khan, Martin Sheen and Sally Field.
You can check out plenty more set pictures at Splash News Online, and Daily Mail!