Perhaps it was destiny that when Stephen King had a son, that son would eventually come to claim the throne. It's probably fair to say that being the son of the king of horror probably opened a door or two for Joe Hill, but he kicked the door opened, burned it, and used its ashes to cast macabre incantations on the page.
Hill's prose work is spellbinding, blending horror and fantasy elements into rich tapestries. It's no wonder those stories have made their way to screens both big and small. His novel Horns was adapted to film, starring Daniel Radcliffe. In the Tall Grass, which he co-wrote with Stephen King, got a recent turn on Netflix. And his novel NOS4A2 was recently adapted for television, starring Zachary Quinto.
In popular–if a little dated–parlance, Joe Hill is absolutely crushing it right now. Not content to coast on the momentum gained through all of his recent successes, Hill continues to tell tales, this time in comics.
Hill is no stranger to the comics medium, having penned more than a dozen stories to-date. The most recent of which, entitled Dying is Easy, released today from IDW.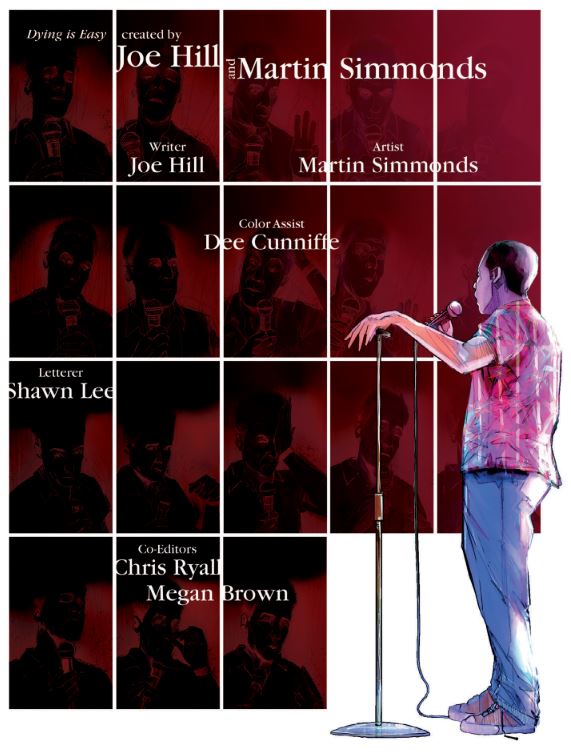 It's a bit of a departure from Hill's usual fare. Gone are the traditional horror elements. There are no mythical monsters or mutated viruses. Instead, it's a good old-fashioned noir-style murder mystery. Even then, Hill doesn't play by the rules. It's common wisdom in mystery stories that a body should drop on the first page. But Hill knows when it comes to comics, if you're in for a penny, you're in for a pound. At least as far as single issues are concerned. So Hill drags it out, almost to the point of discomfort.
Anyone familiar with his work might wonder, mid-way through the issue, when that first shoe will drop. Don't worry, it does, but not right away. Instead, Hill spends his time introducing you to the story's protagonist Syd "Shit-Talk" Homes, an ex-cop turned comedian. The story opens on Syd playing a set to a modest crowd in a dingy comedy club. He needles the audience, the reader included, with jokes which are equal parts funny and uncomfortable.
It's the sort of set which, if you witnessed it in person, might leave you ashamed for laughing. And would definitely leave you feeling bad, for yourself, the world, and the comedian who might have a real shot if he could get over the horrible things he's seen.
Martin Simmonds, the artist on the book, beautifully renders the story in washed out colors and dingy backdrops which perfectly capture the despair present not just in the setting, but in the mind of the protagonist. The words and images come together to craft a world filled with characters, all of which leaves you itching to get up, go outside, and feel the sun on your face, but unable to stop turning the page.
That is, until you reach the end, the story takes an expected yet totally surprising turn, and there are no more pages left.
If you're a fan of Hill's work, of IDW, or of the crime/mystery genre, you're in for a treat. Albeit one that leaves a bit of a sour taste in your mouth, like sucking on pennies. Like the copper taste of blood.
Dying is Easy, issue one of five, is available today, direct from IDW, or from your local brick and mortar.