This week had something great from every publisher. Some books hit me on an emotional level and others I admired from afar. Why draw out the dramatic build up any further though when everyone just wants to get to the pretty pictures?
"Saga" gets to be the first reveal this week because it was included in the posts header image so it wouldn't be a surprise if I saved my favorite cover for last. Fiona Staples is so amazing with her digital paint brush that "Saga" making an appearance every month in "5 and 3" isn't much of a surprise either.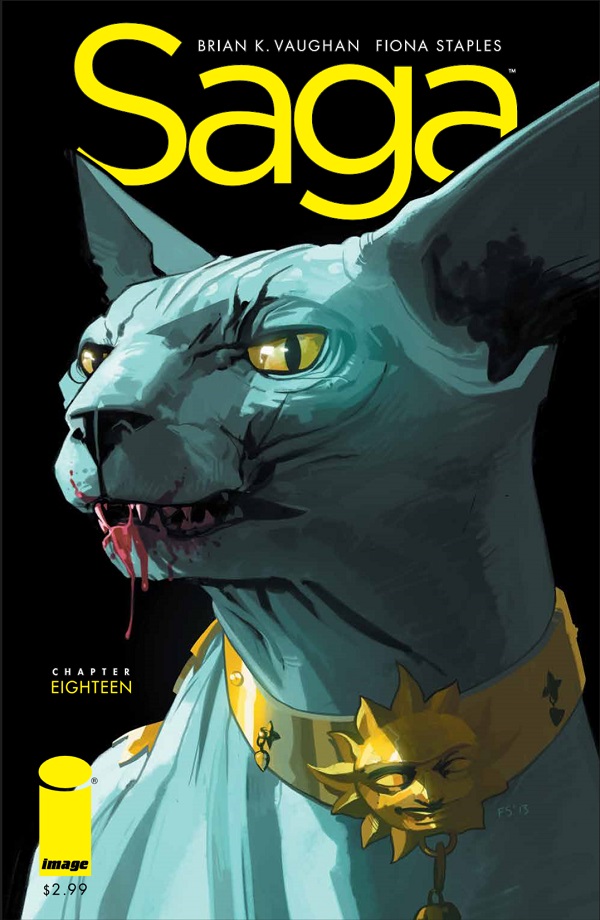 I love the cover to "Revival issue 17" by Jenny Frison. She brings an entirely spooky level of realistic cartooning to this particular piece of artwork. The choice of colors and the accent of shadow are truly terrifying.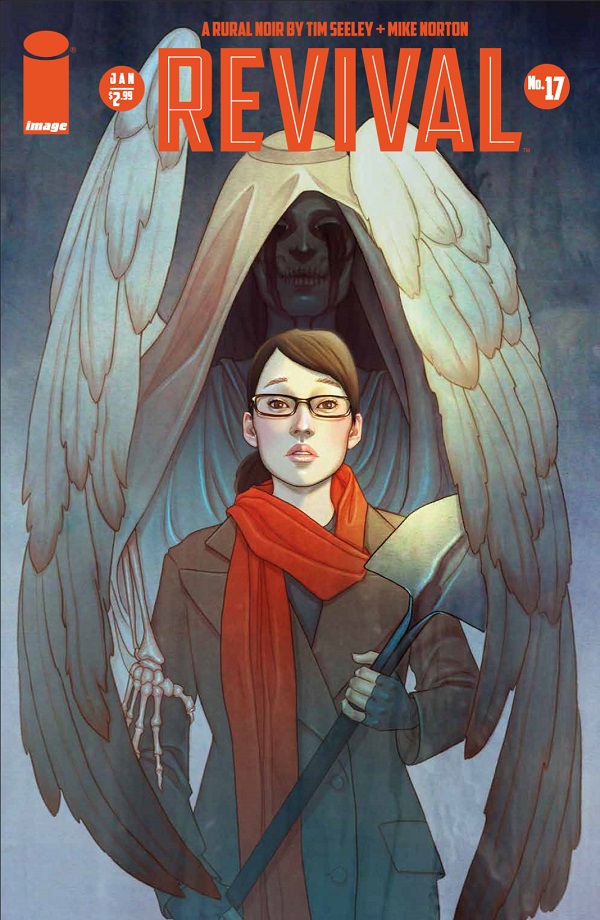 I saw the cover to "The Flash #27" and knew it was special. The artwork by Pasqual Ferry and Matt Hollingsworth is solid and bright. It makes this issue of "The Flash" look fun and adventurous.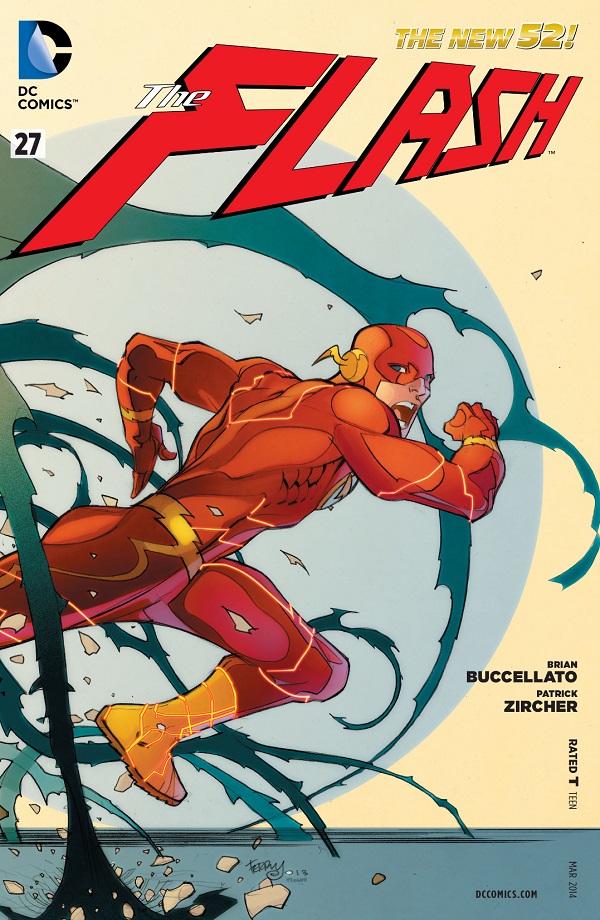 The cover to "Thor God of Thunder #18" by Esad Ribic was the last one I chose this week, but it isn't the last I'm choosing to reveal. Like I said, this week was full of great works that I saw from afar. Esad's cover won out in the end because of the pedigree Ribic has brought to the Norse God over the last year. This book continues to be a favorite here at Big Shiny Robot and Ribic is one of the main reasons for that.
Why so forlorn Michelangelo? Is it simply autumn and you're writing down pizza recipes for the cold days ahead? Maybe you're writing a poem about how totally tubular the latest "Grand Theft Auto" game is? Do you fancy yourself a bit of an artist yourself? What are you drawing Mikey?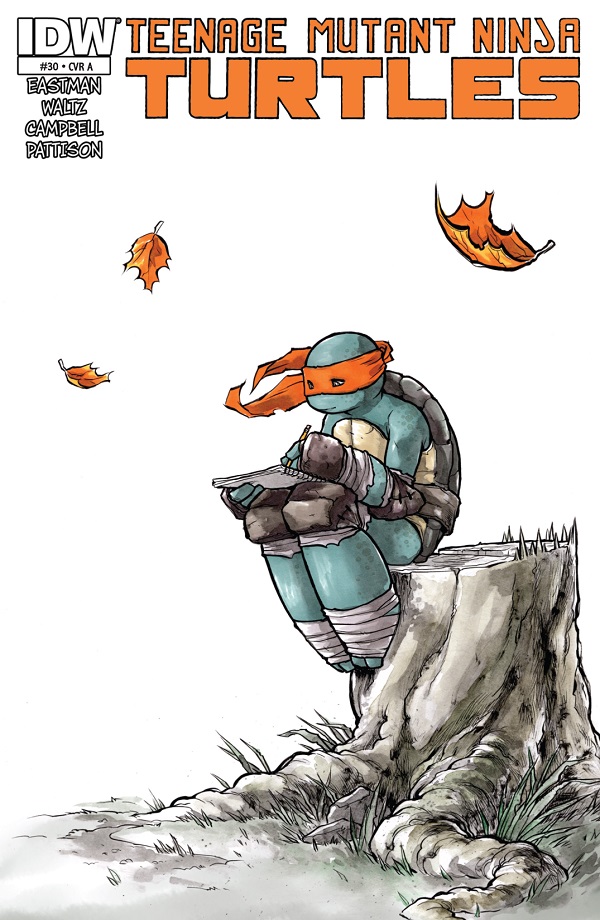 I had to pick another moment from "Saga" to lead off the panels this week. "Saga"" is taking a break for a month and this book deftly ended the last 6 issues in preparation for the trade that will release in February. We're spoiled 6 months at a time with "Saga", but in order for "Saga" to maintain that wonderful look Staples has created, she needs time to catch up. Even though I'll miss "Saga" next month, I'm happy to wait while Fiona Staples creates my future astonishment.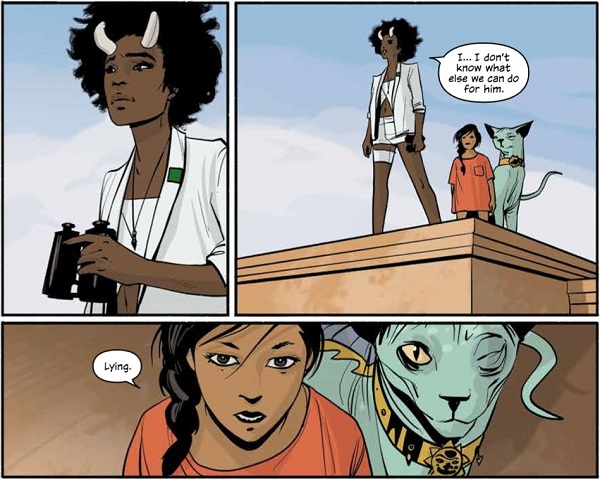 Ryan Ottley is a mad man! "Invincible" isn't a comic I always read but I was given a preview to issue 108 by the wonderful folks over at Image Comics so of course I decided to flip through the book to find out what I'd been missing out on. Ryan Ottley's work inside the book is so great I knew it was going to make my list this week; I just had to find the right one. I picked this gruesome piece of artwork by Ottley because I was absolutely stunned when I saw it. I mean, look at that guy explode!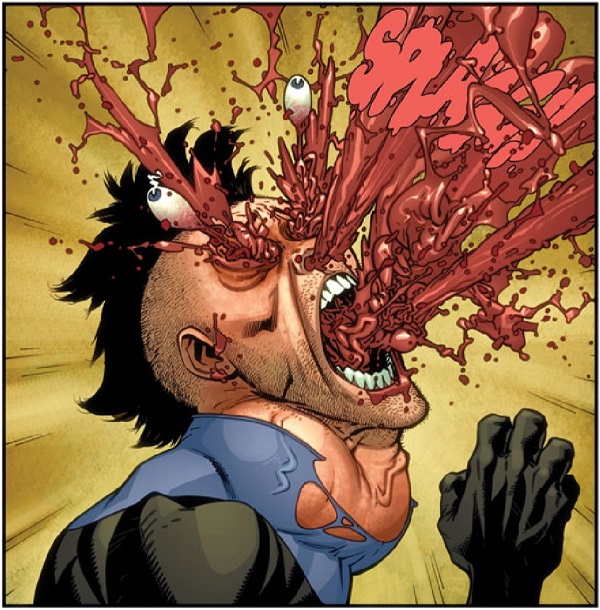 Gamora by Sara Pichelli is breath-taking. I fell in love with her work on "Ultimate Comics Spider-Man." Her work here on "Guardians of The Galaxy 11.NOW!" made me forget about Gamora's latest costume. I'm not saying I'd like Gamora to look like this all the time. In fact, I prefer my super-heroines to dress like they could actually fight in their clothing instead of looking like they're on their way to the beach. In this case though, with Pichelli's talented pencil, I didn't mind Gamora's costume change at all.
Every now and again I'll put some extra content up that goes over the 8 favorite things in Comics limit I set for myself each week. This is a week for going over because even though Gustavo Duarte's "Monsters! & Other Stories" was officially on the shelves of comic shops last week, it premiered on book store's shelves on Comic Book Day this week. I didn't want waste a chance to share some of Gustavo's brilliant art. He is an inspiration and I'm hoping to be able to share more of his work with you in the near future. If you don't want to wait for me or if I don't get that chance, please go over to Dark Horse's website and give the book a look. It really is fantastic storytelling and world class illustration.
That's another "Five and Three" for the history books. If you're already wanting to see more of my favorite comic book moments you'll have to wait for next week or visit "Five and Three" in the past. If you don't have a time machine you can start with last weeks episode right here. Please comment below and let me know what you think Michelangelo is writing. I think he is really focused on drawing some fan art of Big Shiny Robots eating pizza. If disagree with me, or you feel like talking to a friendly Big Shiny Robot with a large beard and a twinkle in his eye, you can hit me up on Twitter @MarkAvo. Oh, and that twinkle in my eye is actually lens glare added by J.J. Abrams. Until next time kids, live long and prosper!