There is an old saying that "every comic is someone's first". Usually when that's bandied about, it's referring to a comic reader. Today, I'm applying it to a writer. Archie & Friends #156 is Alex Segura's first writing gig for Archie Comics. Alex is Archie's "Director of Publicity and Marketing". He's also a pretty cool guy. Those qualities don't necessarily make for a good storyteller, though. I was incredibly curious as to how this book would turn out ever since it was announced. I'm happy to say that Mr. Segura hits his first effort out of the park with an enjoyable tale that encompasses just about every member of the Riverdale gang!
As evidenced by the cover, this tale takes place at the Riverdale Comic Con. The core group of Archies come together, but are all there for different reasons. Archie wants a copy of the first comic he ever read, Betty & Veronica want to meet celebrities, and Jughead wants to sample the Con food. Reggie on the other hand, is up to his regular antics…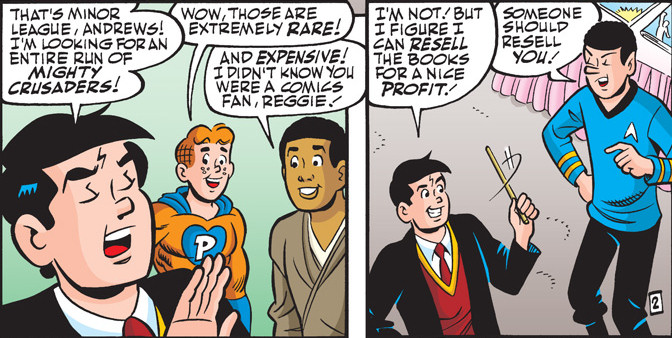 It's not all fun and games, as there is the underlying mystery of "Who is Maximus Chrome?" He's cosplaying with the rest of the group and seems to know them, but none of the Archies know exactly who he (or she) is. As everyone starts to speculate, the laundry list of suspects gets whittled down as we're greeted with cameos by many other Riverdale denizens. The first person they meet is actually one of my least liked Archie characters, so I got a bit of a chuckle at his treatment in this issue.

Bingo tells the gang about the Con's costume contest, and the entire group is off like a shot, trying to win. From there, the story moves on at a good clip with all of the various plot threads introduced as the group goes about their day converging at the end. Of course there is the big reveal of identity of Maximus Chrome. I'll admit that at first, this reveal kind of fell flat for me and was my only real complaint about the issue. When I re-read it for this review, knowing who he was made it obvious that clues were dropped throughout and that actually made the story more enjoyable for me.
In summary, on the writing side, this was a pretty good book. Alex Segura obviously has a hold on everyone's characterizations, and I'd enjoy reading more of his work. While the writing is great, the real star of this comic is the stellar artwork by Bill Galvan. I don't know where Segura ends and Galvan begins for all of the comic-booky homages in this issue, but they brought a smile to my face more than once. Where else are you going to see Josie and the Pussycats eschew their usual look for Catwoman/Black Cat inspired looks? Not to mention a certain teenage witch being the chair of Riverdale's equivalent of the 501st Legion? All of the inspired costuming combined with all of the geeky background details made this book a visual treat.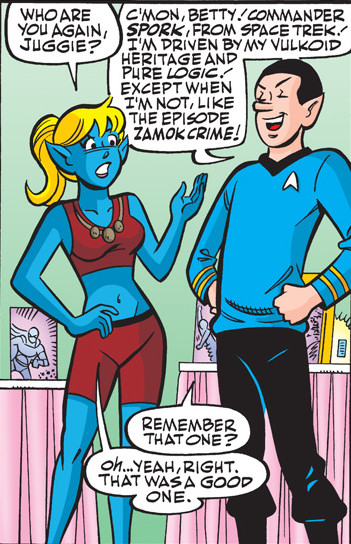 For anyone that likes good, clean fun and is not afraid to wallow in all of the things that make us geeks, this issue is great. It's not perfect, but it is enjoyable. I don't have a rating scale, but if I were to compare this to say, a typical Jughead meal of 5 hamburgers, I'd give this issue 3 and a half burgers.