Last week, Warner Bros and DC Entertainment made a Big Announcement.
"A New Super Hero Universe Designed Just For Girls, Slated For Fall 2015"
The press release has some interesting information about what shape that universe will take, and how girls will be able to take part (purchase, consume, etc.) in it:
Mattel to Launch Company's First Action Figures for Girls
Unprecedented Initiative to Include Digital Content, TV Specials, Made-For-Videos,
Publishing, Toys, Apparel and Other Products
Random House Children's Books to be Master Publishing Partner
The LEGO Group to be Exclusive Construction Partner
Developed for girls aged 6-12, DC Super Hero Girls centers on the female Super Heroes and Super-Villains of the DC Comics universe during their formative years—prior to discovering their full super power potential. Featuring a completely new artistic style and aesthetic, DC Comics' icons such as Wonder Woman, Supergirl, Batgirl, Harley Quinn, Bumble Bee, Poison Ivy, Katana and many more make their unprecedented teenaged introduction. Each character has her own storyline that explores what teen life is like as a Super Hero, including discovering her unique abilities, nurturing her remarkable powers and mastering the fundamentals of being a hero.
"DC Entertainment is home to the most iconic and well-known Super Heroes including Wonder Woman, Supergirl and Batgirl," said Diane Nelson, President of DC Entertainment. "DC Super Hero Girls represents the embodiment of our long-term strategy to harness the power of our diverse female characters. I am so pleased that we are able to offer relatable and strong role models in a unique way, just for girls."
They have also released a single poster-style image, with some of that "completely new artistic style and aesthetic." It's cute. I like the style, and if their target audience is 6-12 year olds, I think it's keen.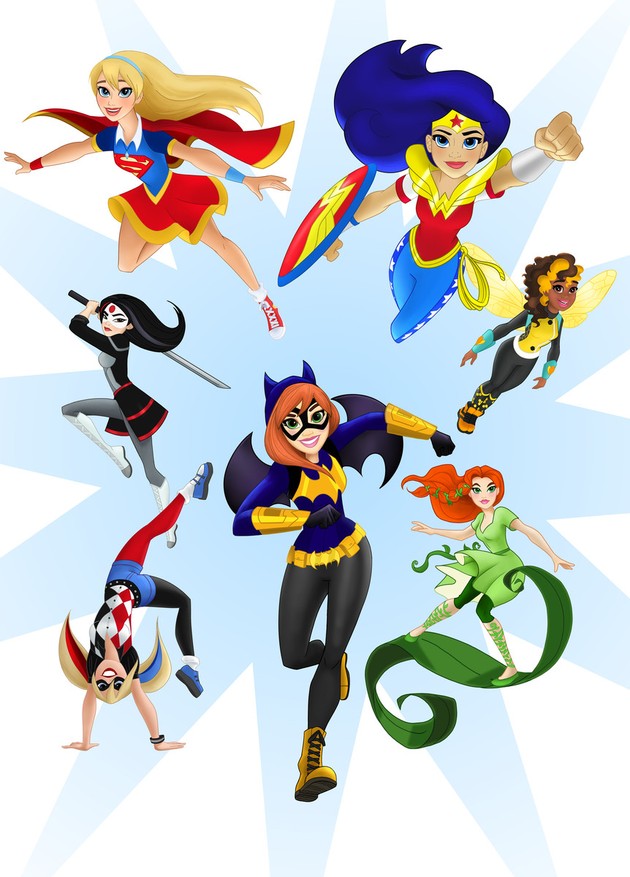 So…why is it bugging me? I'm a lifelong DC Comics fan, and I love the female heroes and villains and civilians of the DC Universe as much as I love the male heroes and villains. Along with the characters in that poster, I'd love to see Black Canary and Zatanna and Hawkgirl and Fire and Ice and Catwoman and Raven and Starfire and Donna Troy and Lois Lane and…well, everyone. I'm sure what we see above is just the beginning, and we'll get more characters included in the different toy and clothing and made-for-home-viewing-media as we go.
I've written before on how LEGO has tried to expand its reach to girls. They've done that on two fronts — having a completely separate "Friends" (and now Disney Princesses, and Elves) line intended for girls, but also increasing the representation of female characters in their traditional LEGO lineup. I would rather see WB and DC Entertainment try that approach…at least for part of their mission.
I'm not female, and I'm a father to two sons. I don't have daughters. I'm not an expert on "how girls play" or anything. I am a schoolteacher, and I'm an observant human being. Based on my own experience, this is how I see this playing out:
This will sell. It will do well at least for a while. Superheroes are hot these days, and as far as I know, Marvel/Disney isn't touching this market yet. They should be. It's not just boys going to all of these superhero movies, not just boys watching "Agents of SHIELD" and "The Flash." That stylized version of the superheroes and villains seems about on target for what's selling these days. I see girls and girls' parents getting on board with it. And that's a good thing. Encouraging and empowering girls is a good thing, as it is for boys.
I would rather (also?) see another front added to this campaign. Get Mattel to include female characters in their action figure line. Don't just have LEGO create a new subset of "Super Hero Girls" that uses the LEGO Friends "minidolls," but have them include more female heroes and villains as standard minifigures in their regular DC Super Heroes sets. Don't just put out DVDs that have all-girl casts, but give women more representation in their mainstream media.
They run the risk of thinking "well, we've done our part with Super Hero Girls," and continuing to undercut women in their regular offerings. If I were say, a ten year old boy, I don't know that I'm going to look at something branded exclusively towards girls, even though there are strong, positive characters who would enhance my action figure/LEGO/book readin' experience. I only discovered all of those awesome heroines and villainesses because they were part of "team books." Teen Titans, Justice League, those kind of things. Make sure you keep them on the team. And include them in the "stuff for the boys" alongside the 83,000 Batman action figures that clog every toy aisle. Hasbro pretty much craps all over Princess Leia and Padme Amidala and Hera and Sabine Wren every chance they get (worse, they ignore them completely) — don't do the same thing to the women of the DC Universe. Keep the Super Hero Girls fighting the good fight, but don't forget to invite them to the boy's table too.