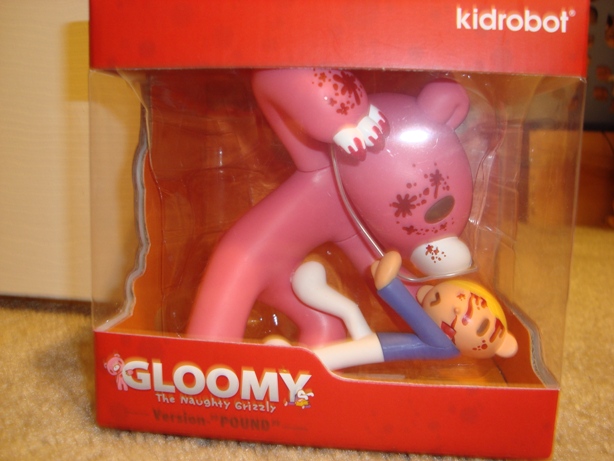 Company: KIDROBOT

Artist: Mori Chack

Sculptor: Takeo Ohno

GLOOMY: THE NAUGHTY GRIZZLY

VERSION-"POUND"
One of my new favorite figures being displayed this week is Mori Chack's "Gloomy". The 4.5″ display friendly figure is simple and hilarious. Let's start with the details.
Not much intricacy, just solid soft colors. Gloomy is obviously pink with dark red blood splatters on his face and arms from attacking his owner "Pity". Pity is struggling to free himself from Gloomy's clutches, but the severe brain hemorrhaging and slash marks seem to have got the best of him.
The box is really sturdy and is just as easy and smooth as the characters inside. On back there is a short story introducing you to Gloomy and some small stats about him. Both the left side and top of the box have a simplistic preview of whats inside waiting.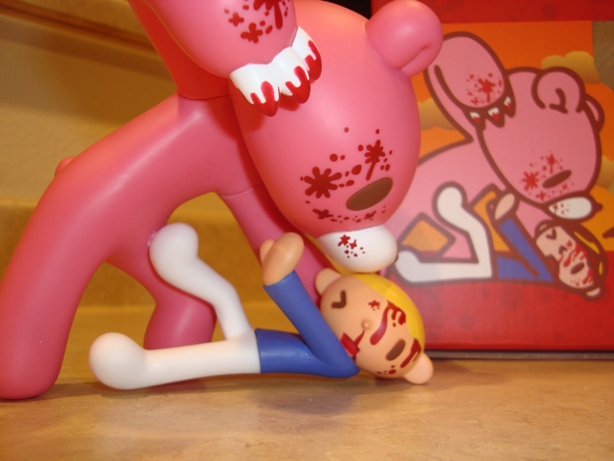 Although its obviously for an audience 15 or older, it does have a small charm of innocence about it. Compared of course, to what violence young kids are exposed to through the media, vidja games, and the Black Eyed Peas (probably the most dangerous threat to earth).
I highly recommend this in your collection. It's funny, small enough to display about anywhere (boxed or not), and for once the "white-man" is down…or at least in and out of consciousness.
Continuous Pound Gloomy Bear starts around $29.99