The LEGO Group put out word yesterday that they'd be introducing a new theme at New York Comic Con today, and they were true to their word. While I was hoping for a license that's in the LEGO Dimensions game but not yet a playset, like Portal or The Wizard of Oz, instead we get Nexo Knights.
From their press release:
LEGO® NEXO KNIGHTS™ Catapults Into Action
World's leading toy brand introduces new intellectual property that bridges physical and digital play with building sets, episodic content and digital gaming
New York Comic Con attendees get first-look at story, products and gaming app
NEW YORK, Oct. 8, 2015 /PRNewswire/ — The LEGO Group today announced LEGO® NEXO KNIGHTS,™ a new, original LEGO property depicting a medieval kingdom set in a futuristic world where five young, brave knights "download" special powers to their shields in order to battle the royal court's evil Jestro and a cast of monsters to restore peace. The story comes to life through LEGO building sets, an episodic television and a digital gaming app that fuels story-driven gameplay. The property launches later this year, with products available starting January 1, 2016. LEGO NEXO KNIGHTS characters, story, app experience and two iconic building sets from the collection will be previewed to New York Comic Con attendees, Thursday, October 8 through Sunday, October 11 at the Jacob K. Javits Convention Center (Booth #1436).
"Inspired by insights to meet the emerging needs of today's kids, LEGO NEXO KNIGHTS juxtaposes a timeless world of medieval knights with a futuristic twist in a captivating story that invites children to explore LEGO play in a whole new way," said Casper Thingholm of the LEGO Group. "LEGO NEXO KNIGHTS offers children the rewarding building experiences they know and love, amplified by digital enhancements that merge what today's kids love: self-expression, strong characters, deep content-driven story and digital gaming."
Story
Set in the futuristic, high-tech world of the Kingdom of Knighton, LEGO NEXO KNIGHTS follows five young knights in their quest to battle Jestro, his sidekick, the Book of Monsters, and their Lava Monster Army. Heroic knight, Clay Moorington, leads the band of knights, including alpha superstar Lance Richmond, hipster Aaron Fox, Macy Halbert, a princess who would rather be a knight, and Axl, the giant. Together, under the tutelage of Knights' Academy mentor and Great Digital Wizard, Merlok 2.0, they join forces to defeat the enemy.
The sets are kind of a steampunky medieval space futuristic…well…this: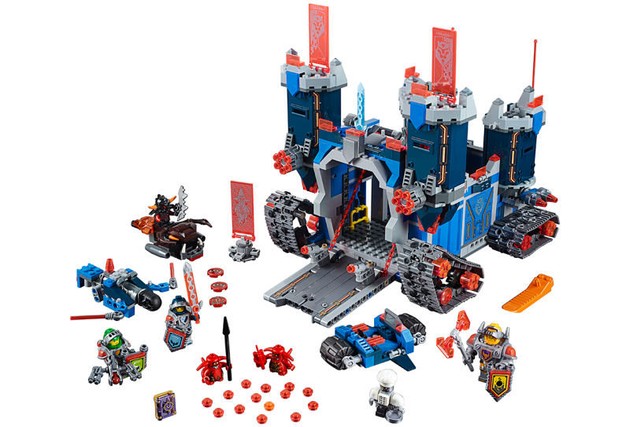 So yeah. A castle, on tank treads, with robohorses/speeder bikes that…yeah.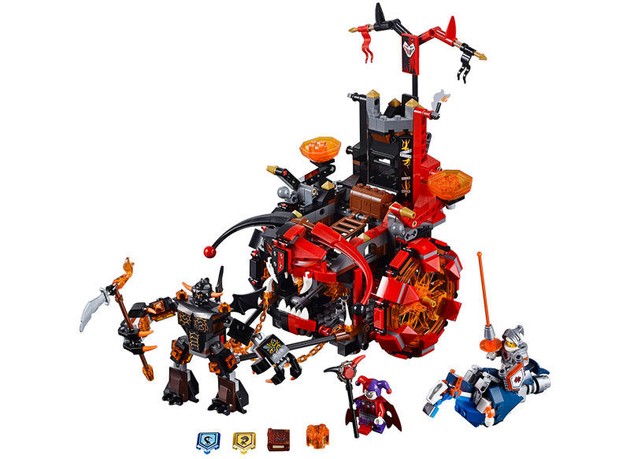 …and that's Jestro's Evil Mobile.
Where this is a homegrown property, they won't have the licensing fees that LEGO has with the superheroes and Star Wars brands. Their in-house brands are hit and miss. "Ninjago" was, and still is, huge. It's had several iterations of the cartoon, games, and is getting it's own theatrical release. The followup was "Legends of Chima," which never really took off with kids (or adult fans), despite having some cool designs and play features. I'm guessing "Nexo Knights" is intended to replace "Chima." From a jaded adult perspective, it's kind of a mess. But it's the kids that matter. Will they dig it? Here's a trailer for the accompanying cartoon and app game:
It could work. LEGO Nexo Knights will be on store shelves in 2016. That's when we find out.