It started as a rumor last year, and then we got some sneaked peeks at some sculpts, but now they've been finally revealed. The next series of LEGO Minifigures will be Disney characters. The only other times LEGO has done licensed characters were for "The LEGO Movie" and "The Simpsons" (with two series), although I hold out hope that there will someday be a DC Comics Minifigures series, or Star Wars, or I'd even take Marvel Superheroes. It'd be a great way to get some of those obscure characters who will never anchor a set, but who would make an unforgettable character.
Anyway. Here's the Disney lineup: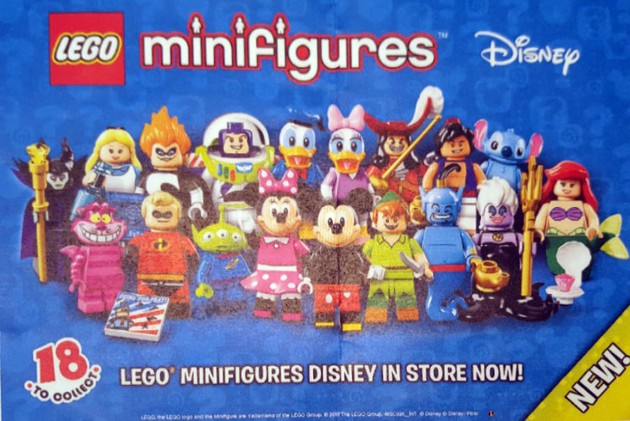 So here's the list:
Mickey Mouse
Minnie Mouse
Donald Duck
Daisy Duck
Alice
Cheshire Cat
Aladdin
Genie
Mr. Incredible
Syndrome
Stitch
Ariel
Ursula
Peter Pan
Captain Hook
Maleficent
Buzz Lightyear
Pizza Planet Alien
We already knew about ten of those characters from rumors. And from the beginning, I figured I wouldn't be getting every character, because A) I'm not a completist when it comes to collecting anything, and B) I'm not a huge Disney fan.
So here's who I'm getting for sure:
Mickey, Minnie, Donald, and Daisy: more based on childhood affection than anything. I mean…it's Mickey Mouse. Come on. Even then, I think they look kind of weird in minifigure form–which I also thought about the Simpsons characters. So yeah. I'll be buying them anyway.
Mr. Incredible and Syndrome: in the hopes that we'll eventually get the rest of the family more than on the basis of these two characters alone. Again, they look kind of wonky. They'll grow on me.
Ariel and Ursula: It's a good movie (although "Beauty and the Beast" beats it in every way imaginable), but the real selling point here is that Ursula is hot. So yeah. Must-buy.
Peter Pan and Captain Hook: Favorite movie when I was a pup, and that Peter Pan looks fantastic. They're also a great addition to LEGO Pirate and other sets — sold.
Maleficent: favorite Disney villain of all time, and even that dumb movie with Angelina Jolie didn't make me not like her. So yeah. Hella-sold. Whither Sleeping Beauty though? Come on!
The characters I won't be picking up:
Aladdin and Genie: Never liked the movie, and Robin Williams (RIP) bugs the heck out of me.
Alice and Cheshire Cat: I can see myself picking them up just because they look better than most of the other characters, but I've never cared about the movie, book, or characters. So meh.
Stitch: I've never seen the movie, I don't care. Where's Lilo?
Buzz Lightyear and Pizza Planet Alien: I have the entire Toy Story lineup from around the time "Toy Story 3" came out, so these guys would be redundant. Everyone else should pick them uup though. Because they're awesome.
So. These are going to sell like LEGO Disney Minifigures. Who would I want to see next?
Goofy
Uncle Scrooge
Huey, Dewey, and Louie
Pluto
Sorcerer's Apprentice Mickey
Elasti-Girl
Dash
Violet
Jack-Jack
Sleeping Beauty
Prince Phillip
Belle
Beast
Kermit the Frog
Miss Piggy
…pretty predictable list, but with the first series laid out the way it is, I'd want to see them complete things like the Incredibles, and move on into some new territory. And yes, since Disney owns the Muppets now, I want some damn Muppets in the mix. Beyond that, I'd love to see movies that would fit in well with existing LEGO themes. Just as Peter Pan complements LEGO Pirates, Robin Hood would work well with LEGO Castle. Actually, so would most of the Disney fairy tales.
I'm excited about this line, even if the lineup and execution isn't quite what I want it to be quite yet. Who would you want to see? Will you be collecting them all?