This one has been in the rumor mill for a while, and it looks like it's finally here. Or will be, March 1st. Weighing in at 2,526 pieces and $269.99, this will join the ranks of the Ghostbusters Firehouse, Death Star, Ewok Village, and S.H.I.E.L.D. Helicarrier as the enormous-and-beautiful pop culture touchstones that LEGO has rolled out in the last few years.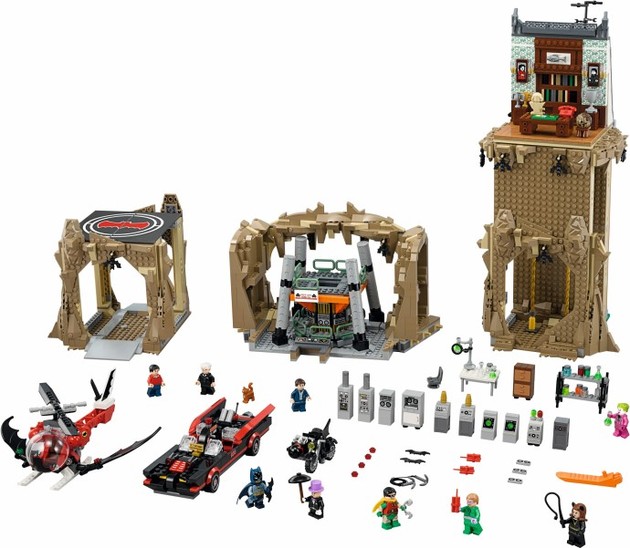 Here's the press release with the info, with some pictures thrown in for salivation purposes:
US $269.99, CA $329.99, DE 249.99€, UK £229.99, DK 2499.00 DKK.
Available mid-February to VIPs, everyone else 1st March.
Drive the villains out from Batman's Batcave!
Help Batman™ and Robin™ to drive the villain intruders from the Batcave, featuring a Bat Lab with Batcomputer, plus the Batmobile with stud shooters, Batcopter with flick missiles and the Batcycle. This special model, based on the classic 1960s TV show, also has a Wayne Manor section with an exterior wall to climb on and Bruce Wayne's study featuring the iconic Batphone and a false bookcase that slides open to reveal the secret entrance to the Batcave. Before spiraling down the Batpoles into the Batcave, change identity from Bruce Wayne™ and Dick Grayson™ into Batman and Robin (separate minifigures included).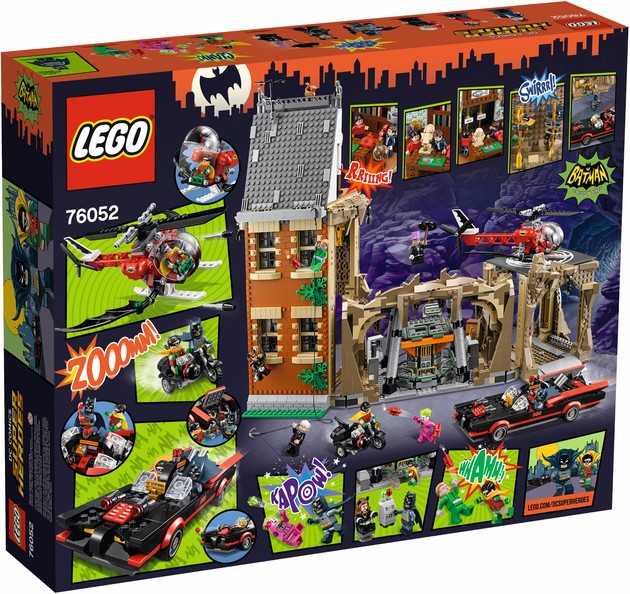 Includes 9 minifigures: Batman™, Robin™, Bruce Wayne™, Dick Grayson™, Alfred Pennyworth™, The Joker™, Catwoman™, The Riddler™ and The Penguin™.
This LEGO® model of the Batcave as seen in the classic 1960s TV series features 2 Batpoles for Batman™ and Robin™ to slide down, a selection of Bat-gadgets, helipad, plus a Batmobile and Batcopter.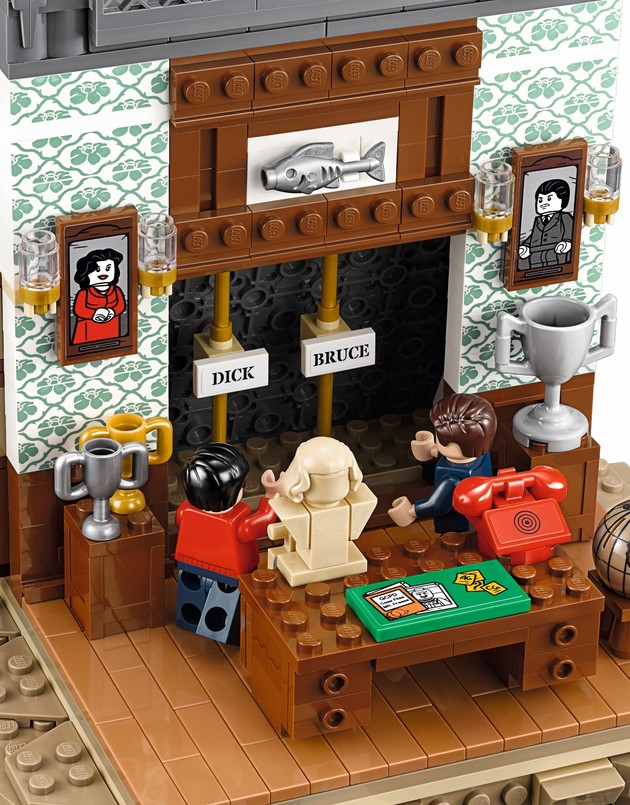 The Wayne Manor section of the model features Bruce Wayne's study with the iconic Batphone, a hinged Shakespeare bust with secret button underneath, sliding false bookcase to access the Batpoles, and assorted elements including decorated wallpaper bricks, wall lamps, framed portraits, a framed fish and trophies. It also includes an exterior wall for climbing, with an opening roof for easy access to the Batpoles and an aerial element.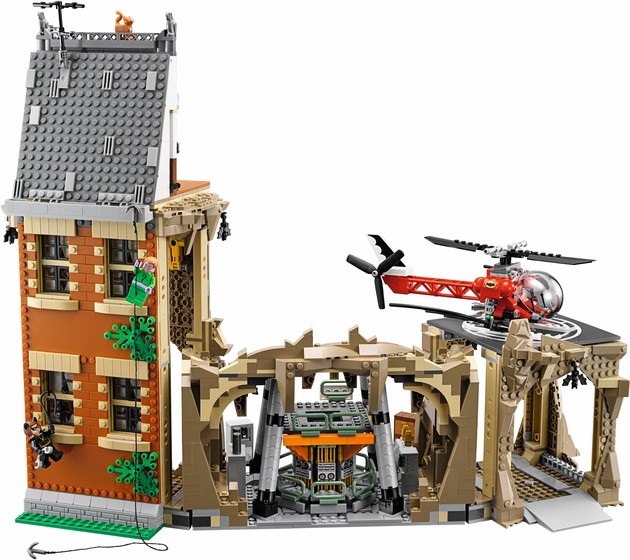 The Batcave incorporates a hi-tech, 2-floor Bat Lab with Batcomputer element and a variety of detachable accessory elements, including a lie detector machine, table, chest of drawers, Bat-gadgets and test tubes with translucent elements. Also includes the iconic Batcave entrance for the Batmobile and a helipad for the Batcopter.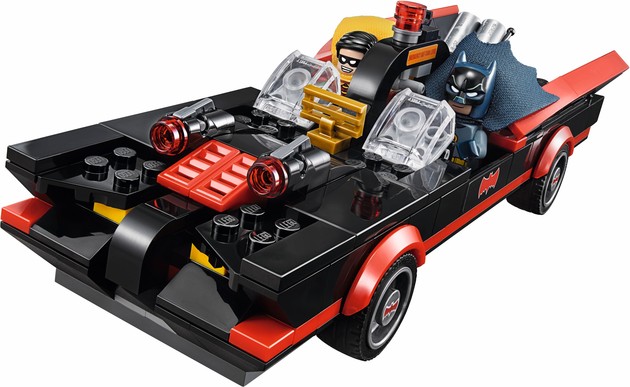 The Batmobile features a dual cockpit with iconic Batphone, 2 stud shooters, an opening trunk, dual exhaust and sign stickers.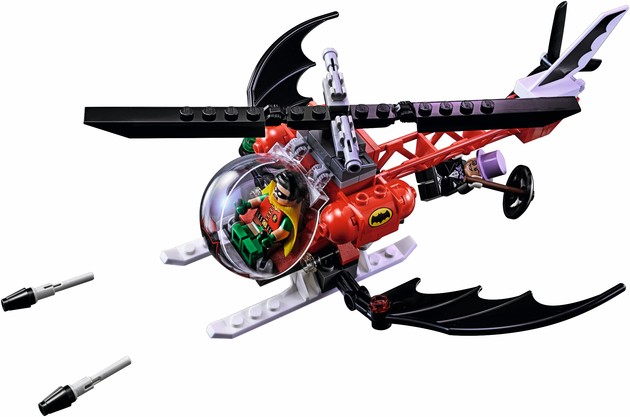 The Batcopter has an opening cockpit for a minifigure, bat-inspired wings with 2 flick missiles, spinning rotors and a spinning propeller. A villain minifigure can grab onto the back of the Batcopter for more aerial battle action.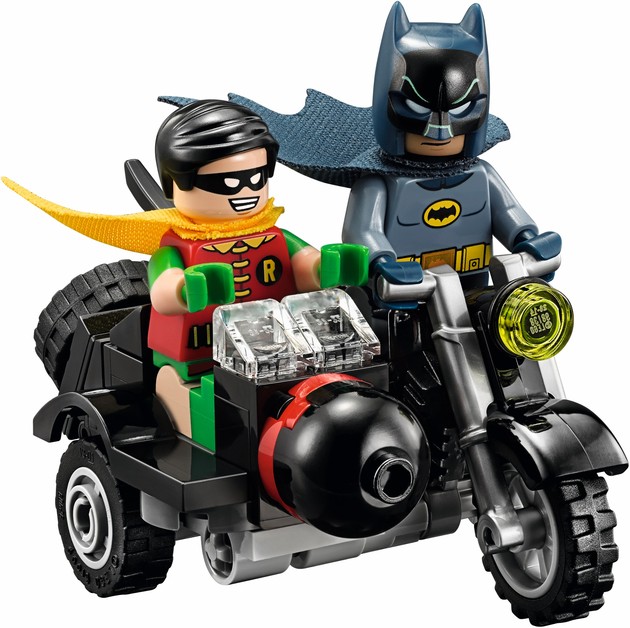 The Batcycle features a driver's seat for Batman™, translucent headlight element and a sidecar for Robin™.
Also includes a cat.
Weapons include The Joker's TNT, Catwoman's whip, The Riddler's TNT and The Penguin's umbrella.
Accessory elements include Batman's 3 Batarangs, rope, grappling hook and handcuffs.
Includes separate minifigures for Batman™ and Robin's alter-egos, so enter the secret doorway as Bruce and Dick, and slide down the Batpoles as LEGO® DC Super Heroes!
Batcave measures over 18" (46cm) high, 22" (56cm) wide and 7" (20cm) deep.
Batmobile measures over 2" (6cm) high, 8" (21cm) long and 2" (7cm) wide.
Batcopter measures over 2" (7cm) high, 8" (22cm) long and 7" (19cm) wide.
Batcycle measures over 1" (4cm) high, 3" (8cm) long and 1" (4cm) wide.
"Also includes a cat," you guys!!
My commentary: I love it. LEGO has had the Batman license for over ten years now, and fans have asked about a classic Batmobile in particular for about that long. Seeing it as part of this set is worth the wait. Personally, I love that with one (albeit expensive) purchase, I can get the Batcave and a section of Wayne Manor and the Batmobile and the Batcopter and the Batcycle and the four most iconic villains and Bruce Wayne and Dick Grayson and Alfred. I mean…really. They could have split all of that up among a dozen sets (knowing LEGO like we do), and instead it's all here. All of it. Some nerd friends have said "but whither Aunt Harriet?" to which I say, "dead."
The minifigures are incredible–giving the Joker Cesar Romero's greasepainted mustache is a must, and the look of all of the other characters is as spot-on. The Batcave is extensive and more detailed than any other Batcave LEGO has released, and even though I'm too young (that almost never happens) to have watched the original Adam West TV series, I grew up with it in reruns, and rewatching some episodes recently, it still has a technicolor charm that can't be beat. And this version of the Batcave is…well, for a lot of people, it's a dream come true. As terrible as it feels typing that. But it is.
For an up close look at all of the minifigures and the play features of the set, check out the creator's video here:
If you're a VIP member, this is available mid-February; if you're not, March 1st. Batcave Fund: Engaged.