If the gameplay of "Assassin's Creed Unity" didn't get you excited enough to preorder the game then this might just push you over the edge. Ubisoft announced details on the collector's edition and preorder bonuses.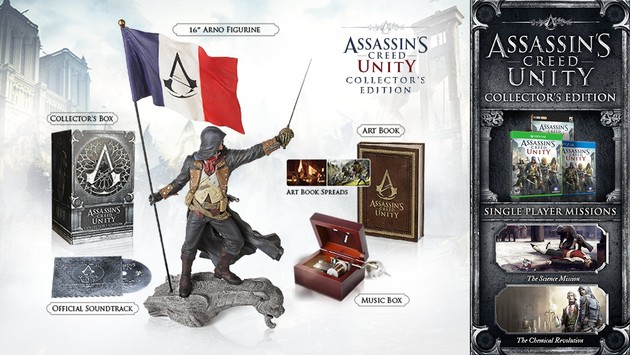 Image from Ubisoft.
As you can see, the collector's edition doesn't have a ton on items but, in my opinion, is a quality over quantity situation. The main items are a 16-inch figurine of the main Assassin, Arno, standing on top of gargoyle (he'll make a nice addition to the top of my shelf). You also get a music box that plays a version of the theme song from "Assassin's Creed Unity." In addition you get a copy of the official soundtrack, an art book and two in-game missions: "Killed by Science" and "The Chemical Revolution."
I didn't see a price on the assassin's website but found the set listed at Gamestop for $129.99.
The most unique bonus for preordering though has to be the "Guillotine Spin to Win" game. Every Friday, until the game is released, players can win prizes including trips to Paris, Ubisoft Montreal, Comic-Con; games; clothes and entertainment systems. You can also win additional spins to keep you coming back.
For some extra cash, $60, you can also get a life-size replica of Arno's "Phantom Blade" for display or to be worn (cosplay anyone). Ubisoft says supplies will be limited and to order it now to guarantee you get one. It "features a functional hidden blade, retractable crossbow arms, and a soft firing dart."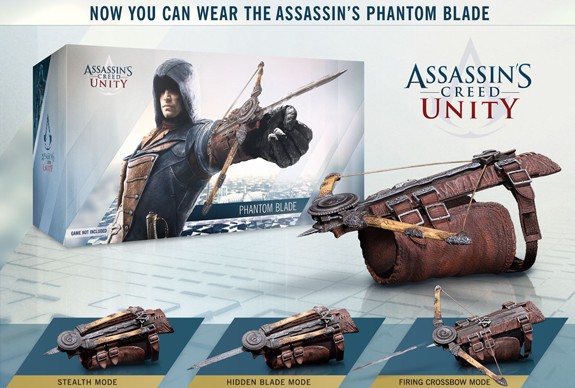 All in all not a bad collector's edition; however if you're looking to pre-order just the regular game keep in mind that where you get the game from will determine what bonus you get. You can see a full list of all the collector's edition and pre-order bonuses here.
"Assassin's Creed Unity" will be available October 28, 2014.