The LEGO Adventure Book Vol. 3: Robots, Planes, Cities & More! Megan H. Rothrock, Hardcover, 192 pages, No Starch Press. September 2015. (7 out of 10)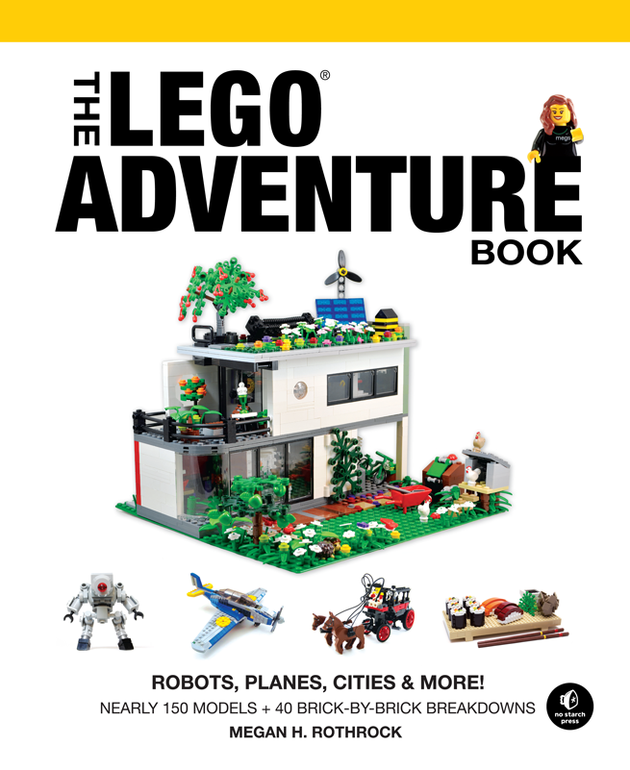 Over the last few years, No Starch Press has been expanding their LEGO reach, with books written by and for LEGO fans, but not officially endorsed or published by the toy giant. As of today, there are a whopping 32 books in No Starch's LEGO catalog, and on the whole they're very good. They cover a variety of topics and styles, from LEGO Space models to medieval history to architecture to LEGO art and sculpture. Some are expressly meant for adults, but there are plenty that are good for kids as well. Which is good, because…LEGO. It's a toy.
This month sees the next addition to an ongoing series by author Megan H. Rothrock: "The LEGO Adventure Book Vol. 3." I read the first in this series, but somehow missed the second. They were published in 2012 and 2013, so there was a large gap between volumes 2 and 3.
Where most of the No Starch LEGO books are essentially a collection of pretty pictures of professional-grade LEGO models, with some building tips and instructions thrown in, "The LEGO Adventure Book" series attempts to tell an ongoing story. The tenuous storyline has Megs (a black-suited female minifigure representing Megan's online avatar and persona) and her tiny Brickbot traveling through time and space in her little time machine. The first ten pages set up that story, but do so without explaining what has come before. We're dropped into the middle of the story without any warning, and it's very disorienting. Even as an adult who had read the first volume and knew the premise, I didn't know what was going on. I guess in volume 2 they met a villain called the Destructor, who…destructs. Things. LEGO buildings, cars, spaceships–whatever he can get his mitts on. So Megs and Brickbot go throughout various LEGO worlds, trying to apprehend the dude.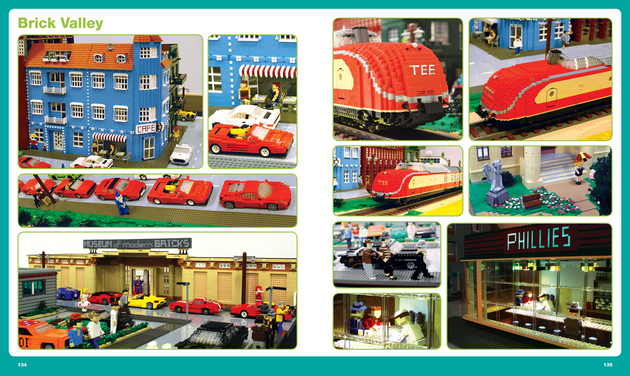 Aside from that bit of confusion, and a scene pretty much stolen directly from the LEGO Movie — remember that group of Master Builders who met inside the Dog in Cloud Cuckoo Land? With Abraham Lincoln and Michelangelo and Michelangelo and Milhouse? Well, it's that. Here they call it the "Council of Creative Constructionists," and it's fine…but really, a complete ripoff. So aside from the confusion and the CCC, this becomes a very nice book. Megs' journey takes her through nine different worlds, spending as much as 25 pages in some, as few as 8 pages in others.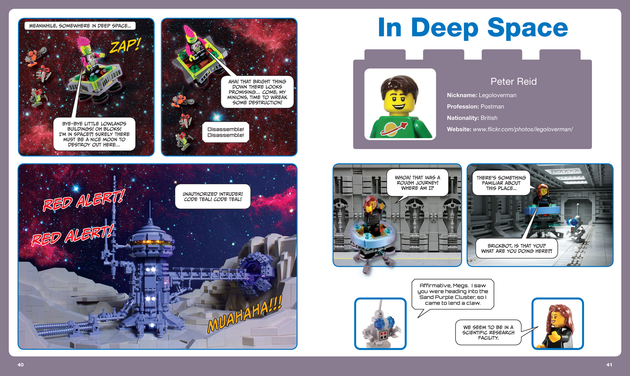 The settings include Dordrecht (a town in the Netherlands), outer space, a steam fair (a carnival, not a steampunk event), and a beach. They also vary in scale. While most of the chapters are in standard minifigure scale, others are "miniland" scale — the scale of the buildings you see at LEGOLAND, where the characters are approximately six inches tall, There are even a few pages of nearly human-sized food — a sushi platter, hamburger and fries, etc. This variety of LEGO models and genres ensure there will be something in "The LEGO Adventure Book" for everyone, whether you're a kid or a LEGO-loving adult.
My favorite chapters were on Dordrecht and one called "Trouble in Eden." One of the great things about this book is that the builds in each chapter aren't by Megan Rothrock herself, but by some of the best LEGO builders in the world. Dordrecht is built by Patrick Bosman. We also get the addresses of their Flickr accounts if they have them, so we can see what else they've done. There are hundreds of high quality photographs showing the worlds these builders have created, but also specific instructions for building specific models. In Dordrecht, Megs and Patrick show us how to build a beautiful 17th Century Dutch House, with brickwork, arches, Dutch spires and a detailed interior. These instructions are laid out more quickly than they would be in a standard LEGO instruction booklet. If you've got a lot of LEGOing under your belt, they're challenging to follow; if you're a kid attempting the same thing, I can see getting frustrated quickly.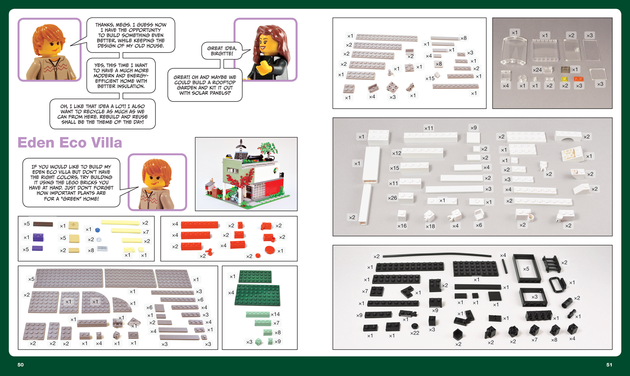 The "Trouble in Eden" chapter features Birgitte Jonsgard, a science teacher from Norway. Most of these builders are just LEGO fans who have become amateur experts, not actual employees of LEGO. Her project is an eco-friendly house (pictured on the cover of the book). The house itself is an interesting modern build, but what I liked best are the small add-ons that are easy to build and add to any LEGO neighborhood. This includes rooftop solar panels, windmill, and water heaters, compost bin and chicken coop, a beehive and a lot of foliage. Each is a relatively simple build, but adds details to houses that I haven't seen in LEGO form very often. Yeah, there's irony in building them all out of toxic ABS plastic that will last for thousands of years after I'm gone…but I'm not going anytime soon.
In all this is a great book filled with ideas. I've never built anything like sushi rolls or a hamburger out of LEGO, but I think I'm going to try. I may not do things exactly the same, or in the same color — I don't think I have all the right pieces in the right color to make that Dutch House. But I can take piece of that design and incorporate them into other projects I'm working on. Rothrock emphasizes many times in the book that if you don't have the right pieces, you can substitute one color for another, or X for Y, and still have a great model. If you're looking for a gift for the LEGO fan in your life who already has every LEGO set, or you want to give them something different that they'll still enjoy, "The LEGO Adventure Book" should be on that list.
Other books for LEGO Fans
Brick Flicks: 60 Iconic Movie Scenes and Posters Made From LEGO
Special thanks to No Starch Press for providing a review copy of "The LEGO Adventure Book Vol. 3."