"Beautiful LEGO Wild!" Mike Doyle, No Starch Press, September 2015 222 pages, softcover. (10 of 10)
No Starch Press has become the go-to publisher for fans of LEGO who want something a little more than the mass market books that LEGO itself puts out. LEGO's official publications are understandably geared toward children, which is as it should be. No Starch Press has tapped into the market of adults who are either nostalgic enough to remember how much they loved LEGO, or who are rediscovering playing with LEGO themselves, or that rarest of adult–the ones who see LEGO as an artistic medium in its own right. This last group of people are highlighted in Mike Doyle's "Beautiful LEGO: Wild!"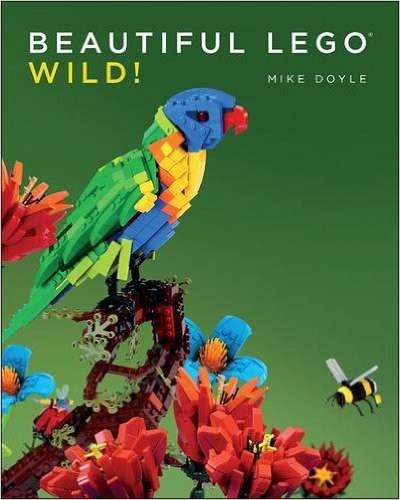 This is Doyle's third "Beautiful LEGO" book, following the original and "Beautiful LEGO: Dark." All three have Doyle more as a curator of the best LEGO builds from around the world than an author. He includes a few of his own pieces in the mix, but most of these models are things that are clearly labors of love by other Adult Fans Of LEGO (AFOLs). These artists have found ways to use LEGO to make sculptures and mosaics of landscapes, birds, fish, insects, cartoon characters, and mythical creatures, all under the overarching theme of "Wild."
In the preface, Doyle writes that "Seeing how simple shapes combine to give the illusion of a bigger picture is exciting." The way the builders do that varies, and you can see the how the styles of different artists impact how they use these plastic bricks to create organic shapes.
Some favorite pieces: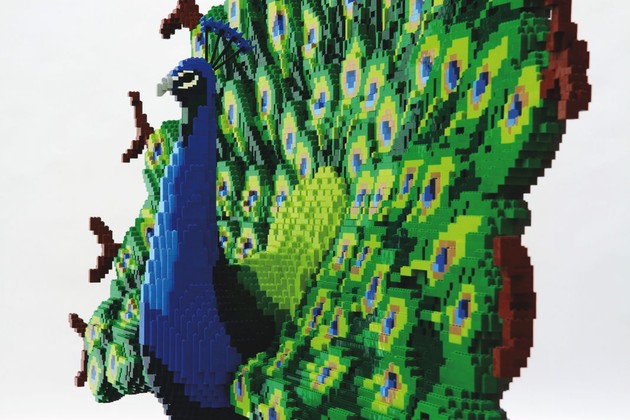 Peacock, by Sean Kenney — using only standard LEGO bricks, making a pixelated kind of animal; Kenney has touring zoo exhibits with dozens of his creations, many of which are life-sized.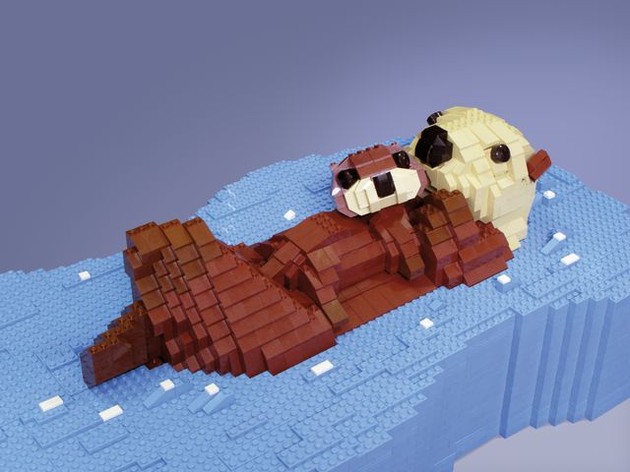 Sachiko Akinaga's Sea Otter Mum & Pup. This gets more complex, moving beyond only rectangular bricks, adding different angles, rounded pieces, and LEGO facing different directions.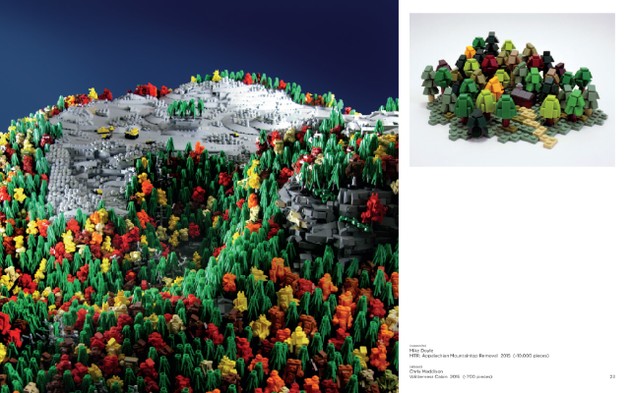 Mike Doyle's own piece, Appalachian Mountaintop Removal, is a good example of the scale of some of these projects; at around 10,000 pieces, it's enormous, but is also depicting an entire mountainside. The jumble of vegetation is all made with different LEGO building techniques–most of the conifers are actually LEGO flower stems, simply turned upside-down. Chris Maddison's Wilderness Cabin on the right is another good example of a very small-scale model, again using a completely different mode of tree-building.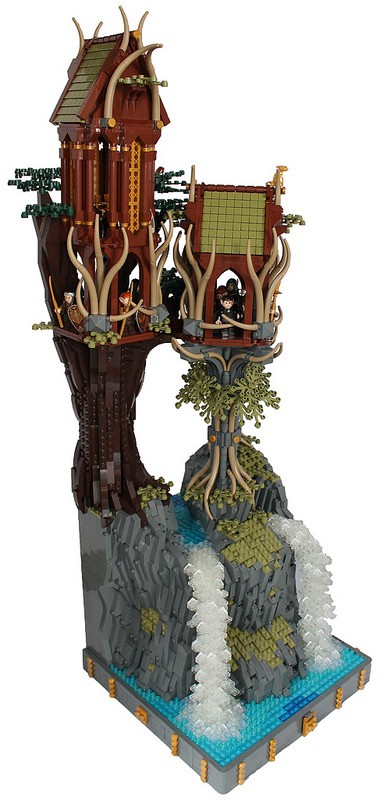 Andrew Simonson's Ereg Durin is one of the many minifigure-scaled builds that demonstrate living with nature; understandably, many of these depict scenes from or inspired by the elves in "Lord of the Rings"–great examples of building organically and in harmony with nature. Out of ABS plastic that will last forever.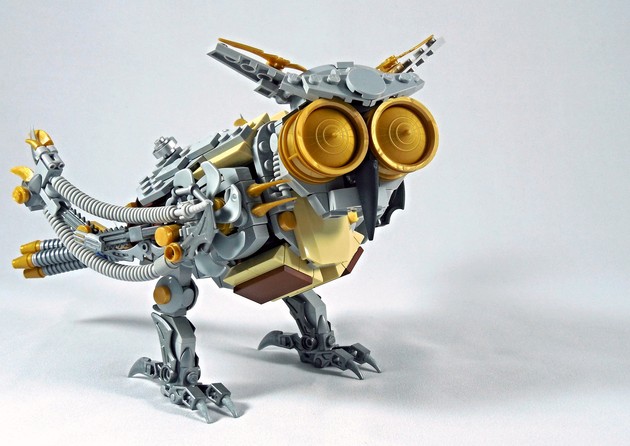 I'm including Andrei Pacurar's Steamworks Owl not just because it's beautiful, but also because it reminds me of "Clash of the Titans." There are sections of the book highlighting "Artificial Life," and this is one of the best examples of that.
Truthfully, every page of this volume is worth highlighting in a review. Which would be writing a book about the book which would be both Inception-y and copyright violation. I love that Doyle credits the builders in an appendix at the back of the book, he thanks those who participated in a competition to be included, and it feels more like a collaborative achievement than something that Doyle just cooked up on his own. There are similar books out there that obscure where some of the builds came from, I like that the artists get full credit here.
If you are, or have ever been, a fan of LEGO, "Beautiful LEGO: Wild!" is a gorgeous way to celebrate that fandom. The printing is high quality, the binding is softbound, but more durable than standard paperback/trade paperback format. It's a great addition to your coffee table or your playroom. If you're a LEGO builder yourself, you'll find inspiration here. If you have a LEGO-loving loved one, and you're not sure what to buy them for Christmas because they already have Every Damn Thing, this is a great gift idea. In any case, this book is by the fans and for the fans. They get it right.
Thanks to No Starch Press for the review copy of "Beautiful LEGO: Wild!"