Your Name (Kimi No Na Wa) 9 out of 10 – ; Written and Directed by Makoto Shinkai; Starring: Ryûnosuke Kamiki and Mone Kamishiraishi; Rated PG, in select theaters beginning April 7
Animation is going through something of a renaissance. What once was considered a medium strictly for children (outside of a few adult-targeted stragglers) is now widely considered a legitimate medium, thanks in no small part to the masterful films of Pixar.
Television series like Bojack Horseman and Rick and Morty are showing audiences that fantastical characters and settings can be fertile soil for hard hitting philosophical and sometimes emotional stories.
Sure, this isn't a strictly new phenomenon. There have been great animated movies with real stories in the past but these have by and large been the exception to the rule. The thing is, while the United States may just be realizing something can be both animated and literary, this is nothing new to cultures on the other side of the Pacific.
They have been cranking out great animated stories for years and while subcultures have built around them, the general public hasn't taken much notice, to their own detriment.
It's difficult to talk about the best of anime without mentioning Hiyao Miyazaki. His films make up three of the top four highest grossing anime films of all time with Spirited Away, Howl's Moving Castle, and Ponyo being second, third, and fourth respectively. It's not uncommon to meet someone who isn't really into anime but who has seen one or more of those flicks. They are beautifully drawn and tell captivating stories, they are pieces of art so well rendered they transcend genre.
Get ready to add Makoto Shinkai's Your Name to the list of must see anime films, nay, must see animated films, nay, must see films.
Based on the novel of the same name, written by the film's writer/director, Your Name tells the story of Mitsuha and Taki, two Japanese youths from different backgrounds who inexplicably begin intermittently swapping bodies.
Mitsuha is a high school aged girl living a rural life in the fictional mountain town of Itomori. Taki is a high school aged boy living in Tokyo. Both begin experiencing strange dreams in which they are living another life, only to later discover that they aren't dreams at all. For reasons unknown, Mitsuha and Taki intermittently wake up in eachothers lives, the only clue as to the reasoning of this strange occurrence is the eminent passing of a comet over Japan.
Faced with the unrequested invasion into their lives, Mitsuha and Taki begin corresponding with one another by leaving notes in a journal and smartphone for the other to find. The results of this spiritual takeover are mixed, netting positive results in some situations and negative results or, at the least, confused looks in others.
As the bizarre relationship continues, Mituha and Taki grow closer despite having never actually met, until they finally make efforts to meet one another. It's when this meetup is attempted that the story kicks up a notch. What was already a beautifully crafted film (the backdrops, city skylines, and landscapes are nothing short of spectacular) becomes an emotional mind bender with all the weight of an engorged elephant on a neutron star.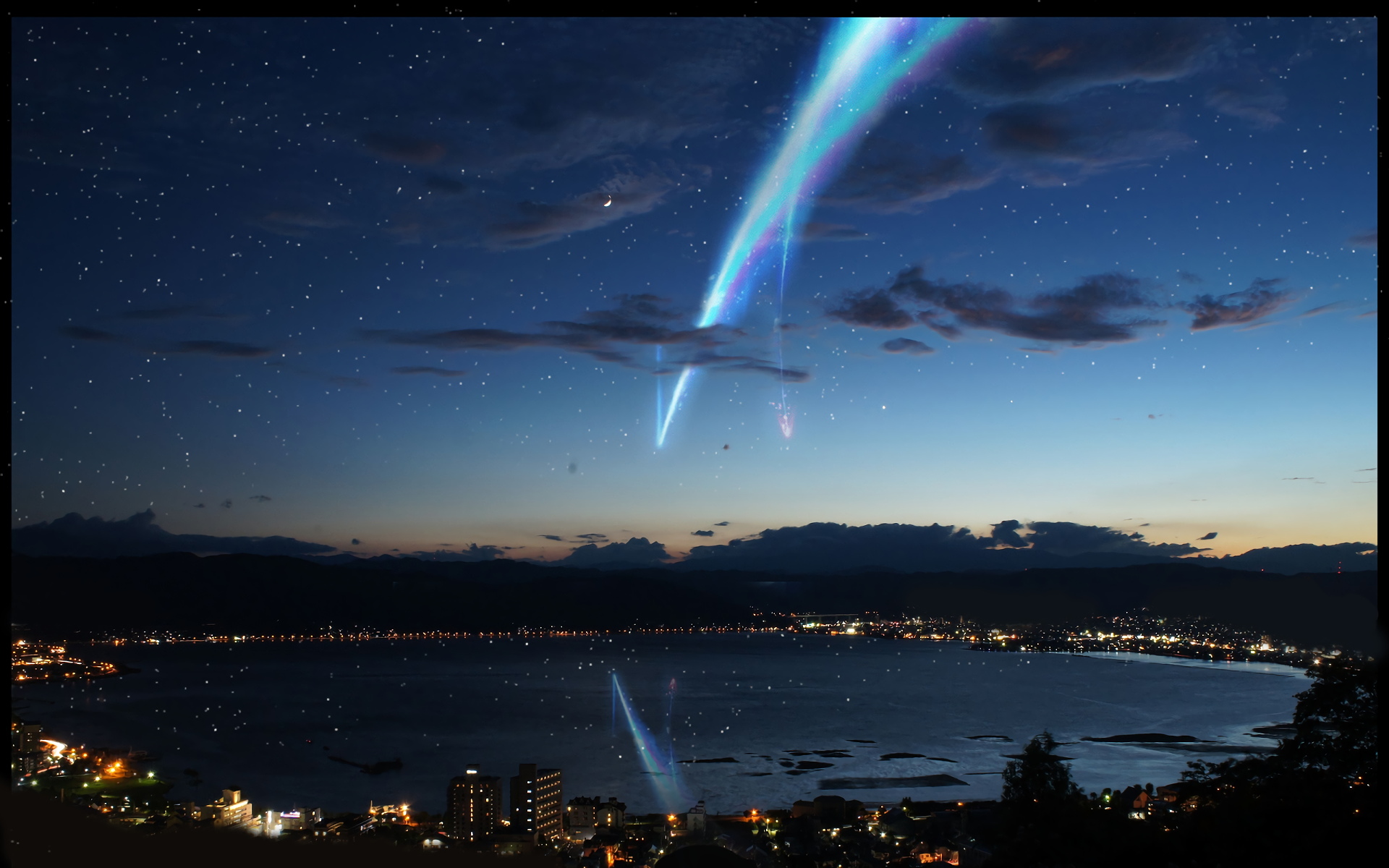 At its heart, Your Name is a simple story of boy meets girl (or rather boy becomes girl/girl becomes boy, but you get the picture) but it's cloaked in a mystery, a science fiction story, a drama, and a race against time. In fact, there is only one element of the story that keeps me from calling it a perfect film, a gag involving a boy finding himself in a girl's body and what he might do in that situation. While it might be a perfectly realistic response to that situation, there is a moment in the film where the joke runs a little too long and detracts from what should have been a particularly engrossing moment. That being said, this minor sin is forgivable in what was otherwise a masterful piece of storytelling.
I hesitate to say anymore, to do so would be to spoil a great time and I wouldn't want to take that from you. But you don't have to take my word for it. Remember before when I said that Miyazaki held three of the top four spots in anime filmmaking? Despite having only released in Japan late last year, Your Name is already the highest grossing anime film of all time, having already brought in $328 million.
It takes a lot of chops to come for the king but your name has succeeded in every conceivable way, despite being snubbed at the Oscars (I mean, Zootopia was good… but come on).
Due to its massive success thus far, Your Name will be showing in select U.S. theaters beginning April 7, in both English Dubbed and subtitled formats. They were even able to get Radwimps (the Japanese rock band who wrote the music for the film) to record all of their songs in English for the release, one of which, featured in the trailer and during the first montage is particularly fun.
If you're at all a fan of the genre, or are even just a fan of good storytelling and beautiful animation, do yourself a favor and find a screening. You won't be disappointed. I can't wait to see what Shinkai has in store for us next.